A warrior lass astride her steed.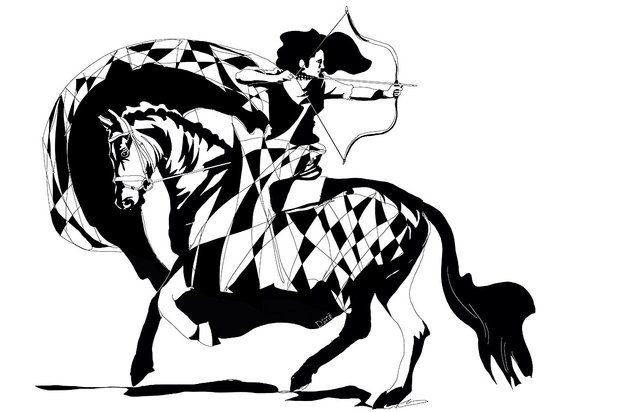 This black and white drawing for today was born of a sketch made yesterday and out of the necessity to calm myself. Having had a day out in the sun and probably a bit too many cocktails, this morning greeted me with a pounding head and the week of projects to finish.
I've mentioned before my black and white artwork is my form of meditation and zen.
And when heading to my studio with my hot coffee in my current state, it seemed the balm I needed.
Yesterday we had a grand day out. We were lucky enough to be invited to a polo event at the Myopia Hunt Club, a wonderful place to watch the polo.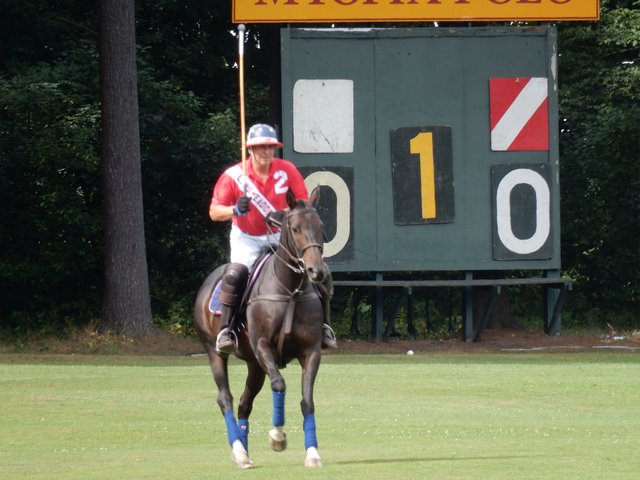 I love horses, this cannot be understated; I adore them.
I love riding and have loved horses as long as I can remember. I have not had the luck of riding for some years and so when our oppotunity came up to go yesterday, @winstonalden and I could not refuse.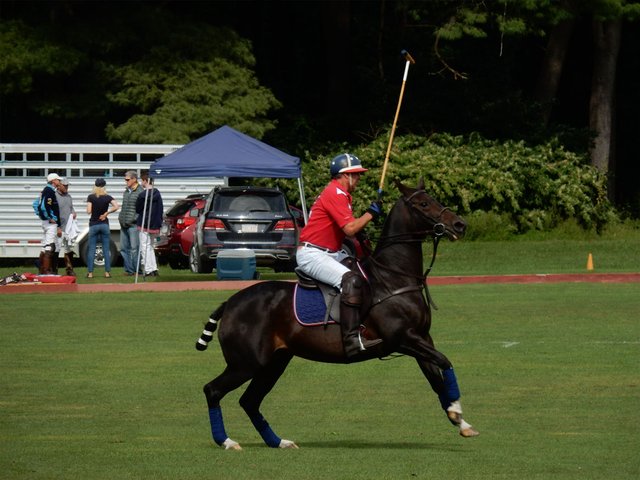 It was a lovely cool day.
I mean the temperature was around 60 F (15c) so it was chilly, particularly for a late Summer day. I was glad I had brought my Autumn jacket, actually my old quilted Barbour that always makes me think of horses and days out riding. And it was chilly enough that I needed it.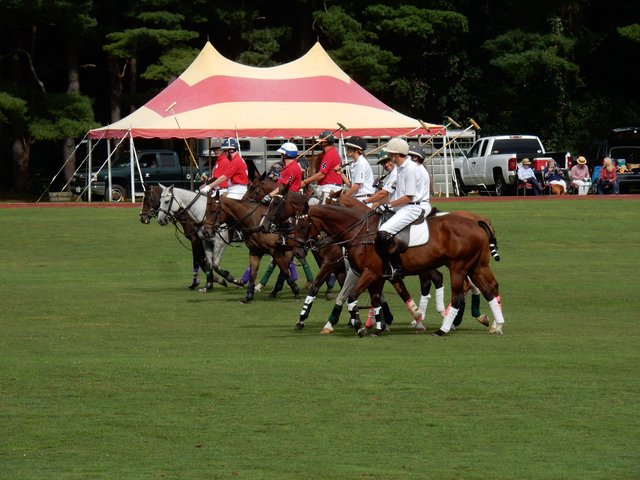 Here we see the horses and riders taking the field to begin.
There can be between 4 to 6 periods, or 'chukkas' to a game. Each of these last 7 minutes. At Myopia they take 6 total with a half-time. This is when you traditionally take to the field and 'stomp the divets', that is to stay you go out and turn over the bits of sod flipped up by the speed and pounding of the horses hooves. It's a great tradition and one that truly helps the field stay in shape.
It's a lovely sight to see people in their straw hats and brightly coloured Summer clothes, cocktails in hand, turning over bits of sod and laughing and just having a jolly old time.
This little fellow in his wellies was torn between stomping divets and playing with the myriad of dogs always found at polo and horse outings.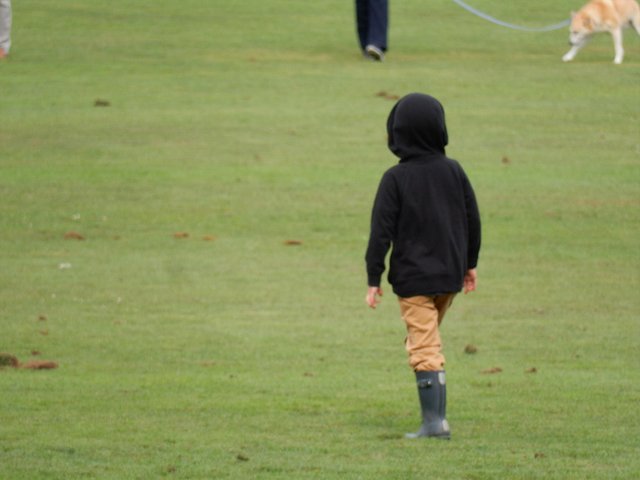 It is a great place to 'dog watch' as well as people watch.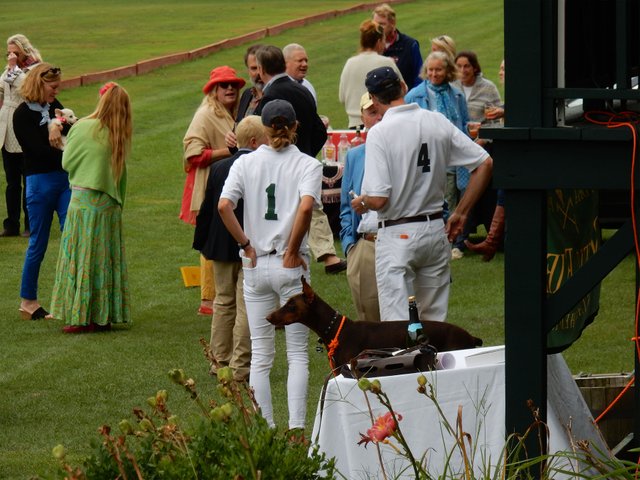 Though some dogs have differing opinions on the game :)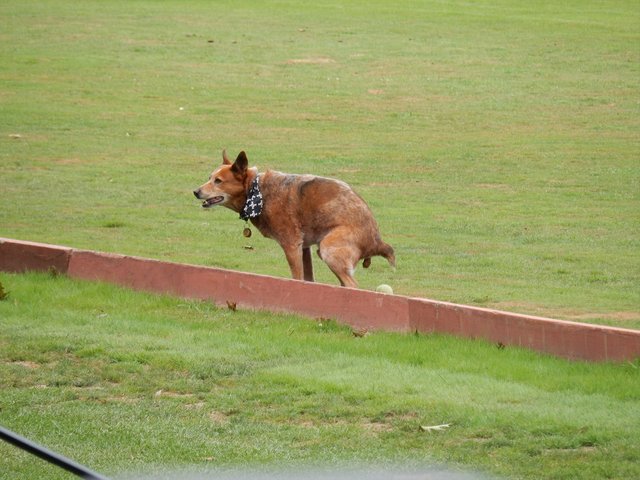 It truly is exciting to hear the pounding of the hooves on the grass and hear the clash of the mallet and whack of the ball.
Sometimes a whistle blows for an offense or simply to make sure the horses are in good stead. This is a game played by horse lovers for sure and here we see, after a whistle, a rider and groom fixing the leg wraps of one of the days horses.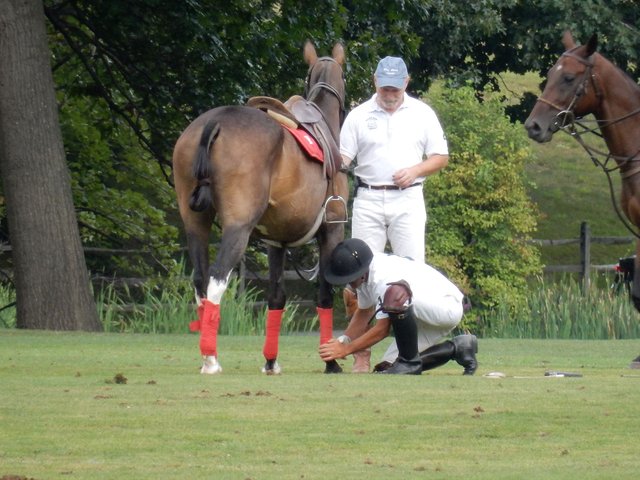 Horses are changed after each period/chukka so they are never overworked, just a good hard run for 7 minutes, but they love it.
There is nothing more gentle or understanding than a polo horse. They don't mind mallets swinging, dogs barking, even the groundsmen speeding past on their little vehicles never bother them. This is saying a lot as I once had a thoroughbred that was a sweetie but a bag or bit of paper blown in his path and he was off!
Here is a bit of video of yesterday's play with @winstonalden enjoying a cigar.
Now for today's artwork.
After having a day out filled with horses, I had horses on the brain this morning. I couldn't help but dream up a lovely warrior princess riding off on her stead to protect her lands, bow in hand. And as it was to be in my black and white style, of course she had to be caught up in pattern, today a skewered checkerboard.
I have a lot of catching up to do this week, but was happy for the lark of yesterdays equestrian day out. I hope you had a lovely Sunday and found time to indulge in your own passions.
If you like my posts by all means upvote, resteem, and comment. I always appreciate comments.
---
And check out my other posts.
---
Copyright @donnadavisart - All Rights Reserved