STREET ART #55 – Amazing street art by Okuda ++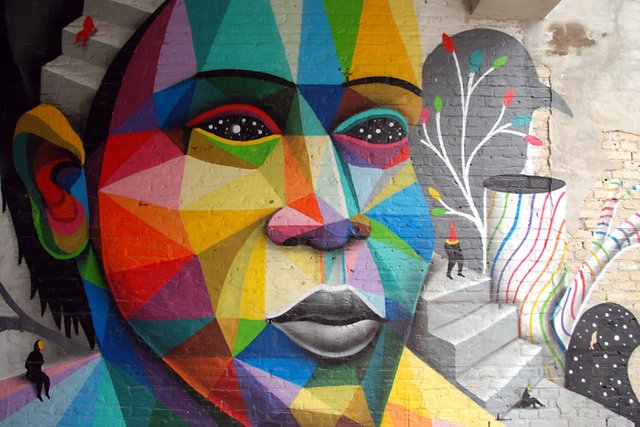 One of my favourite street artist is Spanish artist Okuda. His colorful, geometric shaped figures do lighten up any wall. Okuda aka Oscar San Miguel Erice was born in Santander, Spain in 1980. He works with geometric shapes, colorful patterns and gray bodies that represent the human conditions. Okuda emphasizes the conflict between modernity and human roots. Often his works depict themes such as existentialism, the universe, infinity, the meaning of life, and the false sense of freedom of capitalism. He started his career as a street artist in 1996 by painting in old factories and railways.
The first time I saw some of Okuda's murals was in Aalborg, Denmark. The photo above shows a mural he did in collaboration with Antonyo in 2015. Antonyo Marest has done many exhibitions, street art, graffiti, interior, graphic and industrial design among others.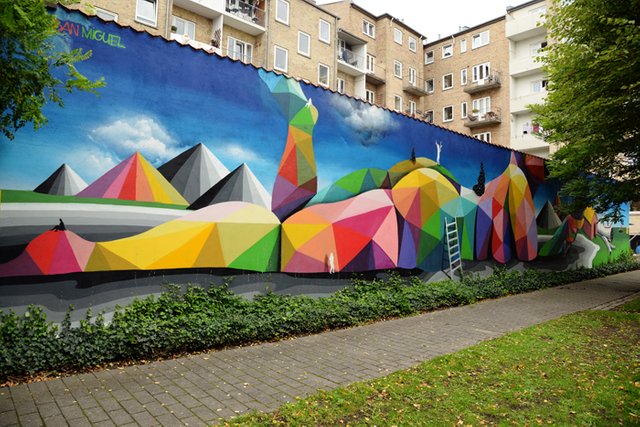 «Mother Earth»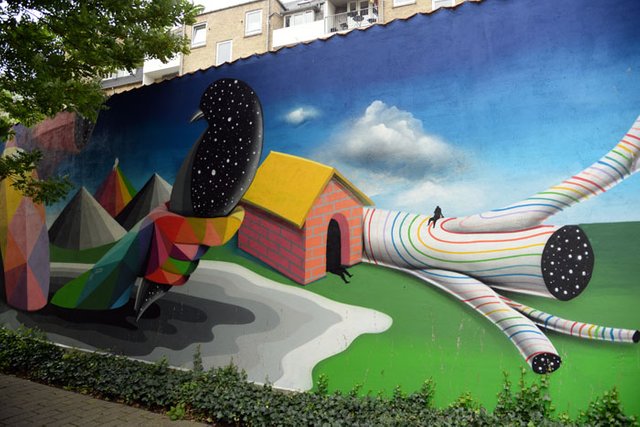 Another mural done by Okuda in Aalborg, Denmark is «Mother Earth». To take in the whole painting, one has to look at it from a distanse, but it's just as wonderfull to walk from one end to the other, admiring all the details. Notice all the small humans placed all over the «Mother»'s body.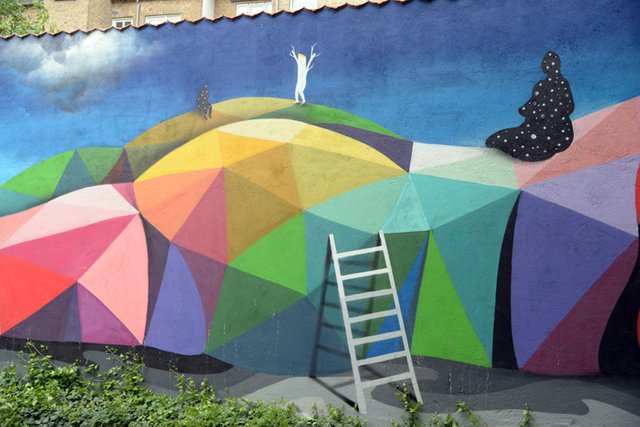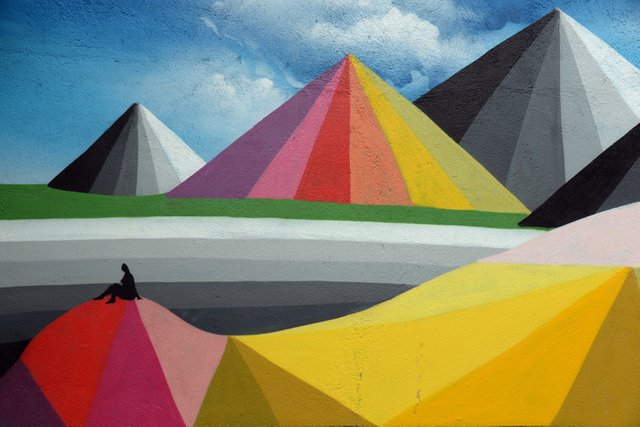 Both these murals in Aalborg were painted as part of the We Aart festival 2015. The festival is a private initiative with Mads Mulvad and Lars Bonde as entrepreneurs. The intention is to make Aalborg's urban environment more exciting and experimential. The festival contributes to art reaching out into the cityscape, to the people.  The intention is to make us reflect on how we use the public space. Not only to travel through, but as a place where you can let yourself be amazed and admire the aspects of the city.
Source: https://www.visitaalborg.dk/aalborg/street-art-i-aalborg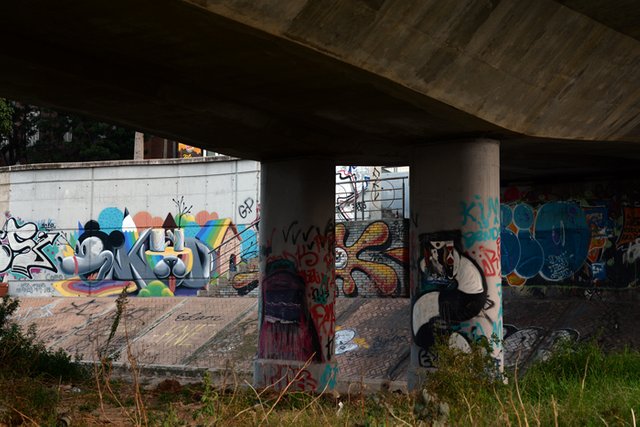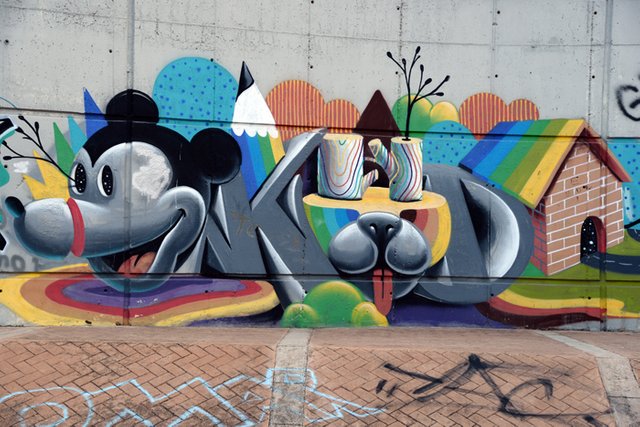 A few weeks ago I was in Malaga. I knew in advance that Okuda has done a large mural in the area of Soho. I just had to look for it. Actually I found two! By the river in Malaga there is a large amount of graffiti along the riverside. One of them is signed by Okuda.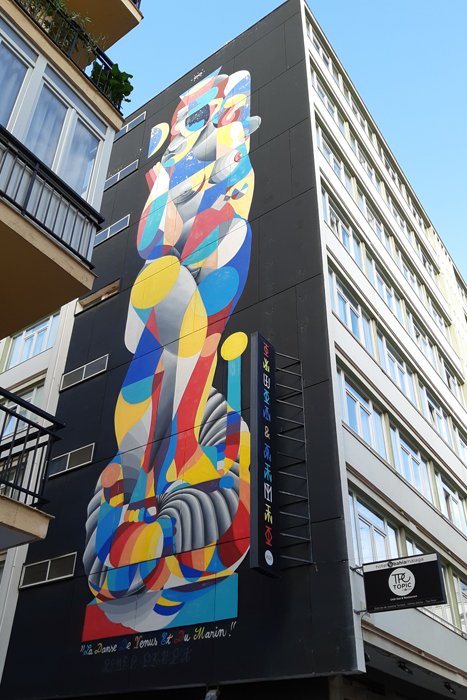 «La Danse de Venus et du Marin»
At last I found the one I was looking for! A large mural which covers an intire wall of the hotel Bahia. Again one of these abstract, surrealized murals – so typical of his style. Impossible to get a good angle for the photo because of the hight. It is a woman and a sailor who intertwine. To actually be be able to see that, I had to step back. Still, it was a challenge to get good photos.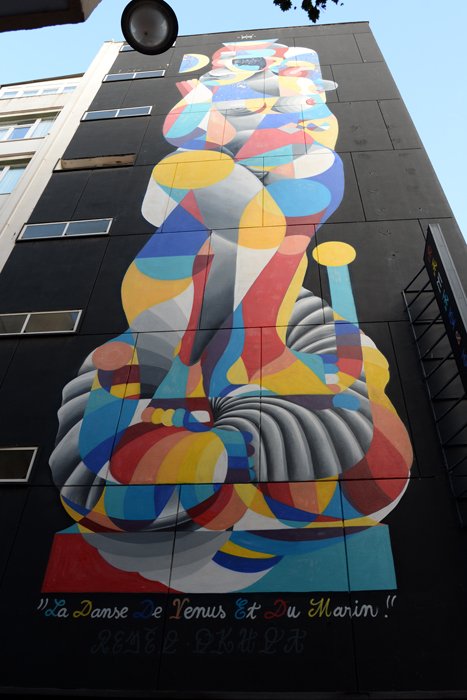 Okuda didn't work alone on this one. It was done in collaboration with Remed, a French artist aka Guillaume Alby. They often work together on prosjects. As far as I have managed to find out, they both live in Madrid. Remed discovered the art of painting in 1995. His work is influenced by Art Nouveau style. He startet interacting with the urban environment by attaching stickers and later, painting ideas, messages or wishes on the walls of Lille and the rest of the world.
For some more amazing street art from Okuda check out:
www.okudasanmiguel.com/showcase
www.okudart.es
Please do follow if you want to keep up with my next street art. Any upvotes or resteems are hugely appreciated!
Latest street art post, check out :
STREET ART #54 – The street art in Granada (Spain) is a real surprise
U.J
Kristiansand, Norway
All the photoes are mine, Ulla Jensen (flickr, Instagram and facebook)
[//]:# (!steemitworldmap 57.044284 lat 9.924391 long STREET ART #55 – Amazing street art by Okuda ++ d3scr)
Read about us? // Main page!
Latest content: Travel, Art, Food, Article, Poetry