Catching up with the #NeedleworkMonday community!
The Black Lamp Collection - Peacock Noir

I'm thrilled to report that this gem of a hanging lamp sold today, on Etsy! The lamp features an outer layer of silk mesh lace with gold threads, an amazing vintage metalwork peacock taken from a vintage Indian handbag, and a stunning beaded and sequin trim from my collection. I think the new owner is going to love this one.
The Black Lamp Collection - Flamingo Noir

This wild ride of a hanging lamp sold last week! So much fun and color going on here, it was both a risk and a delight to make. This lamp featured fuchsia and black feathers, antique dot hat netting with pink glitter, a stunning rhinestone flamingo brooch and some great vintage trim. As usual, Dax is on point for inspection!
The Black Lamp Collection - Steampunk Roes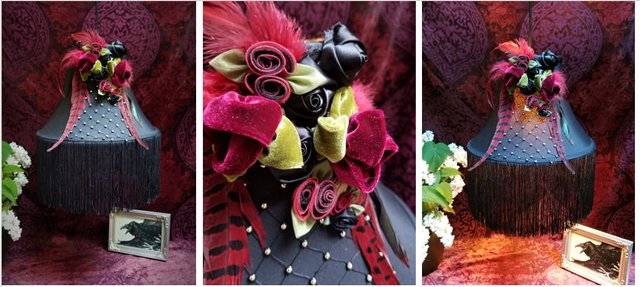 The steampunk Roses hanging lamp was the first of my Black Lamp Collection to sell. This beauty features a fantastic dotted mesh I had sent over from England, a ton of handmade fabric roses I bought from a California Artisan, and those amazing red and black pheasant feathers. This one was actually quite hard to make, given the flexibility of that dotted net! Gah...hard to sew it on and make it stay.
The Ravens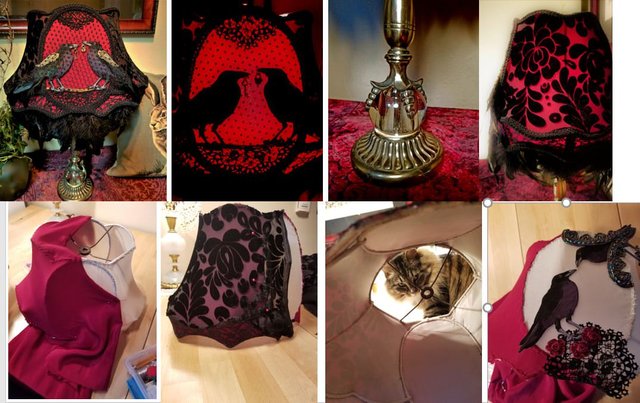 Ohhhh...do you guys remember the Steampunk Ravens lamp I made? It sold! It was soooooo hard to put this one in a box and send it to its new home! This one was out of this world, in terms of design, materials and intense theme. I will miss it, and I KNOW that Dax will miss it. The feathers were irresistible for her.
Current Project - Chinese Lantern

The last time I posted, I shared just the wrapping phase of this frame. Much has been done since! As you can see, the vivid aqua-colored silk, with an Asian Chrysanthemum embroidery seems to change color based on the light in which it is photographed. I just ordered some amazing Czech drop beads for the bottom, which will not arrive for a week, so I'll be starting a new lamp while I wait. Once I get the beads hand-strung and sewn on I'll finished the gold trim on the bottom and get some good pictures of it. Not yet sure if I want to try selling it as "shade only" or if I will make it a full lamp set. Ideas?
Staying Insanely Busy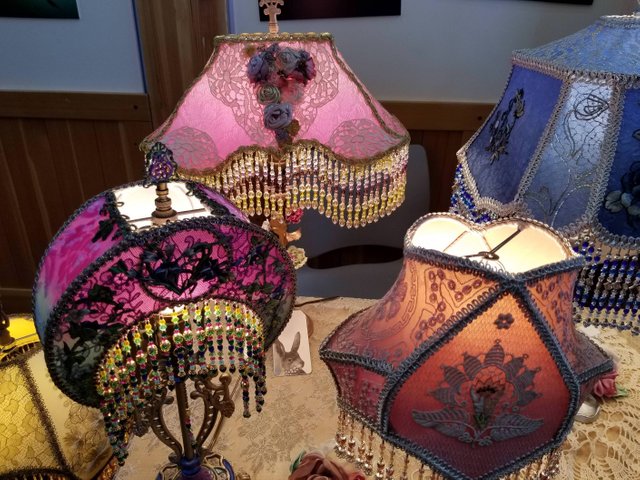 While I wait for the beads to arrive for the Chinese Lantern, I'm trying do decide what I want to work on next. A part of me wants to start a floor lamp, but those are so very hard to ship, and I have no idea what the appetite is for them, out there in the world. I'm also feeling the pull of neutrals--white, creme, tan and gold. I'll just wait and see where I land! Have an amazing day, team #NeedleworkMonday!
Follow my FaceBook shenanigans here.
Follow my Instagram tomfoolery here.
Look how Twitterpated I am here.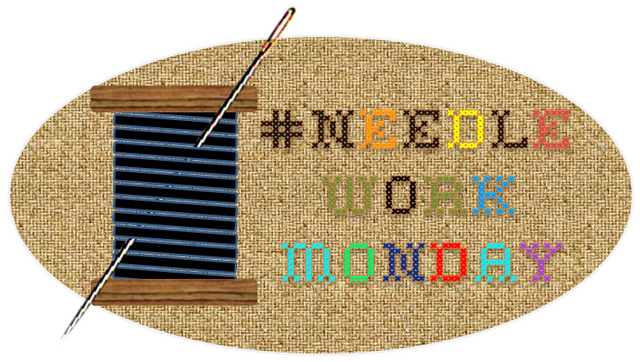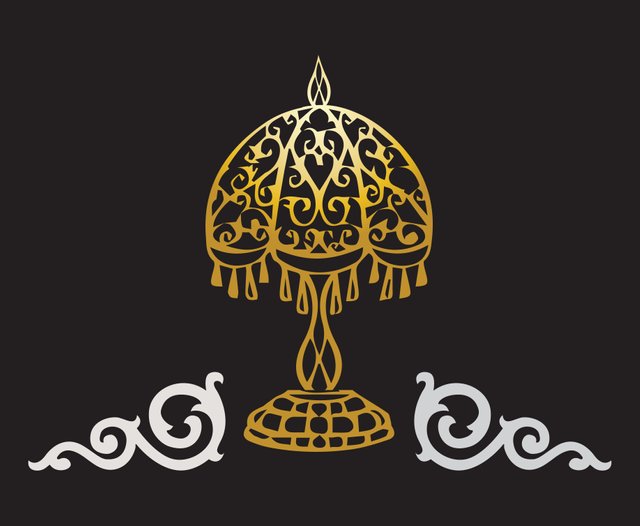 All images © @crystalize.