"𝖘𝖚𝖋𝖋𝖔𝖈𝖆𝖙𝖚𝖘" Bodegón 3 | Still life 3
༄𝖘𝖚𝖋𝖋𝖔𝖈𝖆𝖙𝖚𝖘༄
⚜
𝑩𝒚 𝑱𝒐𝒆𝒍 𝑮𝒐𝒏𝒛𝒂𝒍𝒆𝒛 (𝑪𝒐𝒏𝒏𝒐𝒓 𝑹𝒖𝒔𝒔𝒐)
☤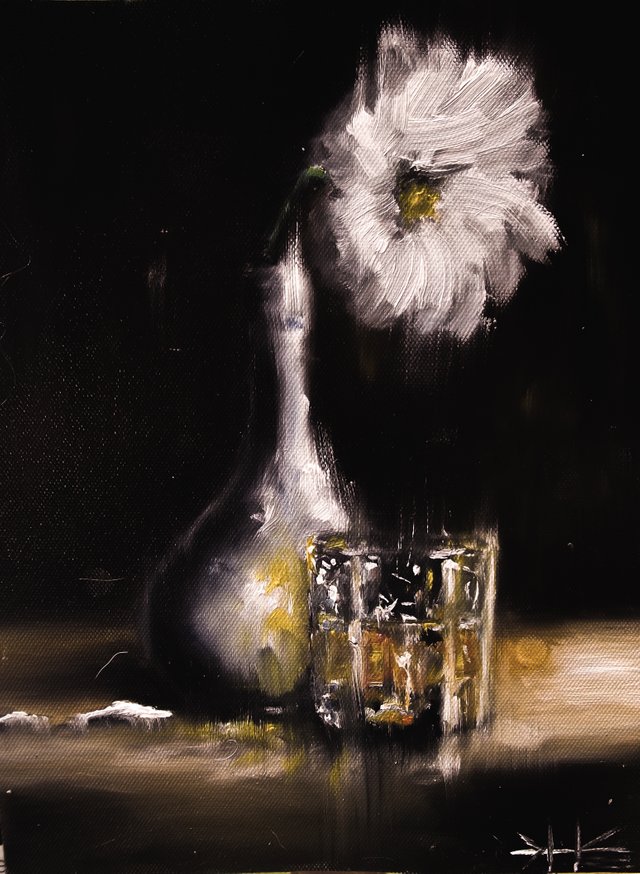 ---
✥ 𝑷𝒓𝒊𝒎𝒆𝒓 "𝒃𝒐𝒅𝒆𝒈ó𝒏" 𝒂𝒍 ó𝒍𝒆𝒐 ✥
✥ 𝑭𝒊𝒓𝒔𝒕 "𝒔𝒕𝒊𝒍𝒍 𝒍𝒊𝒇𝒆" 𝒐𝒊𝒍 𝒑𝒂𝒊𝒏𝒕𝒊𝒏𝒈 ✥
☤
Esta obra ha sido una de las mas sencillas, tardé solo un par de horas en terminarla, de hecho, al momento de escribir este post la pintura aun está fresca, es el tercer bodegón que pinto desde que me dedico al Arte y el primero como tal que pinto usando óleos, estas obras en especial no tienen un gran significado aparente mas que el que el espectador pueda darle, un bodegón es una simple representación de los objetos naturales cotidianos, en los cuales puede encontrarse una hermosa esencia artística.
This work has been one of the simplest, it took only a couple of hours to finish it, in fact, at the time of writing this post the painting is still fresh, it is the third still life that I paint since I dedicate myself to Art and the first as such that I paint using oils, these works in particular do not have a great apparent meaning other than what the spectator can give them, a still life is a simple representation of everyday natural objects, in which a beautiful artistic essence can be found.
☕
---
𝑬𝒍 𝑷𝒓𝒐𝒄𝒆𝒔𝒐 ✎
𝑻𝒉𝒆 𝑷𝒓𝒐𝒄𝒆𝒔𝒔 ✎
Esta obra no es de un tamaño muy grande, de hecho está pintada sobre un lienzo tamaño carta, para algunos esto podría parecer una forma de ahorrar tiempo, sin embargo, trabajando en una superficie tan pequeña es mas complicado trabajar los detalles y en consecuencia mayor es la cantidad de tiempo que se debe emplear antes de terminar una pintura, a pesar de que como ya lo expliqué, esta pintura me tomó solo un día, si bien no es lo que acostumbro a pintar, si es una buena forma de mejorar mi habilidad usando esta técnica, además de cuestión de tiempo, es una cuestión de práctica y constancia, así que esta pequeña obra para mi no es mas que un pequeño paso mas que dar en este largo camino.
This work is not of a very large size, in fact it is painted on a letter size canvas, for some this might seem a way to save time, however, working on such a small surface is more complicated to work on the details and consequently greater It is the amount of time that should be used before finishing a painting, although as I explained, this painting took me only one day, although it is not what I usually paint, if it is a good way to improve my Skill using this technique, in addition to a matter of time, is a matter of practice and perseverance, so this little work for me is nothing more than a small step to take on this long road.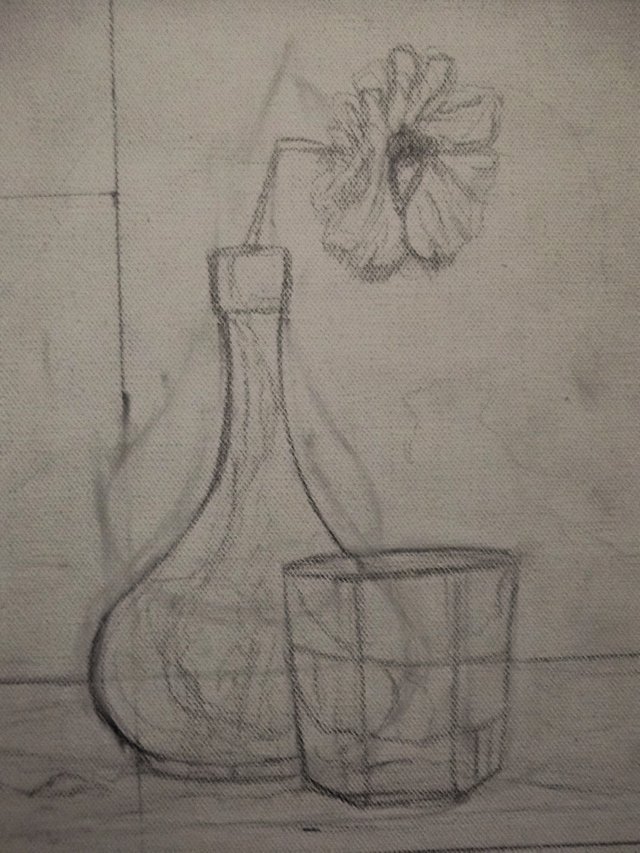 ---
El boceto es bastante sencillo, no hay muchos elementos en esta obra, el vaso, la vasija y la flor, todos ubicados en la zona central del dibujo, rodeados de un fondo oscuro, aunque no absolutamente negro, este color base va acompañado de una mezcla entre marrón, rojo, siena, ocre y amarillo, y en primer plano usé la misma mezcla de colores para la superficie donde están ubicados los elementos principales, con la diferencia de que en esta zona también usé color blanco el cual es predominante.
The sketch is quite simple, there are not many elements in this work, the glass, the vessel and the flower, all located in the central area of the drawing, surrounded by a dark background, although not absolutely black, this base color is accompanied by a mixture between brown, red, siena, ocher and yellow, and in the foreground I used the same mixture of colors for the surface where the main elements are located, with the difference that in this area I also used white color which is predominant.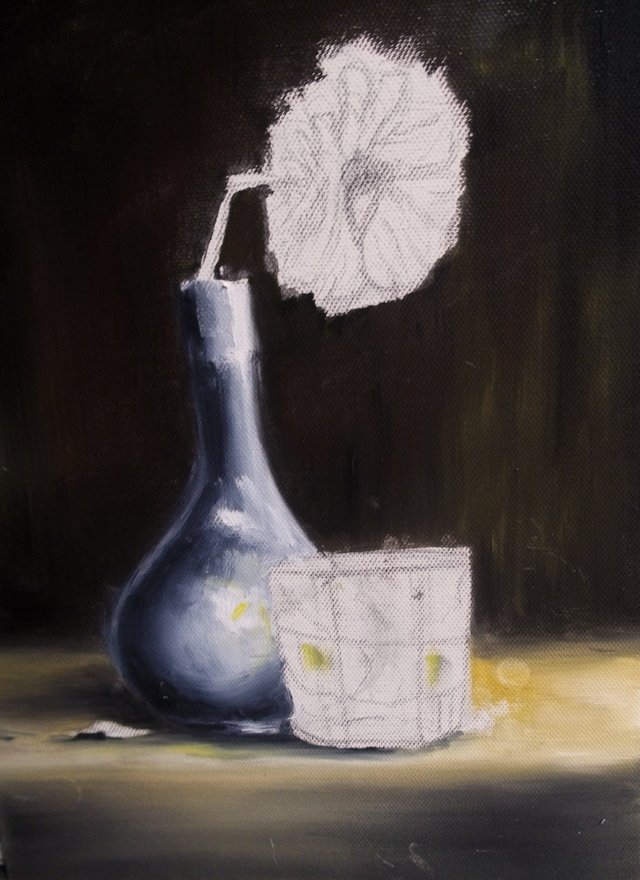 ---
El vaso tiene cierta transparencia, algunas iluminaciones fuertes y un color algo translucido, a mi parecer, lo más difícil de pintar, y si bien el resultado no fue el mejor, creo que es un buen inicio, estoy seguro de que debo practicar mucho mas, así que en mis próximos trabajos intentaré incluir elementos translucidos que puedan representar un desafío. En fin, este elemento cuenta con una gran gamma de colores, desde los grises y los azules, hasta amarillos y rojos, además de brillos de color blanco muy marcados acompañados de un contraste fuerte con colore negro.
The glass has some transparency, some strong illuminations and a somewhat translucent color, in my opinion, the most difficult to paint, and although the result was not the best, I think it is a good start, I am sure I should practice much more , so in my next work I will try to include translucent elements that can represent a challenge. In short, this element has a large gamma of colors, from grays and blues, to yellows and reds, as well as very bright white glows accompanied by a strong contrast with black color.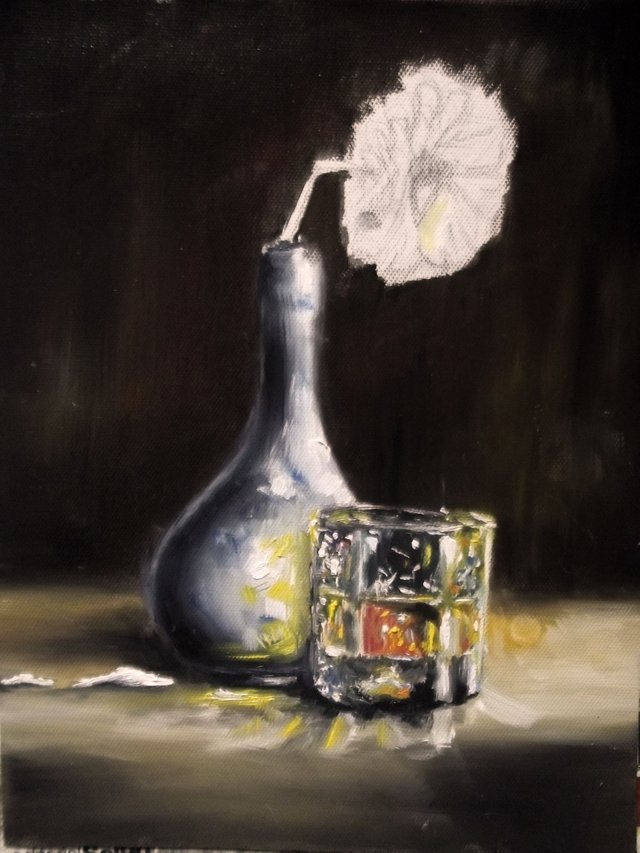 ♊
---
𝕷𝖆 𝕻𝖎𝖓𝖙𝖚𝖗𝖆 𝕱𝖎𝖓𝖆𝖑𝖎𝖟𝖆𝖉𝖆 ✔
𝕿𝖍𝖊 𝖋𝖎𝖓𝖎𝖘𝖍𝖊𝖉 𝖕𝖆𝖎𝖓𝖙𝖎𝖓𝖌 ✔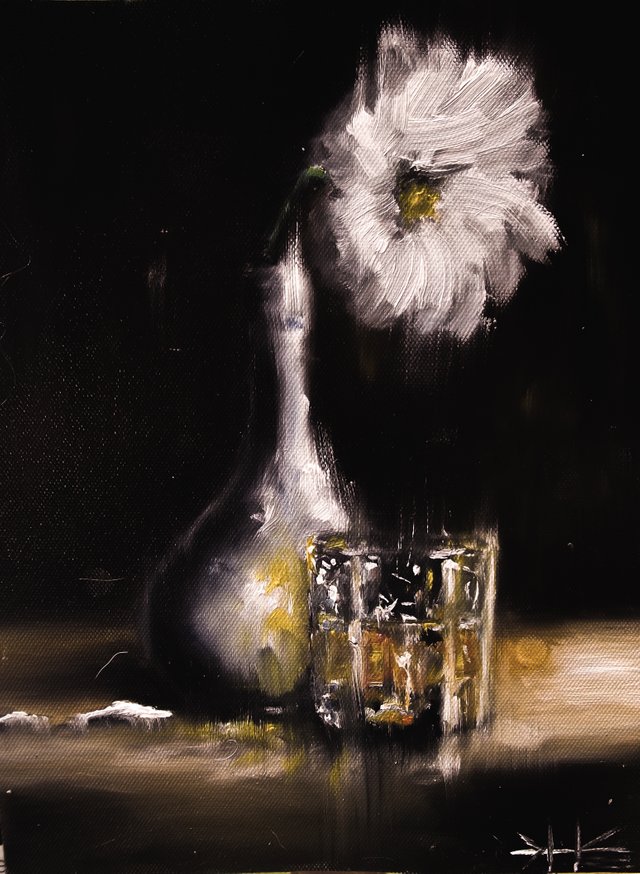 ✭
"𝑷𝒖𝒔𝒆 𝒎𝒊 𝒄𝒐𝒓𝒂𝒛ó𝒏 𝒚 𝒎𝒊 𝒂𝒍𝒎𝒂 𝒆𝒏 𝒎𝒊 𝒕𝒓𝒂𝒃𝒂𝒋𝒐, 𝒚 𝒉𝒆 𝒑𝒆𝒓𝒅𝒊𝒅𝒐 𝒍𝒂 𝒄𝒂𝒃𝒆𝒛𝒂 𝒆𝒏 𝒆𝒍 𝒑𝒓𝒐𝒄𝒆𝒔𝒐"
"𝑰 𝒑𝒖𝒕 𝒎𝒚 𝒉𝒆𝒂𝒓𝒕 𝒂𝒏𝒅 𝒎𝒚 𝒔𝒐𝒖𝒍 𝒊𝒏𝒕𝒐 𝒎𝒚 𝒘𝒐𝒓𝒌, 𝒂𝒏𝒅 𝒉𝒂𝒗𝒆 𝒍𝒐𝒔𝒕 𝒎𝒚 𝒎𝒊𝒏𝒅 𝒊𝒏 𝒕𝒉𝒆 𝒑𝒓𝒐𝒄𝒆𝒔𝒔"

𝑽𝒊𝒏𝒄𝒆𝒏𝒕 𝑽𝒂𝒏 𝑮𝒐𝒈𝒉
---
𝑵𝒐 𝒐𝒍𝒗𝒊𝒅𝒆𝒔 𝒅𝒆𝒋𝒂𝒓 𝒖𝒏 𝑼𝒑𝒗𝒐𝒕𝒆 𝒚 𝒔𝒆𝒈𝒖𝒊𝒓𝒎𝒆 𝒔𝒊 𝒒𝒖𝒊𝒆𝒓𝒆𝒔 𝒗𝒆𝒓 𝒎𝒂𝒔 𝒕𝒓𝒂𝒃𝒂𝒋𝒐𝒔 𝒂𝒔í.
𝑫𝒐𝒏'𝒕 𝒇𝒐𝒓𝒈𝒆𝒕 𝒕𝒐 𝒍𝒆𝒂𝒗𝒆 𝒂𝒏 𝑼𝒑𝒗𝒐𝒕𝒆 𝒂𝒏𝒅 𝒇𝒐𝒍𝒍𝒐𝒘 𝒎𝒆 𝒊𝒇 𝒚𝒐𝒖 𝒘𝒂𝒏𝒕 𝒕𝒐 𝒔𝒆𝒆 𝒎𝒐𝒓𝒆 𝒘𝒐𝒓𝒌𝒔 𝒍𝒊𝒌𝒆 𝒕𝒉𝒂𝒕.