I own some of the most beautiful buttons in the world now! Bonus points because they are Steem art by the lovely and talented @hiddenblade, first posted right here on the Steem blockchain. Double bonus points because my button purchase helps send @llfarms to Steemfest!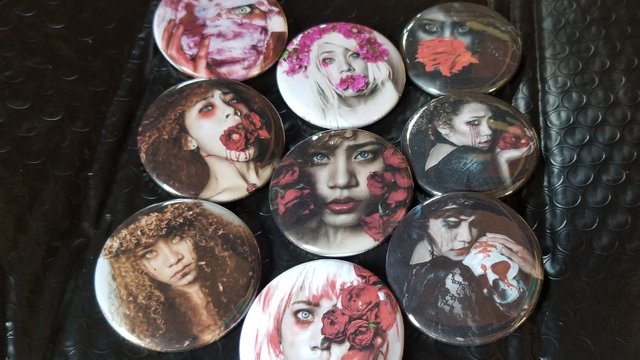 It was next to impossible to take a good picture of the buttons because they are very glossy, trust me they look even better in person!
---
Learn how you can own this awesome art and help fundraise for @llfarms here:
https://steemit.com/roadtosteemfest/@randomwanderings/fundraiser-to-get-llfarms-to-steemfest-want-to-own-some-hiddenblade-art-photos
---
Honestly I would treasure these buttons even if there was no Steem association. @hiddenblade is a really talented and evocative portrait photographer (and model) and every one of these images is so powerful. My wife actually claimed half of these buttons instantly after seeing them and is really excited because they are perfect presents for some of her... darker? friends.
I was pleasantly surprised to see that the buttons were larger than I had pictured after reading @randomwandering's post. Here is a picture of a button in my hand with a US quarter dollar coin for scale: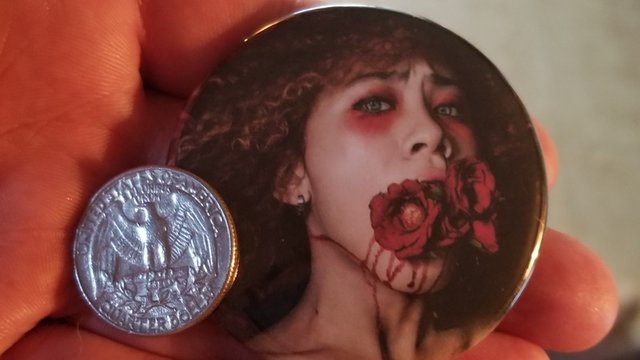 ---
So why should I care...
Well, obviously first and foremost these are BEAUTIFUL works of art... but the cause is a great cause as well!
an amazingly helpful presence in and contributor to a diverse group of Steem communities, from Curie to MSP to Helpie and other points inbetween. I will let her tell you in her own words a little more about herself and if you don't want to sell your kidney to help her get to Steemfest after this, what is wrong with you? LOL Nah keep your kidney, but do buy the buttons!!!
@llfarms in her own words:
My Entry For The Blocktrades + Open Mic SteemFest Ticket Giveaway
Road To SteemFest Weekly Freewrite - Choices
Road To SteemFest - Three Random Facts About Me (Week 4)
---
Much love - Carl