Desperation sale of my oil painting "the fertility of the all-seeing eye"
---
Hello Steemians,
I am selling my oil painting "the fertility of the all-seeing eye", which I posted here in its full painting process --- I don't want to bother you guys with my personal stuff, but in this stage of my life I really could need some support and help and hope, that I can sell it here on Steemit.
I just used the best oil paints on a real good and solid canvas. The size is 90 x 70 cm or approx. 35 x 27 inches. I had over 200 hours of work with it, because I am not so routined yet...
I am asking for 1.000 Steem, which I can power up, to work me up again here on Steemit.
The shipping costs and the packing are included - worldwide.
In terms of TRUST - please check out @stackin and his post here which he did, when my painting of him arrived in Las Vegas
If you are interested, just leave a comment down below and if you just want to support me with a Resteem, I would highly appreciate it! Thanks so much everyone,
much love!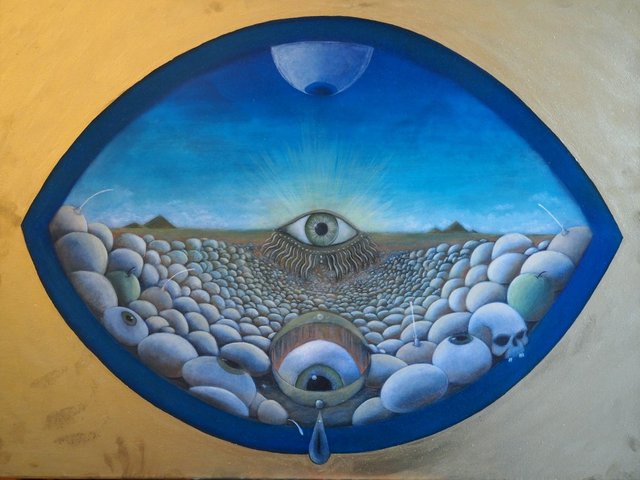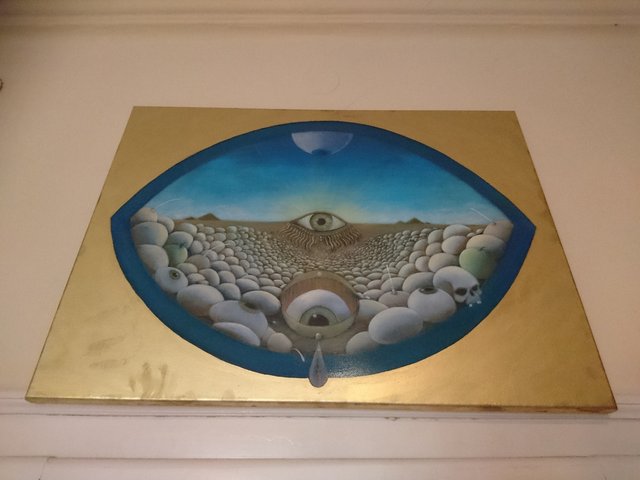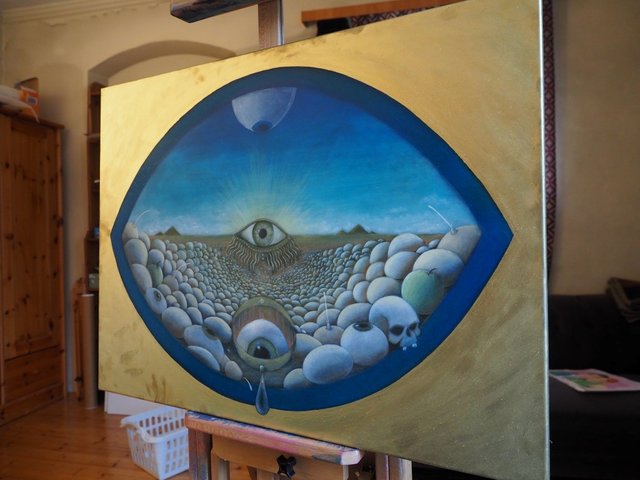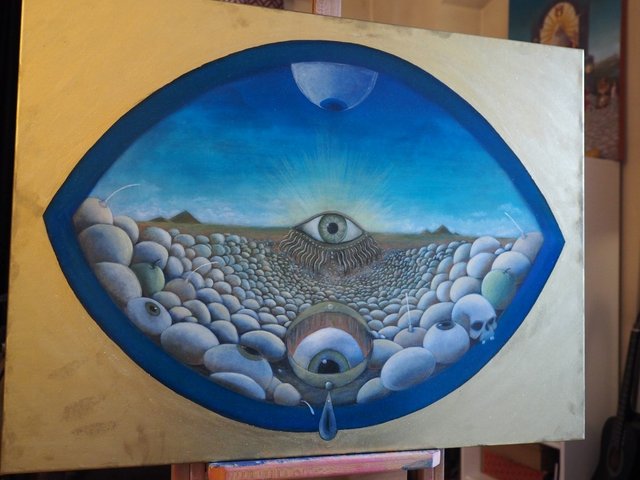 ---
Liebe Steemians,
Ich verkaufe mein Ölbild "Die Fruchtbarkeit des allsehenden Auges", das ich in seinem Prozess hier gepostet habe. Ich will euch nicht mit meinen persönlichen Belangen langweilen, aber in dieser Phase meines Lebens könnte ich wirklich etwas Unterstützung und Hilfe gebrauchen und hoffe, dass ich das Bild hier auf Steemit verkaufen kann.
Ich habe nur die besten Ölfarben und eine richtig gute und solide Leinwand verwendet. Die Größe ist 90 x 70 cm. Insgesamt habe ich daran über 200 Stunden gearbeitet, da ich noch nicht so routiniert bin...
Als Preis möchte ich 1.000 Steem, damit ich sie aufpowern und mich wieder raufarbeiten kann.
Versand und Verpackung ist includiert - weltweit.
In Sachen Vertrauen - bitte schaut euch @stackin und seinen Post hier an, den er gemacht hat als sein Bild, das ich von ihm gemacht habe, sicher in Las Vegas ankam.
Wenn ihr interessiert seit, hinterlasst mir bitte ein Kommentar oder wenn ihr mich einfach mit einem Resteem supporten wollt, weiß ich das sehr zu schätzen. Danke an euch alle,
Alles Liebe!

...
Currently I am a self-taught artist, but I have the vision to absolve an accurate painting academy. So I highly appreciate every support from you guys on my journey becoming a professional painter. I would be more than happy, if you want to add me to your automatic voting list or if you RESTEEM my post!