Greetings to everyone! the watercolor that I propose today is part of a series dedicated to the colors of the Mediterranean Sea and as you can see I have taken models of the beautiful Sicilian lemons.
The context in which I painted the lemons is a sea with a tower and a small village perched on a small hill.
Lemons want to represent the natural illumination of the sun and their intense yellow colors blend with the ultramarine blue until it becomes bright green.
As you can see the lemons make a slight reflection on the water and in the transparency appear new colors like violet and pink.
I hope that the light of my lemons gives you good feelings.
Thanks for reading.
---
---
---
un caro saluto a tutti! l'acquarello che propongo oggi è parte di una serie dedicata ai colori del Mar Mediterraneo e come potete vedere ho preso come modelli dei bellissimi limoni di Sicilia.
Il contesto in cui ho dipinto i limoni è un mare con una torre ed un paesino arroccato sulla piccola collina.
I limoni vogliono rappresentare l'illuminazione naturale del sole ed i loro colori giallo intenso vanno a mescolarsi con il blu oltremare fino a farlo diventare verde brillante.
Come potete osservare i limoni fanno un leggero riflesso sull'acqua e nella trasparenza appaiono nuovi colori come il viola ed il rosa.
Spero che la luce dei miei limoni vi trasmetta delle buone sensazioni.
Grazie per la lettura.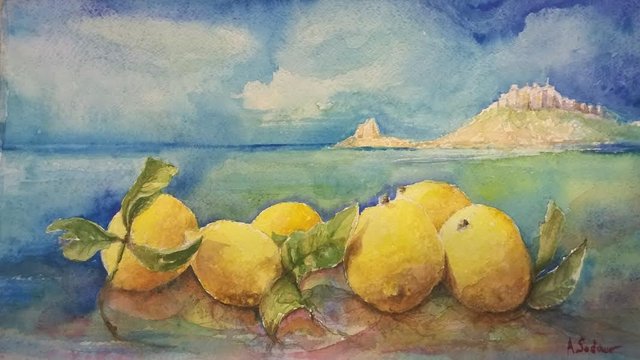 title: "natural illuminations"
technique: watercolor on paper
size: 54x38cm.
year:2017
private collection-Rome


detail