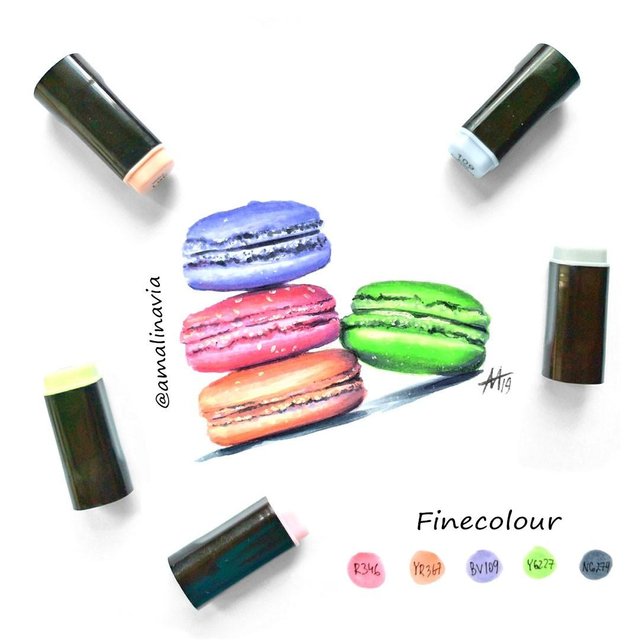 Looks like step-by-step lessons become a tradition. I used 5 Finecolour markers R346 YR367 DV109 YG227 and NG279, white gel pen and Bristol paper.
In the slides, see step by step. The whole sketch took 30 minutes ... and then I collected slides for another hour 😂😂😂.
Steps:
I draw each macarons with own color, outline the main lines.
I fill each macarons with one layer of marker, when superimposed on the last layer, the main lines remain visible.
With the next layer, I darken the places where the macarons comes into contact with each other and the shadow places.

4.I take the marker BV109 and go through one layer in shadow places. For purple macarons in the shade I use the marker R346.
I take the gray marker NG279 and make the shadows even darker, in the darkest places I pass the second layer after the first one dries.
I add shadows under all cakes with a gray marker, I add details with a white gel pen.

I hope you enjoy these step-by-step tutorials. And I will be pleased if you repeat it. Tag me and I will drop by to visit you.
---
All my paintings can be bought for sbd/steem
---
Thank you for watching!

P.S. It is hard to write in English, because my native language is Russian. But I'm learning. If you notice serious errors in the text that interfere with the correct perception, please let me know about them.