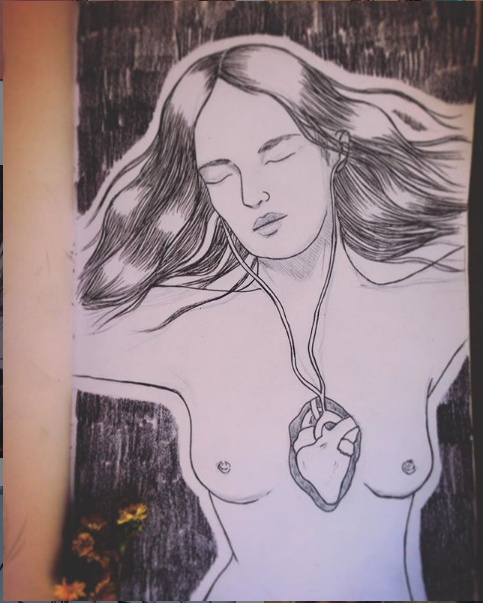 El sonido de los latidos/Heartbeat sound. By Alejandra Herrera
No creo en las cosas complicadas.No creo en las confusiones del corazón. Yo creo que la gente simplemente tiene miedo.A veces, cuando no tengo muy claro que decisión tomar, me gusta quedarme sola y arrancar mis miedos, y entonces me digo en voz alta lo que siento desde el corazón. Es muy simple, solo se trata de hablar con uno mismo con toda sinceridad, de escuchar al corazón. Allí están todas las respuestas.
Así hice esta ilustración, ahogando todo sonido externo. Me gusta el efecto de las lineas cuando uso primero el creyón negro y luego paso rapidógrafos. Se hace más intensa, como la idea que quiero expresar.
---
English version
I do not believe in complicated things. I do not believe in the confusions of the heart. I think that people are simply afraid. Sometimes, when I am not sure what decision to make, I like to be alone and tear out my fears, and then I say aloud what I feel from the heart. It's very simple, it's just about talking to yourself with all sincerity, of listening to the heart. There are all the answers.
So I made this illustration, drowning out all external sound. I like the effect of the lines when I first use the black crayon and then I pass stylographs. It gets more intense, like the idea I want to express.
---
If you liked my illustration, you can check my previous post, in which I talk aboutthe nudes in my art concept. Just click HERE
And you can check this other post, in which I make a comic portrait about sadness. Just click HERE
If you like my work, visit my Instagram Account