Roundup featuring recent Geek, Green and Creative-related posts + thoughts.
Warning: possible inspiration + info contained within;)
June 2018
CREATIVE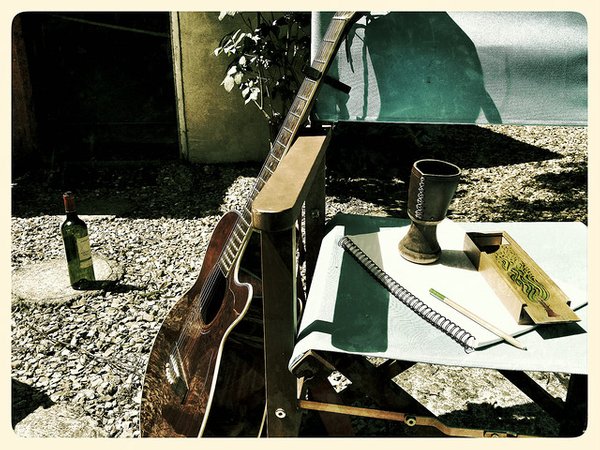 - an old piece of fine art featuring a guitar [testing out steem art-site Elegance.]
- a poem for coffee-drinkers on Yours.org
- a free photo-art image for your blog: 'Wise Application'
Curation snapshot:
- 'Palm Trees' poem by @lukakorba
- Watercolor artwork by @emsweet on Elegance steem-powered site.


GREEN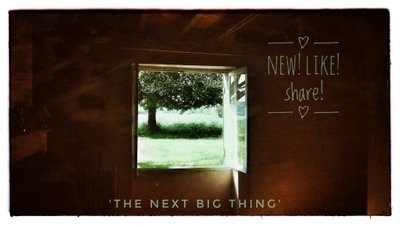 - free photo/word art image: 'One with all things….'
- an idea I once had for a painting 'Nature Rules...'
- Perennial food post from @walkerland.
- the World Wide Flora project on Steem can help identify your plant and flower photos.
GEEK

Sites/apps/tech...
Tired of reading comments in discussions that seem to lead nowhere? This website has no token, but it's got a lot of potential for 'visualising' sides to topical or any subject under the sun. A small-ish, intuitive learning curve enables getting to grips with how to join/start/edit/vote on any conversation. 
It lays down the pros and cons in the form of a graphical tree hierarchy that you can move sideways, viewing the pros and cons of each section. It's worth a look, as it's a handy way to get a grip on topics from blockchain to brexit. Contribute your own starting point, or contribute a pro or a con that might be missing, or vote on any thread in the tree. There are definitely 2 sides to every story, and this project provides some level of clarity.
This Steem-powered site focuses on Fine Art and links to your Steem login via Steemconnect, so you don't have to create a new log-in. I love the look and feel of the explorer with voting slider. There is an option to create a quick post or a more extensive one via the tidy editor, which is great. However, the editor still needs work to make adding images an easy process although i think they can be uploaded (I'm not sure where exactly they go, possibly IPFS protocol - and this is a big plus for people put off by linking their post images elsewhere). 
The one drawback is if you're not a regular artist or poster of artwork, then all your Steemit etc. posts will appear in Elegance explorer. This is not like dSound for example, where on dSound only your music files are listed. It would be nice to have this option but anyhow bravo @elegance it's coming along.
Best Movie Seen in a While...
CRYPTO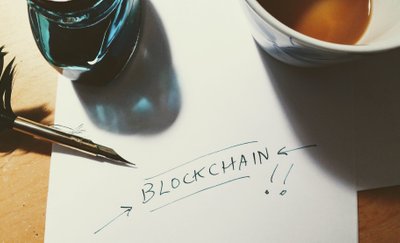 Disclaimer: this is all just personal opinion i'm no financial pro.
Market comment
Down, to say the least, which is annoying, because even crypto-lovers and seasoned hodlers just feel like there are invisible weights being pressed deliberately into the prices, with no-one actually bothering to 'invest'. For people who want to see projects grow, a bear market (and one still tethered to bitcoin) can be tiring. There are probably a load of leftover players who enter and exit just to milk any sign of a bull run etc. However, these are the 'weak hands', who will get bored and tired...
Also when prices are low, it definitely eats into the desire to want to earn crypto. However, we've seen Binance begin fiat to crypto in Uganda recently, but I'm eager to see this for coins like Steem, and then to see fewer such useful coins tied to or weighed down by the link to Bitcoin price. 
Overall we want steady growth, not sudden, but I think we'll see a few catalysts plus a steady trend that will bend crypto from being 'risky' to something confirmed in the minds of many as being empowering, easy-to-use, attainable, secure. The latter is building up anyhow but it's fun to speculate - and see - when and what this might be, (and what people in power realise about such a catalyst.)
Potential catalysts: regulation, bank collapse, stock market collapse, technology developments, data breaches or issues with centralised systems. 
Negative (which isn't really that negative): hacking, centralised crypto exchange gets hacked, major criminal event sparks govt. clampdown in some form. 
Trading
I only recommend swing trading, which is realising that there are market cycles right now, without any major catalysts. Even then, it's v. hard to know how low this market can go.
If you're not margin trend trading, then you could simply wait with a boat-load of fiat until such a golden catalyst story comes in - but you might go nuts waiting. With regulation in mind, I feel this will come more slowly, as it may not be in anyone's best interest to see sudden regulation and green light for crypto. 
Unfortunately that sell button can come in handy too, when there is still some negative potential out there. 
If I Had More Fiat Right Now I Would...
Dollar-cost average Bitcoin all through bear market. Why? Just in honor of the concept and threat that is Bitcoin, its hedging capacity against instability and corruption and its utility. No-one talks - a lot - about its importance and reason for its existence. The daddy-crypto is out of anyone's full control, unlike most other coins. I think it will always be with us. However, yes it could be surpassed by a faster ones, but the faster ones could be more vulnerable. 
I would put money into projects I actually want to use or see succeed. Nano for example, which if it's going to work, sounds like a fast coin with a bright future. It will probably stay the course in the long-term. 
News Highlights
- Bank of England sends letter out to all the UK Banks warning them about Cryptocurrency links may damage their reputations. Well, your head-ache is only just beginning guys so why not focus on such FUD.
- Facebook and crypto
Facebook wants in on blockchain, but this grates. They're in on VR, which makes sense. They're a social media platform. However, it's harder to get a head around it for crypto. The ability to send crypto easily would be nice over FB, like anything, but incorporating their own....?
They want to muscle in on something that was the medicine to misuse of data and lack of reward for people engaging with their services. We post and share things and never see much back for our good will and desire to keep up appearances with our friends and family. Steemit for example, is promoting creativity and comment in all manner of forms. 
Facebook would need a huge overhaul. It's amazing how threats to any existing, 'controlled' platforms can arise. They are finding that there are more ways of doing social media beyond the design of a platform that only ever - although completely - cornered one aspect of human nature: keeping up appearances. 
It feels like a David and Goliath situation, so I came up with this recent post [quote]. 
What is the real stone in the slings? It's decentralization-power. And the eyes of most data-exploiting giants (Facebook etc.] are focused on crypto. 
But who cares if Bitcoin is slow right now, when it can come at you from all directions, and in many new forms which bear no incentive for your 'services' anymore? 
Facebook's other option is to buy out some big companies like Coinbase and start building a new, Facebook v.2 that will have a tokenised, user-rewarding, BAT-style ad alternative. Or...just not bother.  They do have their own strength as a centralised sharing/communication platform for friends and family. Groups are pretty useful too. Trouble is…'active user' is another thing altogether. 
Anyhow, there are better articles written on this relationship out there, worth searching. 
CRYPTO SITES + TOOLS
Steem: Payment apps for Steem - because we want to generate QR codes for stuff, etc and allow direct mobile payments via Steem. ie. have a proper mobile wallet. Keep an eye on Spark Payments app. I'm less sure about the Steempay website, but you can create a store and product on that site. Both are not very clear to use right now, but hopefully @kodaxx can pull this off. 
CryptoPanic tool - now has portfolio-tracking option, and is great for news filtering to coin, notifications and picking up signals. User profiles are also coming soon. Essential. 
Moonhash - tried this out and it's a simple-to-edit fast portfolio tracking variation to Coinmarketcap. Good for more casual users. 
Livecoinwatch - just great to have a coinmarketcap with live, changing prices. Scroll down on a coin though and you'll come to Developer Activity. Another great indicator about what a coin has been up to and how much development going on. 
For Steemians....check out my previous list of Steem tools. 
On the list to investigate...
Cryptogrind.com and freelance sites.
Thanks for reading this first edition of the Greenwise Steem-focused Digest. It's only the first, but I hope to expand the sections. 
Comments/recommendations/corrections highly valued. 
OUTDOORS / BEYOND THE SCREEN
I am base in SW France, where I get to do things outdoors too. 
Recently: 
--------------------------------------------------------------------
note on CURATION
Artist, writer, or crypto-enthusiast? Search the Steemauto.com for ade-greenwise Curation Trail to join me in supporting selected work, great crypto writers, green projects and people etc. (this is just starting up at this time as I'm currently re-claiming some Steem power. But you can still join :) 
What does this mean? By joining my trail it means you don't have to think about finding good content, as I do the curation work, but you'll auto-vote the posts that I find. You'll still learn about those I include, here in this regular digest.
(Also:  you can request to be added as a new artist by sending 0.2 SBD. Even if I don't select you on the basis of that particular post, you'll still receive a random upvote and I'll provide a constructive comment (to confirm your work has been paid attention to): read more on this feedback service here).
Submit a site/project/etc. to feature in a digest: send 0.2 SBD with memo details.
--------------------------------------------------------------------
Support
I can recommend investFeed social media trading with its own token.
Steemians: my Smartsteem referral link.
Follow @ade-greenwise / Upvote / Resteem / Delegate SP
+ to help support this digest+curation service. You can get email notifications of new roundups by signing up to wordpress blog.
Best green wishes.
--------------------------------------------------------------------
'If you don't believe it or don't get it, I don't have the time to try to convince you, sorry.' 
- Satoshi Nakomoto [more quotes]