Best [Crypto-ish Movie] in a while: 'The Imitation Game'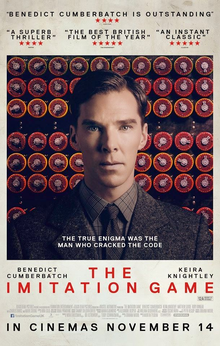 'The True Enigma Was the Man Who Cracked the Code' (tagline).
These are exciting times with so many people now working in cryptography, especially those who see the potential to free and empower so many people through its application.
The Imitation Game (2014). Just one of those really 'good' films that manage to bring to life and celebrate a true and important event/story from WW2 history. 
It's not long before you realise it's also going to be a brilliantly acted 'portrait of a genius' story that does require the telling.
I was worried Cumberbatch would just do his Sherlock thing or something, but here he proves he can do a lot more, and still be as captivating to watch. It helps that the character he plays, Alan Turing, was a fascinating, troubled academic full of ideas and, as the founding father of geeks in general - in this time of crypto-geeks. So this movie was always going to be worth witnessing. 
With enough other characters to enhance the drama and emotion, it ultimately pulls at your heart and leaves you amazed but dismayed with how society behaved towards such a guy, at the dark times of the events turned against so many. 
Connection, loneliness, mental obsession, repressed sexuality and inner demons: such themes link everything together, and are brought to the surface only by the unfolding events that brought these proud and intelligent people together. 
Inspiring and essential. 
Alan Turing (wikipedia)
The Imitation Game (wikipedia)
The Universal Turing Machine (wikipedia)
The Turing Test (wikipedia)
On a personal note, I've stood in front of one of Turing's early computers in a museum. It blows your mind to realise how far things have come, thanks to these math giants or uber-geeks. Even the Blade Runner 'Voight-Kampff' test (in Philip K Dick's original book) taps straight into something out of a Turing Test.
Plse Vote/Comment/Resteem if you agree this was a great / important / relevant movie folks.