You like crypto and Arduino? Build this hardware cosigner for Byteball wallet
I've written a library to run a small version of a Byteball client on ESP32 and ESP8266, it's called Byteduino (https://github.com/Papabyte/byteduino)
This is a first project based on it:
https://github.com/Papabyte/Hardware-cosigner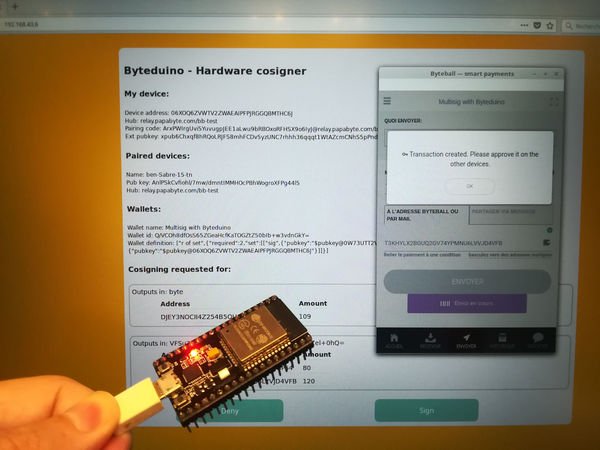 It's a cosigner for the Byteball standard GUI wallet, it contains a private key that never goes outside and that is required to sign a transaction from a wallet configured as multidevice. You are asked to confirm the transaction on local webpage to authorize it. That greatly improves the security of your funds.
Remember that you can get free bytes by participating to the airdrop for steemians: https://medium.com/byteball/steem-attestation-announcement-modified-rules-4d1bc4bf4458
Beside signing transactions, the Byteduino library allows to send and receive messages through the encrypted private chat integrated in Byteball. It's an interesting interface for your projects since you can send text command from the Byteball wallet which is available for Windows, Linux, MacOS, Android and Iphone. You don't have to take care of any NAT configuration, messages are relayed by Byteball hub and will always be transmitted whatever the Wifi your Arduino is connected to.
If you need help, join Byteball Slack http://slack.byteball.org/ and go to #byteduino channel.