Afternoon Bread Time - Beautiful Sunday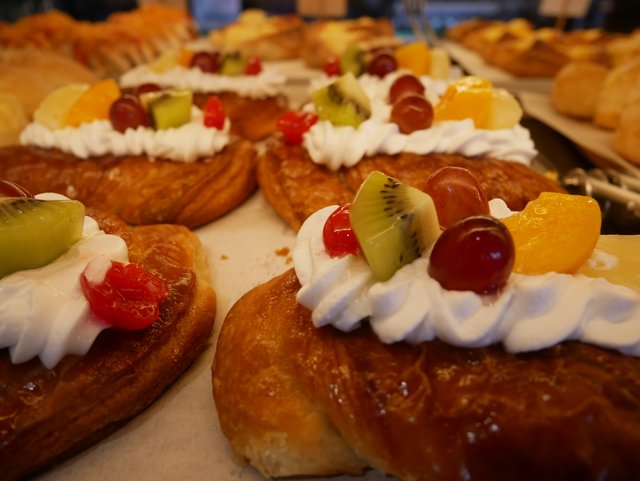 A nice quiet afternoon with the family and the scent of freshly baked bread floats near the entrance of the supermarket. We were going to do a little grocery shopping, but the delicious scent has invited us to have a look. Let me share with you today a small bake shop within the supermarket here in the Philippines. This is not the usual traditional bakery that can be found in our streets. Walk with me for a little while and have a look at what they have to offer.
Afternoon Bread Time

Bread has a special part in my heart and whenever I see a bakeshop, a lot of memories comes back to me. We used to operate a small bakery years ago and I learned to bake a lot of our local bread. It was hard work waking up at 3 am to get the dough to rise in preparation for a busy morning. I had to admit that it was one of the hardest work I have ever done in my life. Running a bakeshop is no joke, but on the other hand it was fun and was quite an experience.
When I see different types of bread I always wonder how it is prepared. I love the uniqueness of each bread, the creativity, the taste and the delightful scent. Here there are so many on display and would be impossible to taste them all in one day. Probably if this place was close from home I'll be able to have a different bread each day. Let's have a look around and let me know if something catches your eye.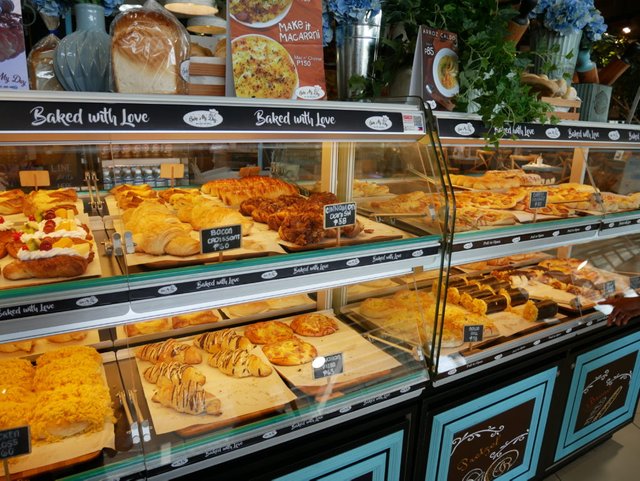 The name of the bake shop is "Bake My Day" and I find the name quite catchy. The place started just last year when the supermarket opened. I love the saying on the glass the says "Happiness is the smell of freshly baked bread," I find this very true as just the scent of those baked goods brought a smile to our face.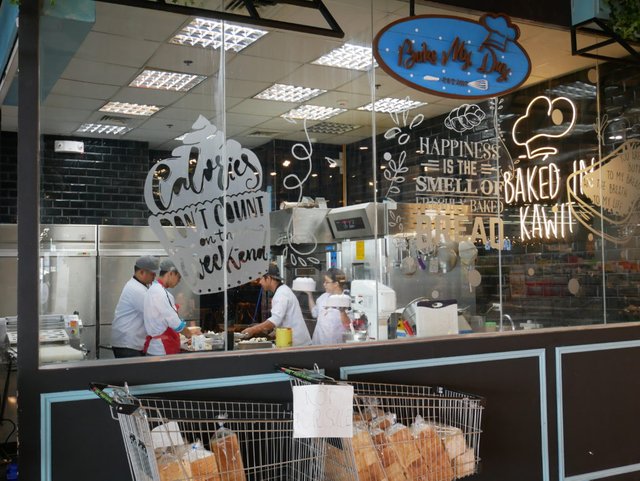 The kids were browsing on the glass display and were already trying to make their choice. As for me I just wanted to take a few snaps around the place before I make my selection. The scent from the bake shop is already making me hungry, but that would need to wait for a while.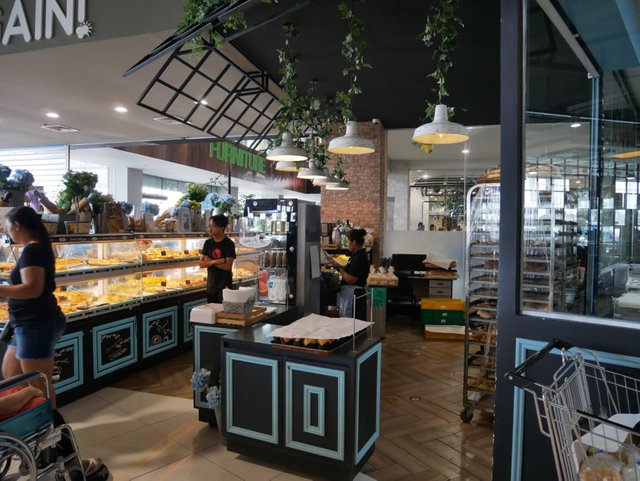 The kitchen is open for everyone to see. That is a good sign as a lot of people prefers to see how their food is prepared. Ensure cleanliness and a great way to gain confidence of the customers. As we know there has been a lot of horror stories about food being mishandled, dirty kitchens and unsanitary employees.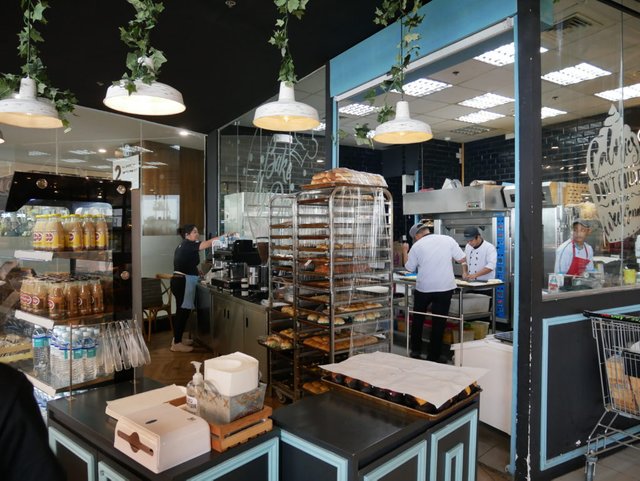 Here you could watch as each bread is carefully prepared. I was trying to get the bakers to look as I took the photo, but I guess they are pretty busy.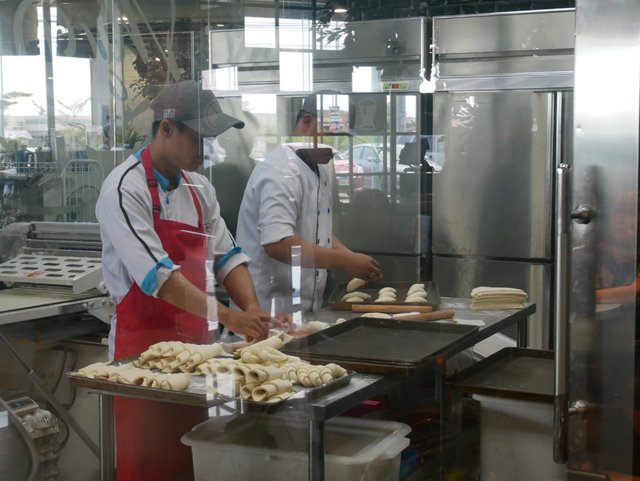 Time to pick up that tray and make a selection. It's self service and you just need to use the tongs provided to get the bread that you want. After that just bring it over to the counter to pay for it. But there is trick here in buying bread and I guess it is also done in other bakeries. An hour before closing time they sell all the left over bread for half the price. I doubt we could wait that long lol.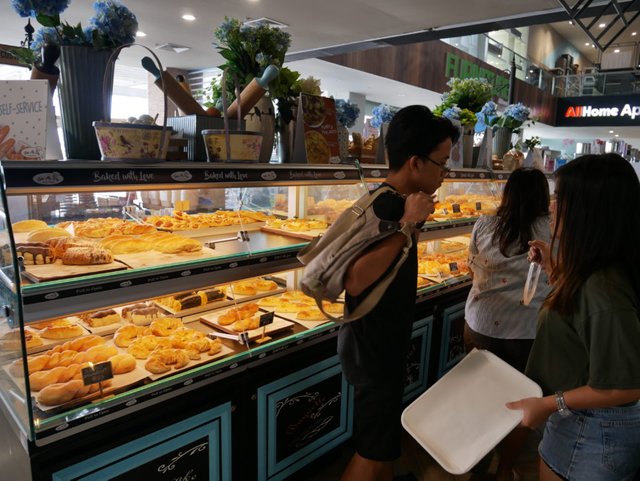 A dessert and bread served into one. Fresh fruits served over whipped cream on top of the bread and that slice of kiwi fruit looks so delicious.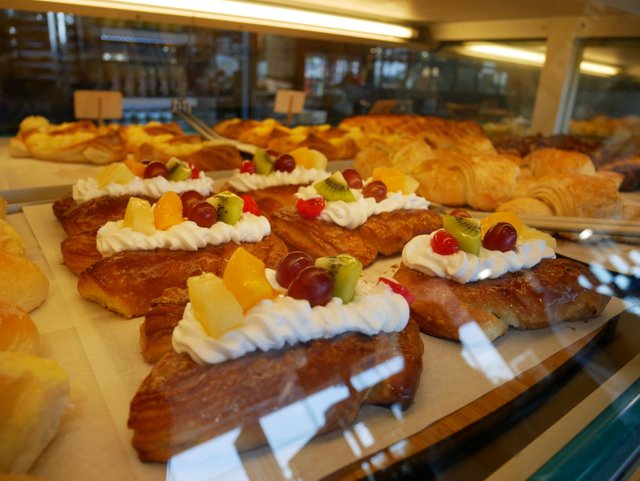 If you love cinnamon bread this is for you. The smell of sweet cinnamon emanates to moment you open the glass display. I had a chance to bake some cinnamon rolls back in the days and I love the scent of it.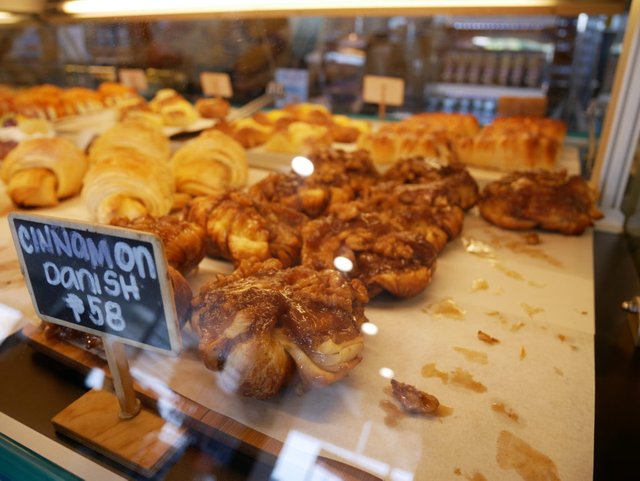 I apologize for the out of focus photo, but I guess I was a bit in a hurry to grab the last two pieces of the Chocolate delight. A bread filled with custard and covered with rich dark chocolate and to finish it off sliced roasted almonds on the side.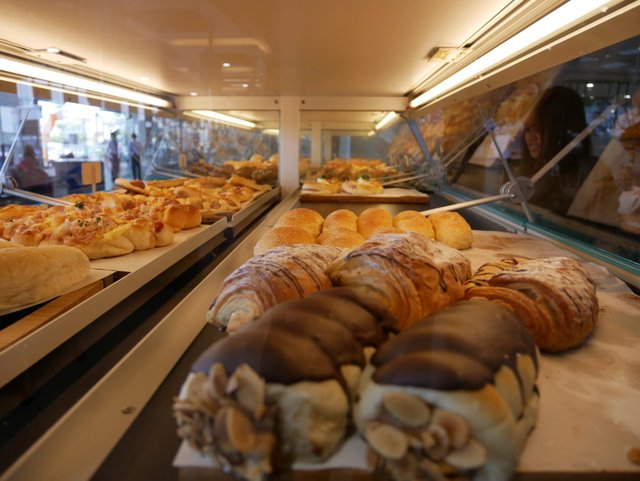 This looks familiar and similar to our local bread. Twisted and sprinkled with sugar and I just can't seem to recall its name.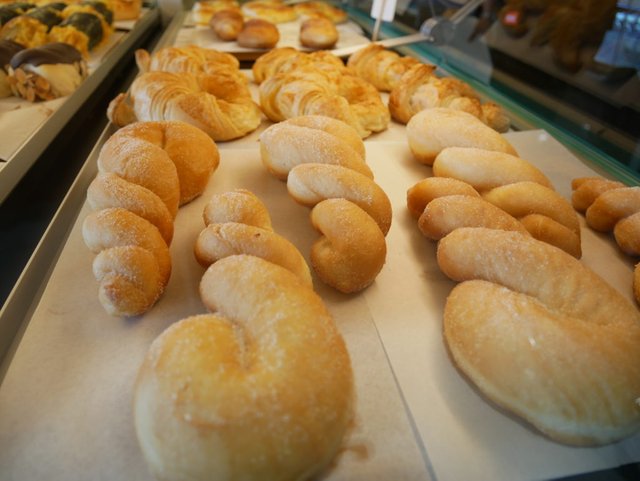 Another treat which is topped with bacon and cheese.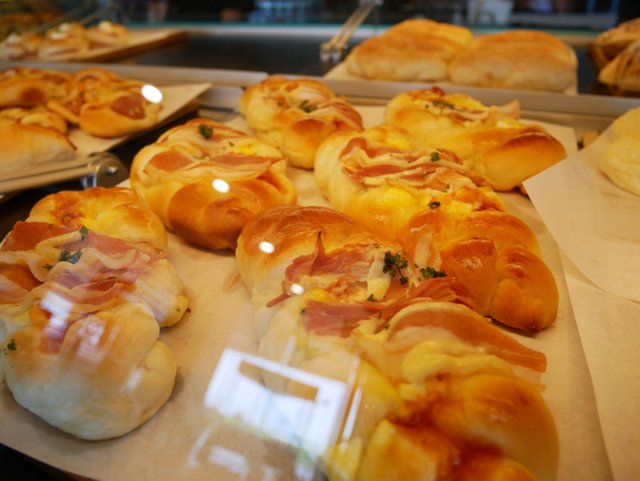 The pork floss bun and I think they also have it in chicken floss.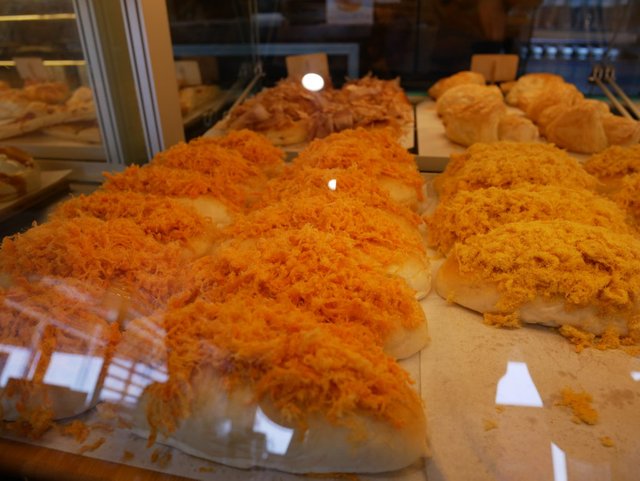 The Peach Danish that looks like an egg. My daughter had this in her selection and she really loved the sweet slice of the peach in the center. There is another option which is the Pineapple Danish, but the Peach is the one that attracts attention.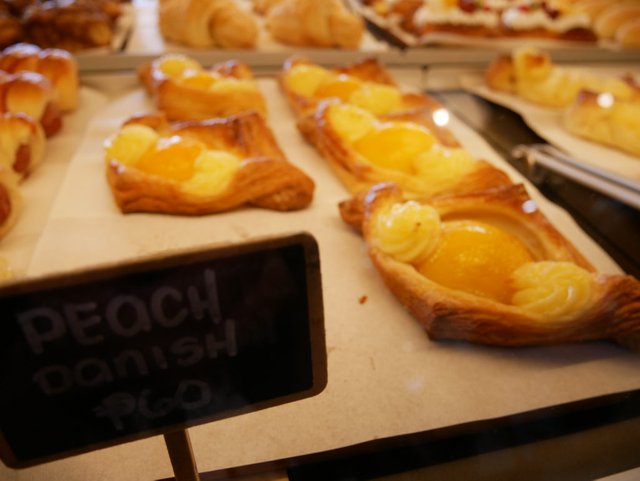 The Spicy Sausage floss which is bread with sausage inside and topped with pork floss. Something that I would need to try next time to see how spicy is the sausage.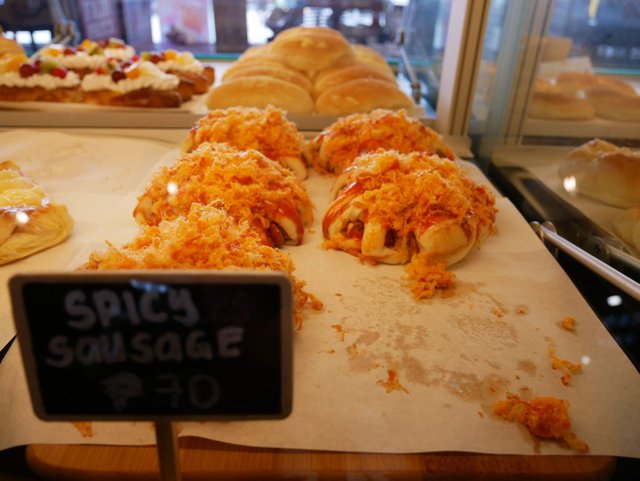 A bun that is loaded with sausage, I think that doesn't sound right.
I wasn't able to get the name of the bread on the left, but the one on the right is called the Chocolate Danish. My son took two of those and he absolutely loved the delicious chocolate filling.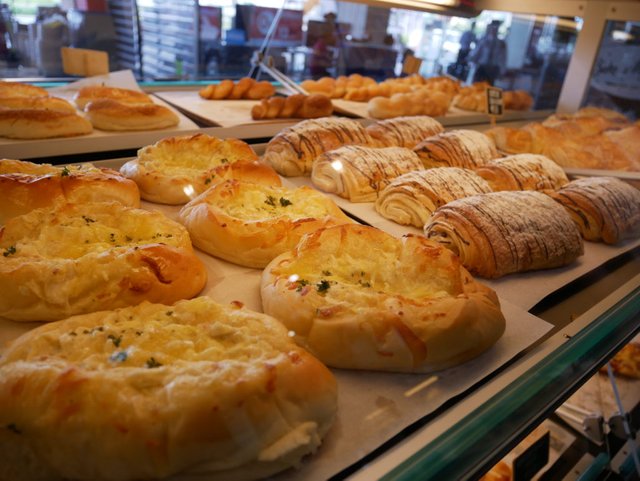 This bread is interesting as it looks like it has been topped with wood shavings. It is called the Okonomiyaki and is inspired from the Japanese pancake.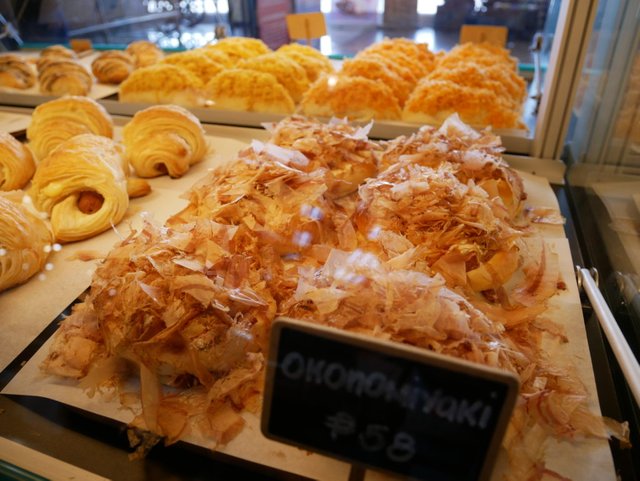 I never did get to find out what are those shavings on the top.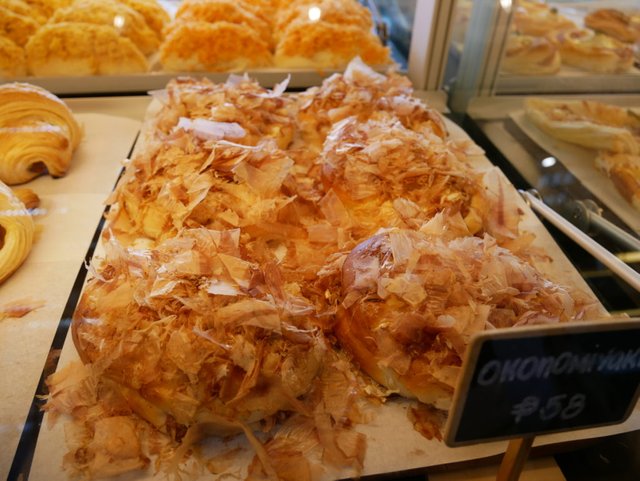 A closer look at the Chocolate Danish which my son loved so much.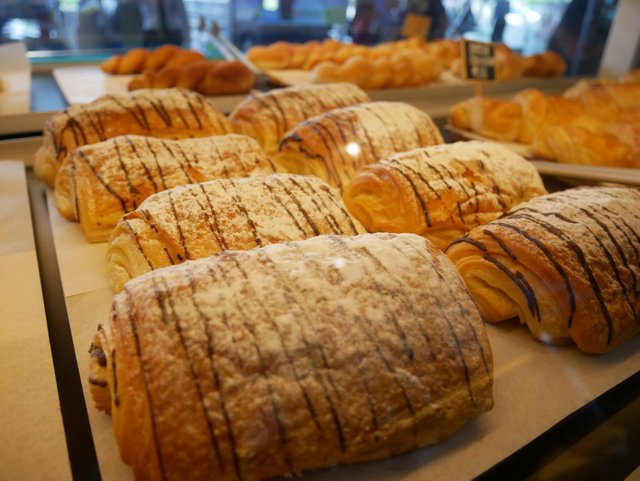 My aunt and daughter waiting for the bread that they selected while my wife paid at the counter. I hope you enjoyed this delicious afternoon with me today. Bread is happiness and simple joys of life and I have never met anyone who doesn't eat bread. Well what do you think? Let me know what you liked and let's talk more about bread. If you are interested to see what the local bakeries in our streets looks like. Do visit my old content below. Until then enjoy the rest of this #beautifulsunday.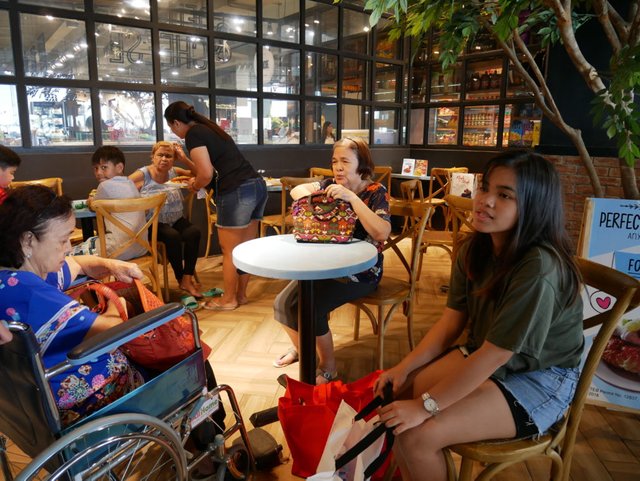 Official page

Follow @surpassinggoogle to witness an extraordinary person in this platform and vote for @steemgigs as witness
Discovering exceptional content in the community follow @curie and vote as witness
To have a glimpse of awesome content from the Philippines check out @bayanihan
All photos are original and taken with
Lumix GX85 and 12-32 mm kit lens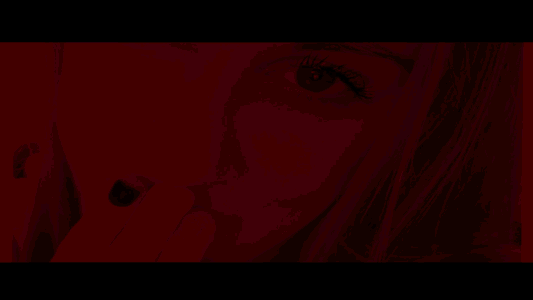 ---
Posted from my blog with SteemPress : http://watersnake101.vornix.blog/2018/10/28/afternoon-bread-time-beautiful-sunday/
---