TacoCat's Travels #31 (Japan Ver1): Visiting Friends, Shrines and Pokémon!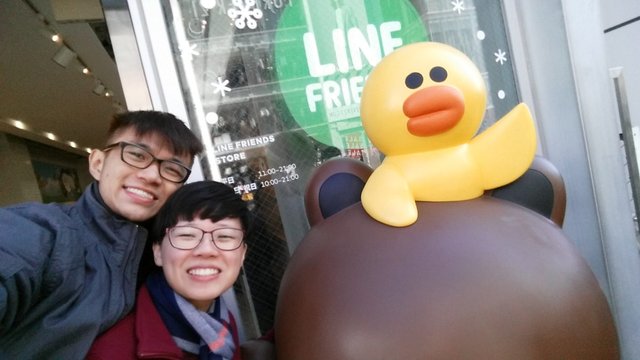 Hey Steemit!
So in the previous post, we started going on a journey back to my first trip to Japan at the end of 2015! On our second day in Tokyo we went to explore Harajuku - the hub of youth culture and fashion!
30 Dec 2015. Wednesday.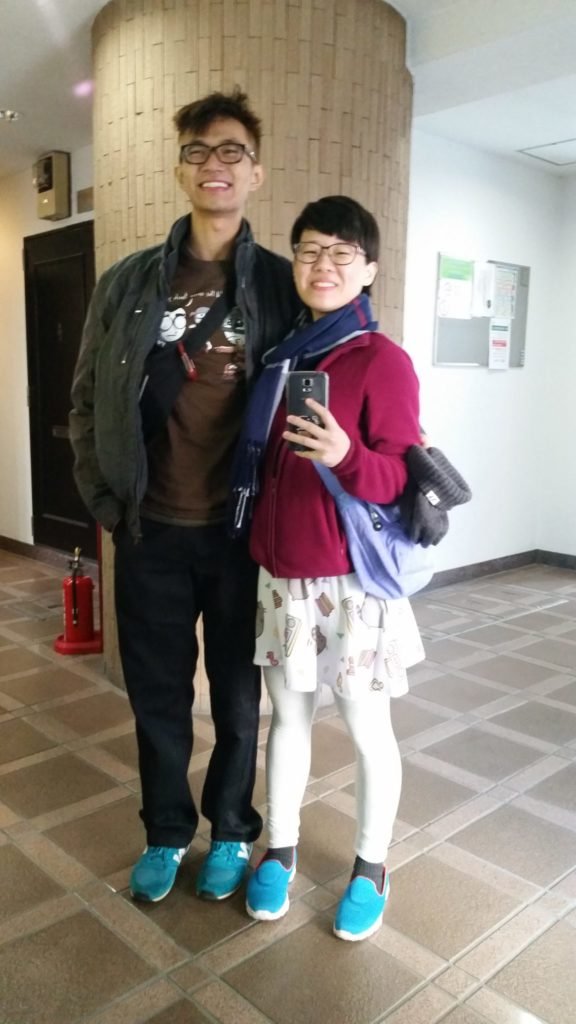 our ootd!
We started off the day with some yummy udon for brunch!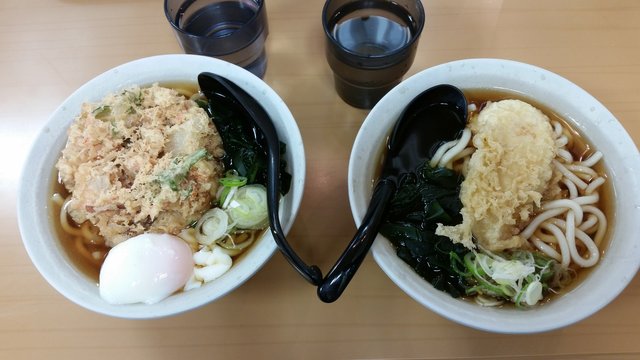 It was pretty dang crowded when we finally arrived at the famous Takeshita Street!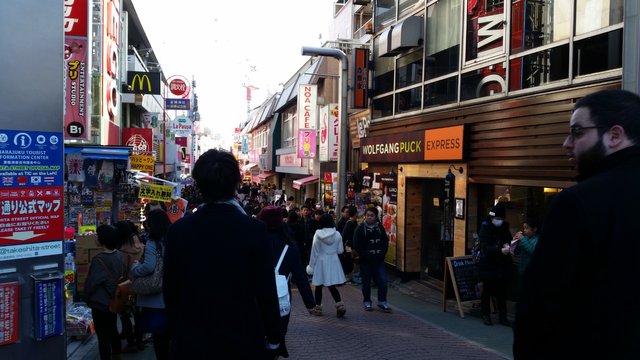 I didn't get a picture of the entrance but here is what it's supposed to look like: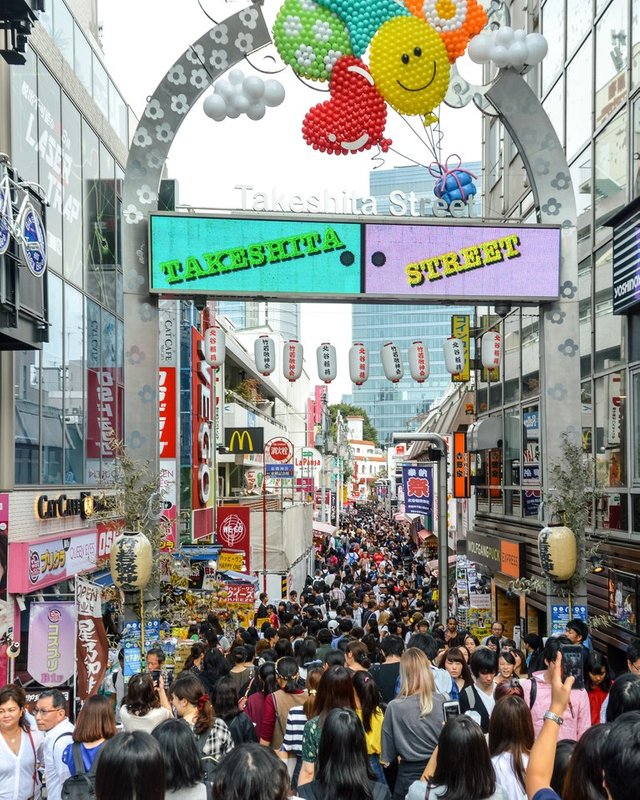 Source: cntraveler.com
Harajuku is full of shops selling cutesy clothes and stuff, like this one: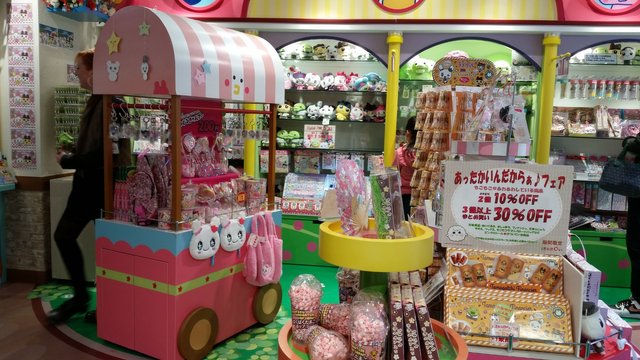 I don't really have that many photos from the actual street, unfortunately, since there was too many people (who are mostly taller than me). But after walking along the whole street we came across the LINE friends store!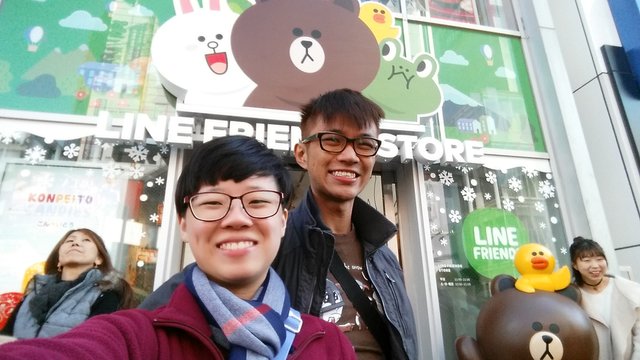 We're both big fans of the LINE characters (especially Sally!) so I was pretty excited to see a whole store full of them!
They even had a photo area full of Browns!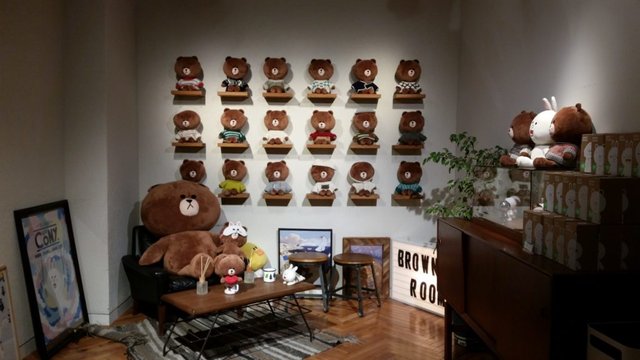 There was all sorts of cute merch ranging from mugs and plates to clothing and other accessories, and even snacks!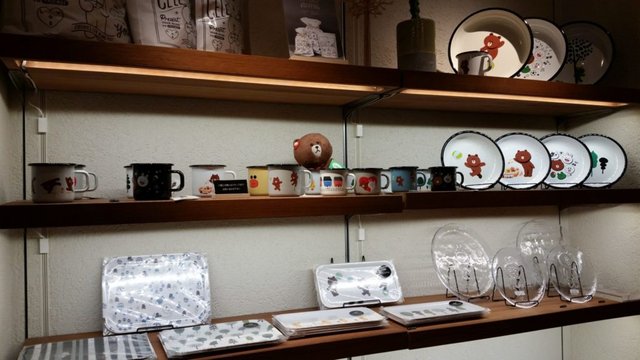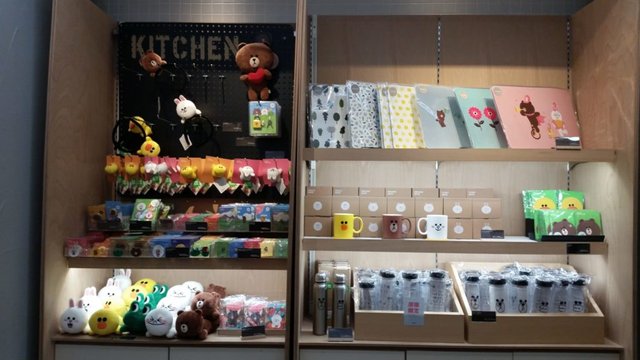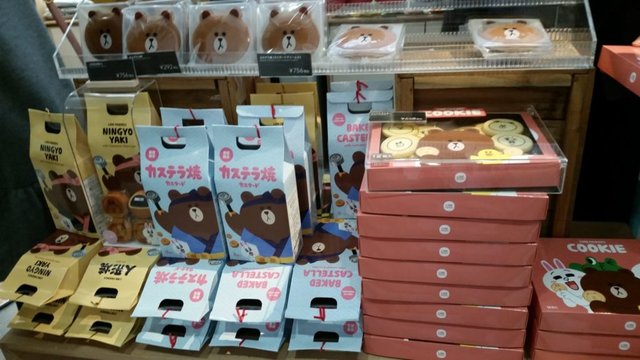 The store was also really well decorated with posters and statues of the LINE characters.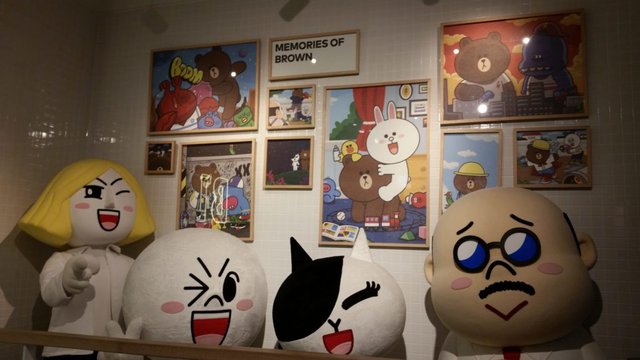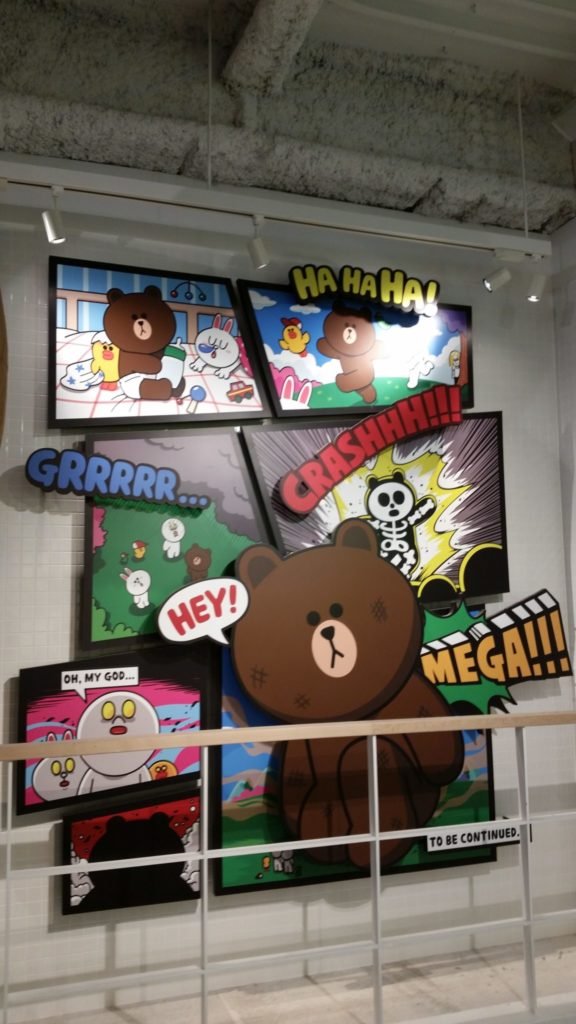 There was even a gigantic Brown near the front of the store!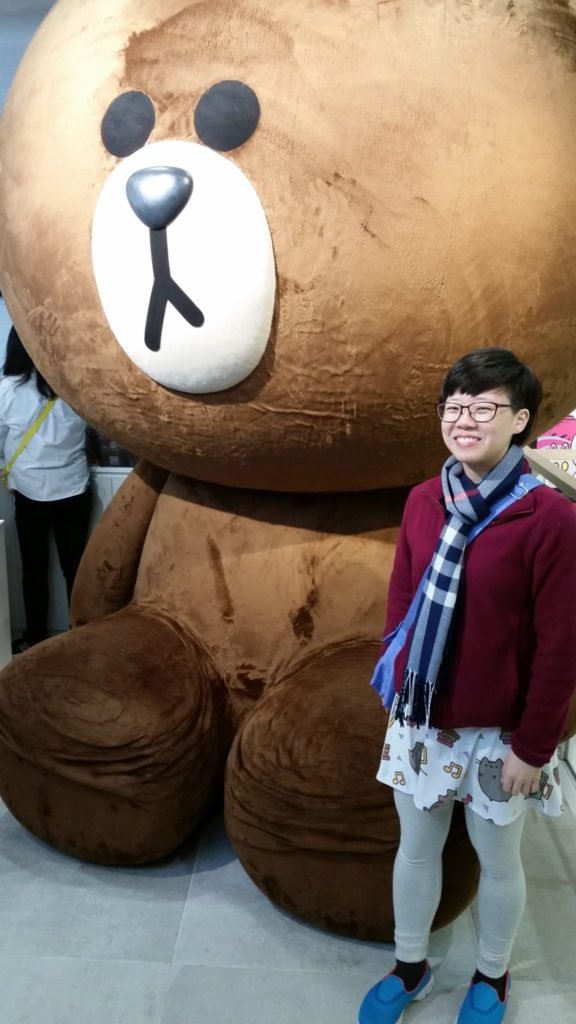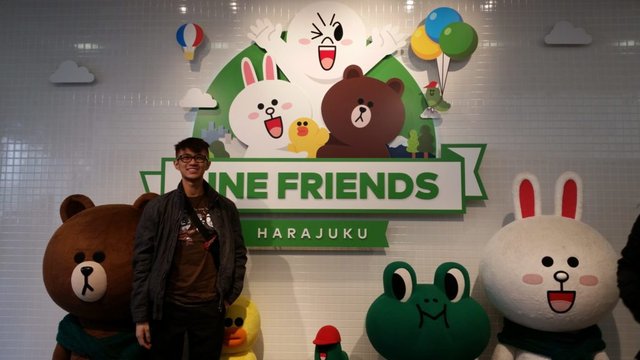 The store itself was pretty crowded too, but we had fun seeing and taking pics of all the different LINE merch. Most of them are pretty expensive though, so I don't think we actually bought anything.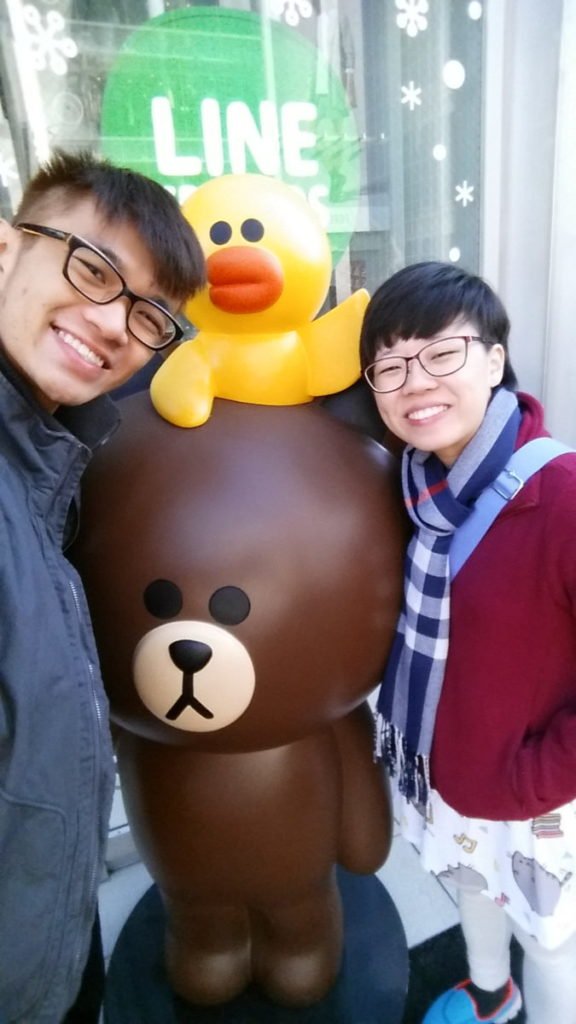 After that, we decided to get away from the crowds and headed towards the famed Meiji-jingu shrine.
But first, a snack!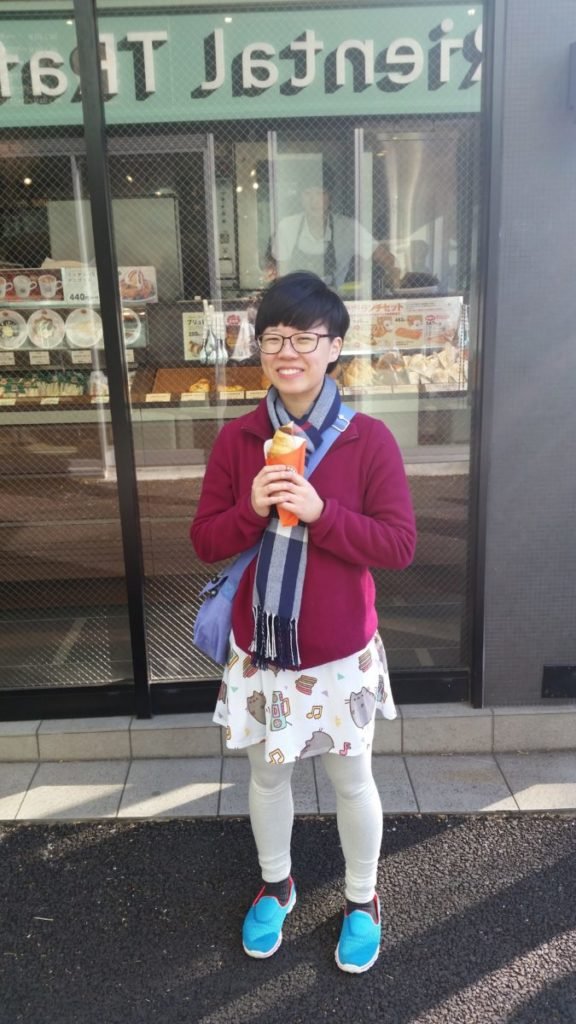 We bought a yummy choco cro (chocolate croissant) from St. Marc Cafe (now one of our favourite cafes)! It was crispy, warm and delicious! 😋
There was still quite a few people going to visit the Meiji shrine but the pathways are fairly wide here so it was definitely more breathable.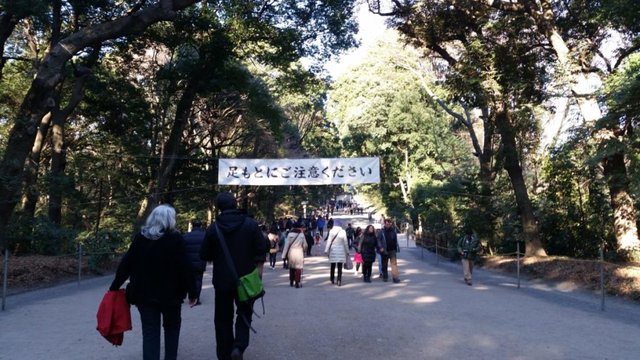 We saw this ornate display of sake barrels on the way to the entrance.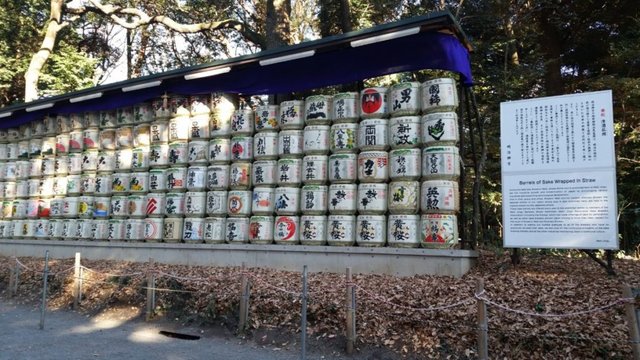 In case it's not clear, the signboard reads:
During the Meiji Era, Emperor Meiji, whose divine soul is enshrined here at MEiji Jingu, led the industrial growth and modernisation of Japan by encouraging various industries and supporting technological development.
Due to their grace and virtue, Emperor Meiji and his consort, Empress Shoken, the beloved mother of our nation whose soul is also enshrined here, are held in the highest esteem by the Japanese people (that's why this shrine is so famous, and is on every Japan Must Visit list online).
These sake barrels are offered every year to the enshrined deities by members of the Meiji Jingu Nationwide Sake Brewers Association including the Kotokai, which has made offerings of sake for generation, to show deep respect for the souls of Emperor Meiji and Empress Shoken.
In addition to stating our humble gratitude to all the brewers who have graciously donated their sake, we also pray for the continuous prosperity of the sake brewing industry and all other industries maintaining Japan's traditional culture.
After walking for a bit, we finally reached the first gate of the shrine!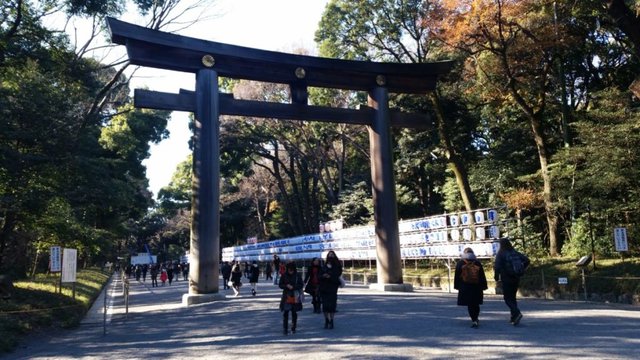 I guess this would be the main gate of the shrine.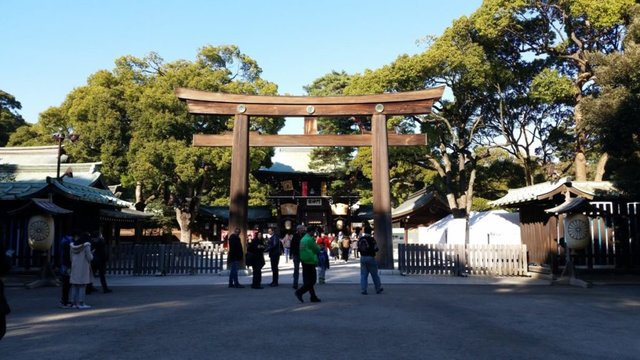 Inside, it was pretty peaceful despite there being some crowds too. At least everyone was being respectful and quiet.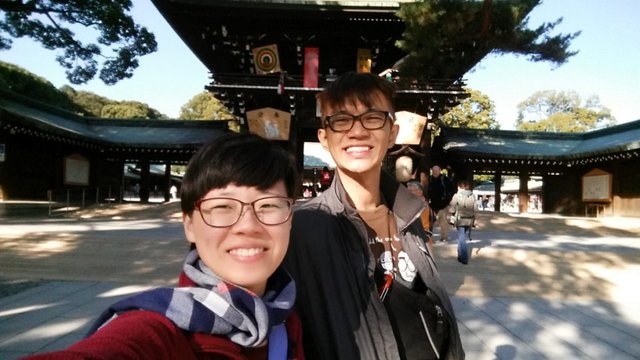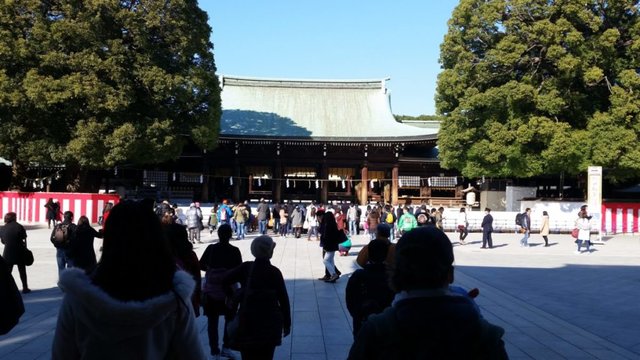 There was so many people queuing up to buy souvenirs at the shrine. I guess for good luck and fortune.?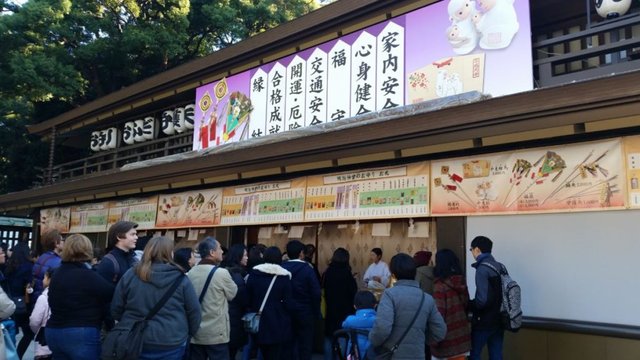 Like most shrines in Japan, you could also make an offering and a short prayer.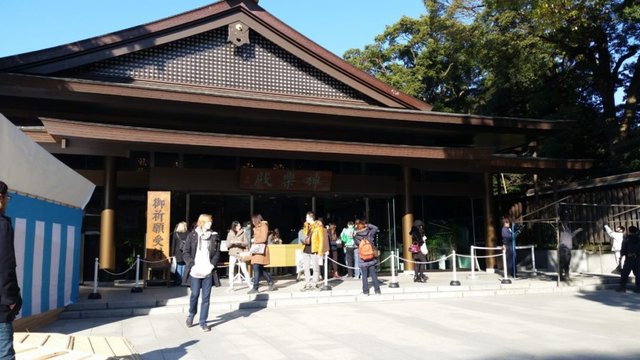 After looking around, we decided to head out.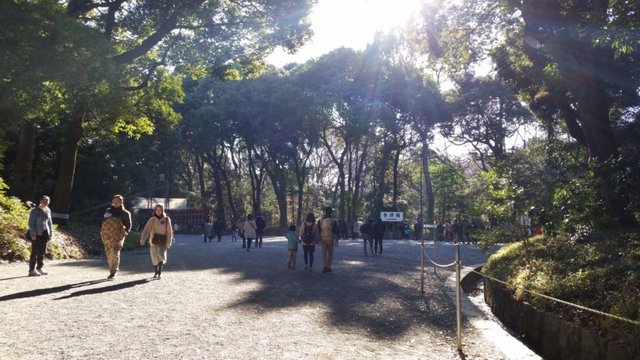 I'm so glad we had good weather that day. It was around 1:30 PM and it was getting hot in the crowds at Harajuku but it felt so cooling here! No doubt due to the trees all around us. 😌
After taking a short break on one of the benches and enjoy the nice natural air, we headed back towards Omotesando and Harajuku.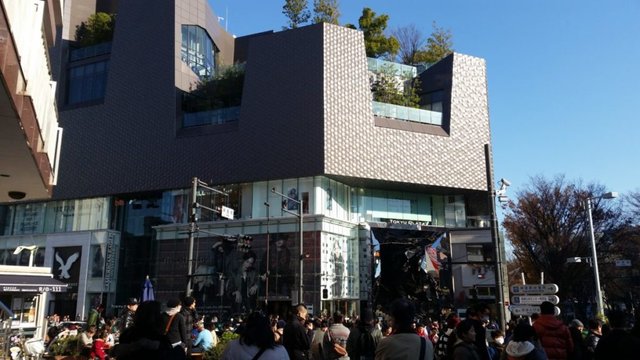 We found a Lotteria food truck and they were advertising their mozzarella sticks that looked (and smelled) so good so we couldn't resist.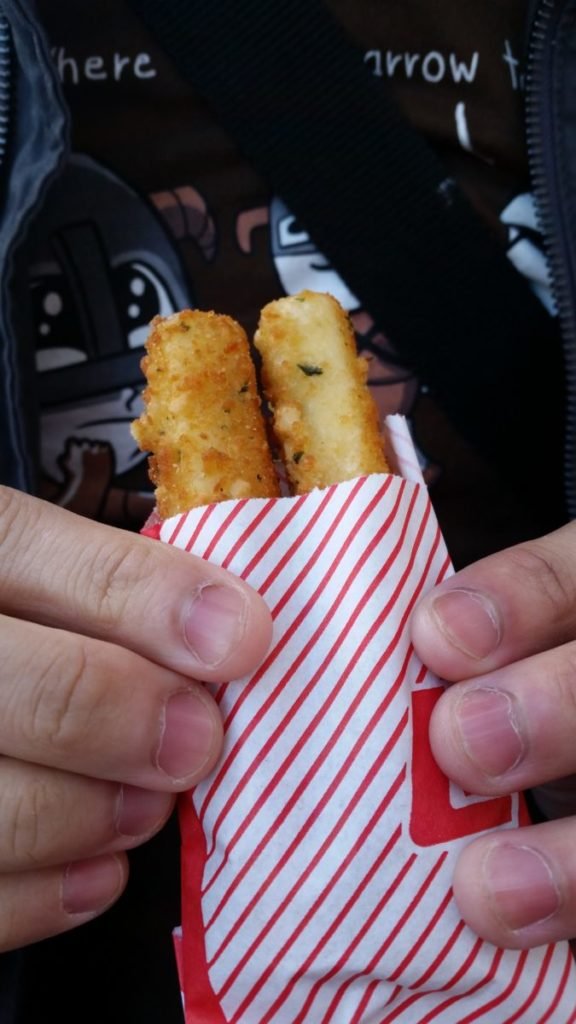 The cheese was sooo stretchy (not to mention yummy)! 😋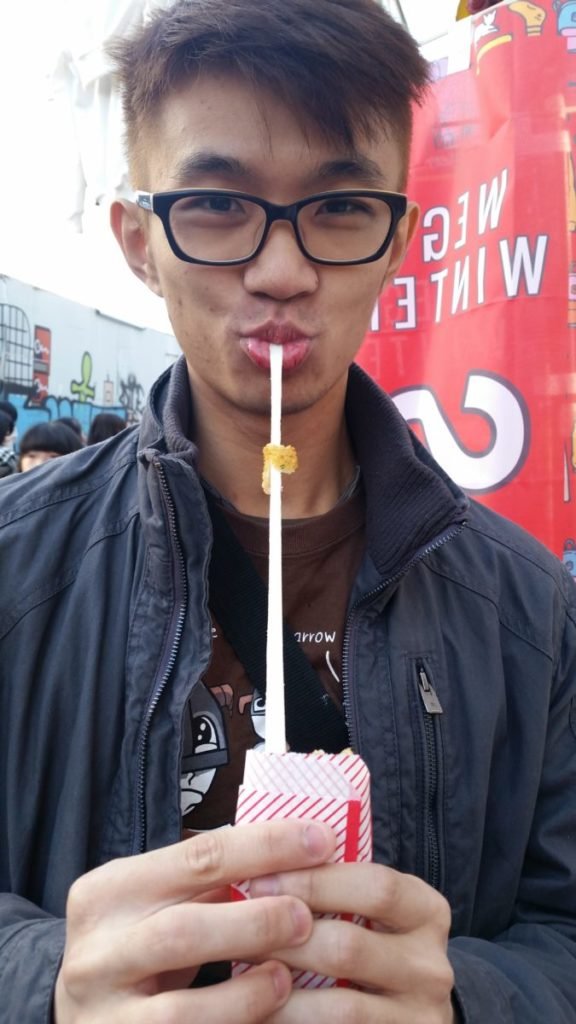 After that we decided to get some more food (and rest our tired feet) so we went all the way back to the entrance of Takeshita Street and ate at the underground Hoshino Coffee!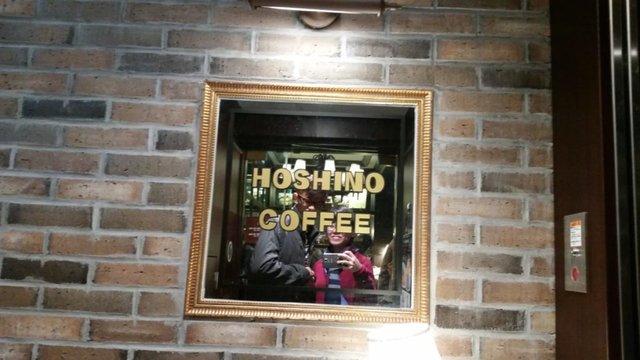 If you've never eaten here before, they're really famous for their souffle pancakes; crispy out on the outside, soft and fluffy on the inside. It's to die for! 😋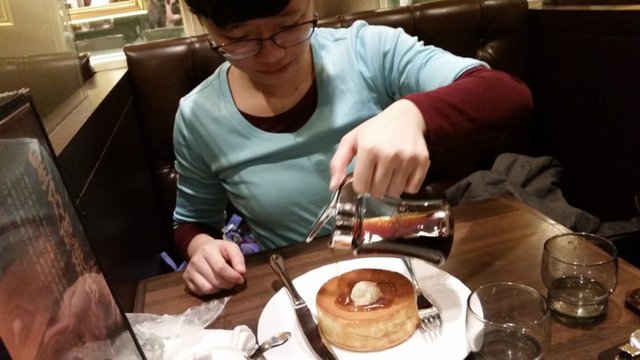 We ordered a plain one and one with bananas and ice cream (which kinda diminished the crispiness but it was still yummy regardless).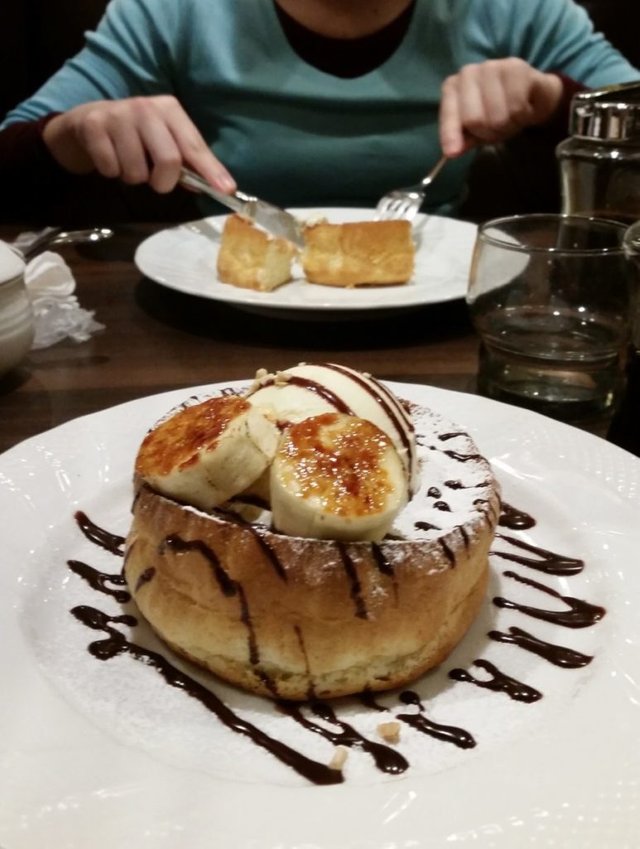 After that yummy snack we headed back to Ikebukuro and went to check out the Pokemon Center!
Even the escalators leading to it had Pokemon on the walls!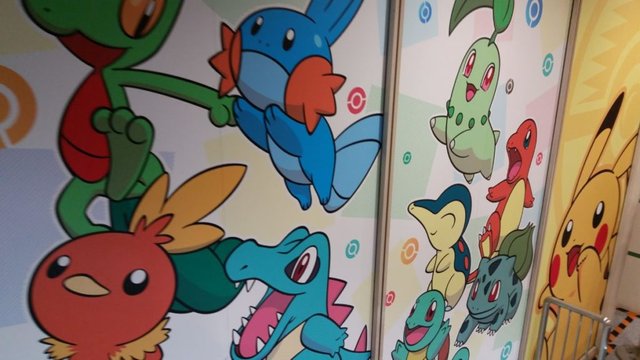 There were 2 big inflatable pikachus there to greet visitors!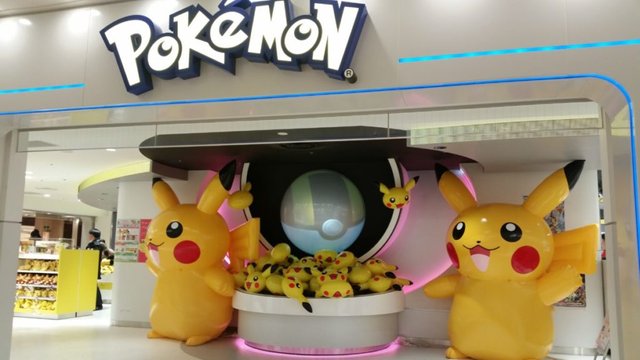 As always it was crowded as hell in there too, but it was cool to see all the different merchandise they had.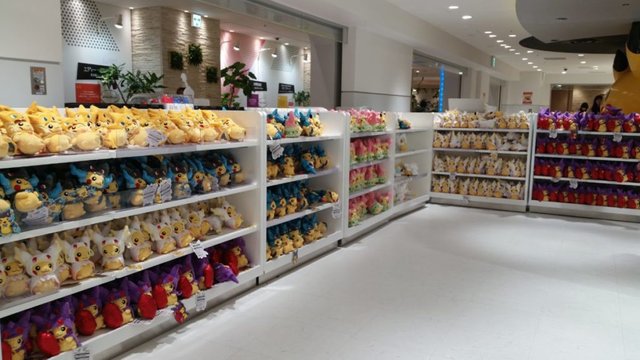 I actually came back at a later timing so I could get better pictures without so many photobombers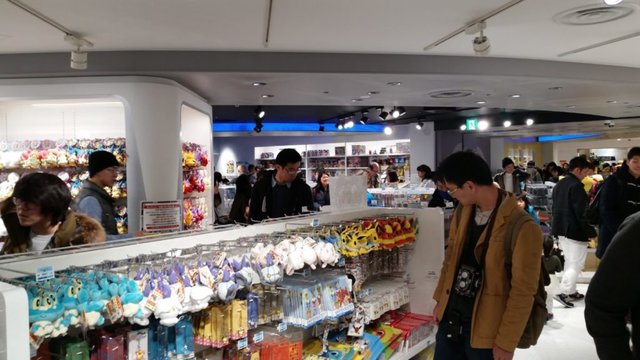 The store is actually quite huge; I guess that's why it's called the Mega Pokemon Center! There was sooo much stuff ranging from numerous plushies and collectibles to snacks, stationary, clothing and kitchen stuff.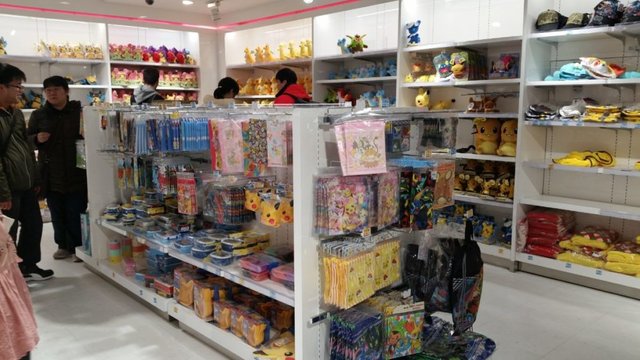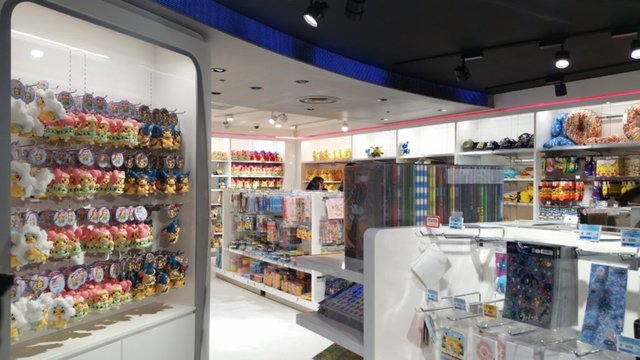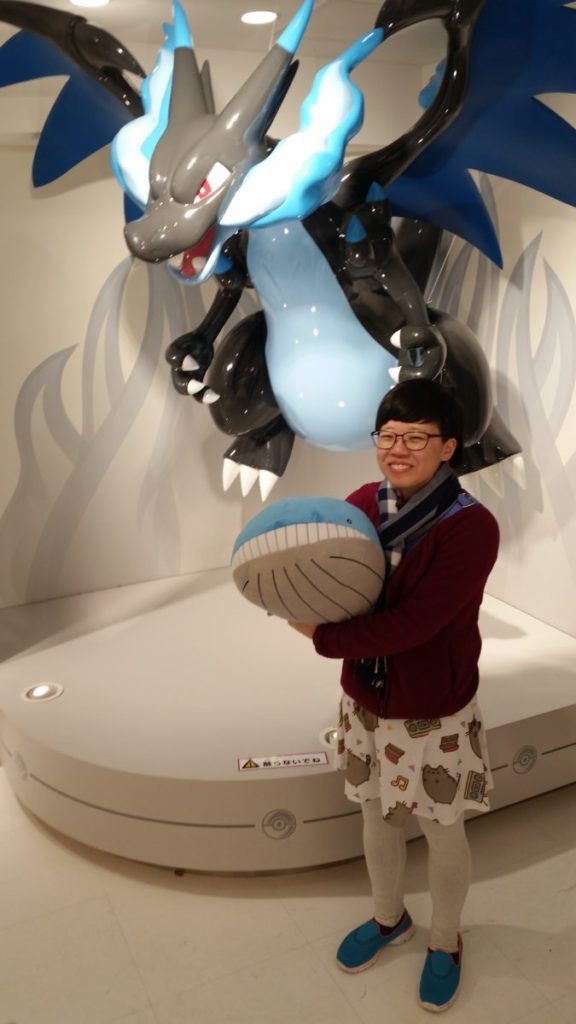 Inside were also these big displays of select Pokemon like this mega evolution Charizard!
They were also blasting Pokemon Center music throughout the store which was really cool.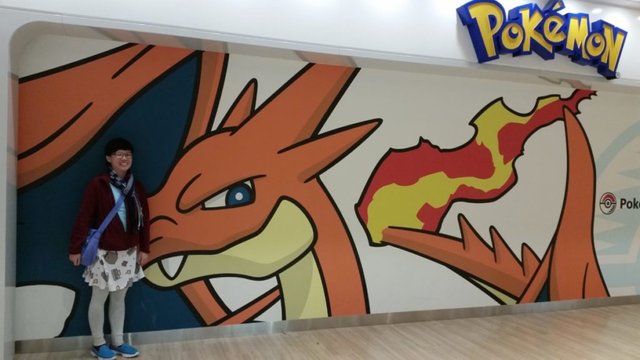 Anyway, after that we met up with one of Sean's friends for dinner!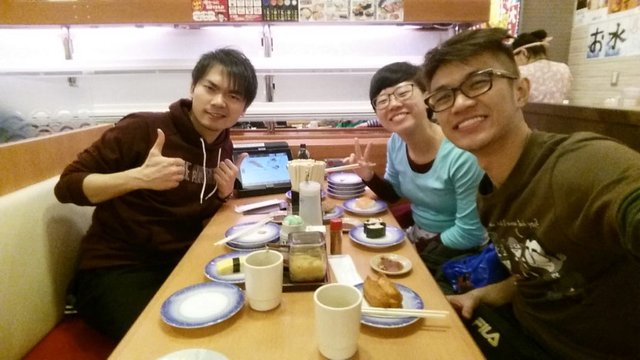 The sushi was okay but what's cool about it was the special conveyer belt! If you've seen the shinkansen sushi belt it's actually pretty similar. They deliver it right to your table like a train system!
After dinner we went to check out the arcade and played a round of Mario & Sonic at the Olympics! Guess who won!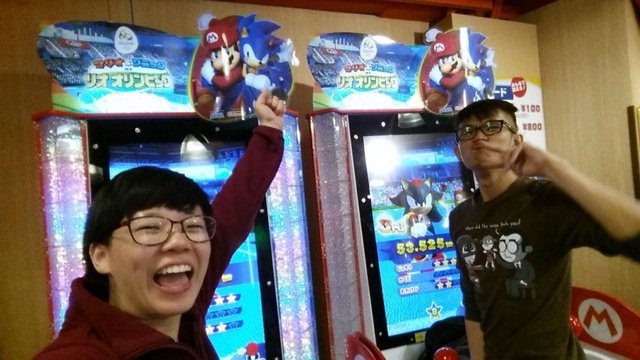 That's all for now! Sorry for the long post but thanks so much for reading!

To find out more about me, check out my intro post here!
---
Posted from my blog with SteemPress : http://tacocat.steemblogs.club/2019/10/21/tacocats-travels-31-japan-ver1-visiting-friends-shrines-and-pokemon/
---
[//]:# (!steemitworldmap 35.671399 lat 139.704178 long d3scr)
Check out my previous post in this series!
TacoCat's Travels #30 (Japan Ver1): A Wintry Welcome 日本へようこそ!