The last stop on our one day road trip in Datong, China is to Heng Mountain. Better known as Heng Shan (the word Shan is the literal translation of 'mountain' in Chinese).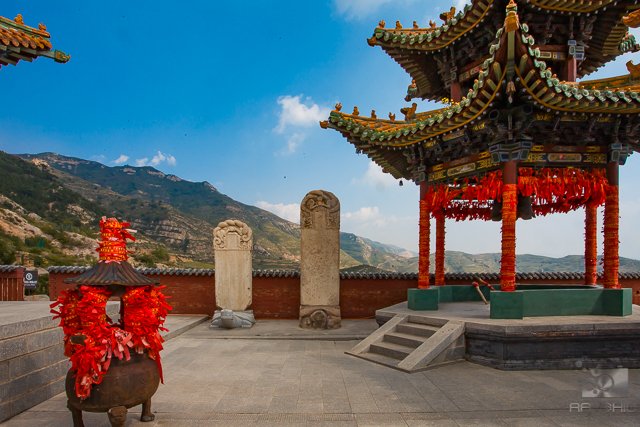 The start of the trail is relatively close to the Hanging Monastery, we just kept going up the mountain until we reached this huge parking lot, "scenic area". This part got a bit confusing because we reached this "scenic area" (which looked like the start of the tourist area) so we got out but the driver indicates that my daughter should stay in the car. Then the driver took me to this ticket counter, I paid some small fee (as it turns out, for the taxi to enter) and we were on our way. OK, not the tourist area? It actually was because you can pay to enter the mountain and hike up to the top from there or pay to take a bus up to the top. Quite a ways up the mountain, we get to another huge parking lot and this also looks like the tourist area. Yup it was and here's a bit of what you'll see while walking around:
Having driven, what we thought was, all the way up the mountain it should be a relatively easy walk around, right? IT WASN'T see the photos above? That's just the beginning. You can pay the entrance fee at the ticket counter and hike to the Peak! I must warn you now, if you're planning on going up. 1) Make sure you have proper foot wear 2) bring something to drink 3) use the toilets first before you head up to the peak! Saying there are a lot of stairs is an understatement. Sometimes it's a tall stair case, sometimes it's a long path with a few steps at a time. Beverages and toilets are at the top and "going in the bushes" isn't really an option because on one side of the path is the mountain and the other is just down. Ok, you can kind of carefully make your way down and find a tree to hide behind but it's pretty sketchy. At first the scenery is awesome enough to take your mind off the hike but 3/4 of the way up I couldn't feel my legs, haha. So from that point on we took breaks at all the rest stops (landmarks) we came across. We did reach the peak, or so we thought. Here are some images so far:
While walking around this temple complex area, of which we thought was the peak, my daughter found more stairs going up. Very, Very steep stairs. It didn't look frightening but it was once you got 1/4 of the way up. Coming down was even worse. I didn't see anyone making it up or down without having to go on all fours, myself included. Some people didn't even bother to go up, they turned around after the first few steps. It really was that steep and to make matters worse, the steps were narrow, like from heel to toe narrow (I wear size 9 1/2 shoes).
Anyways, up at the top were more temples and I think a hotel. There were gift shops and snack/beverage carts. It was at this point I was feeling a bit disappointed as the buildings were half wood, half brick. I thought they'd be older and all wood. I also wanted to experience having tea in the middle of nowhere after a long journey, like in the old kungfu movies I watched as a kid. Nope no tea houses. Thankfully, the next best thing, beverage carts with bottled tea and cold drinks! My disappointment didn't last too long as my daughter found some more paths to explore and my tired legs somehow found some energy, so off we went. We soon realized that we needed to turn back because we saw gondolas and more temples off in the distance that this path was heading and it was away from our waiting taxi. Knowing the distance to the taxi and looking at my watch, we had to turn back and head back down the mountain the same way we came up. It was closing time soon and we didn't want to get stuck up there in the dark. It took us three hours to explore what we did and that does not include the 2 temple areas we found that was closed off (maybe renovations) and the path we didn't follow because we went up those narrow stairs. For us, we could easily spend a whole day up on Heng Shan because according to the map, we didn't even cover 1/2! We're so thankful that the taxi driver insisted on driving us as far up as he could because we were short on time and there was much to see up top and what we saw was awesome!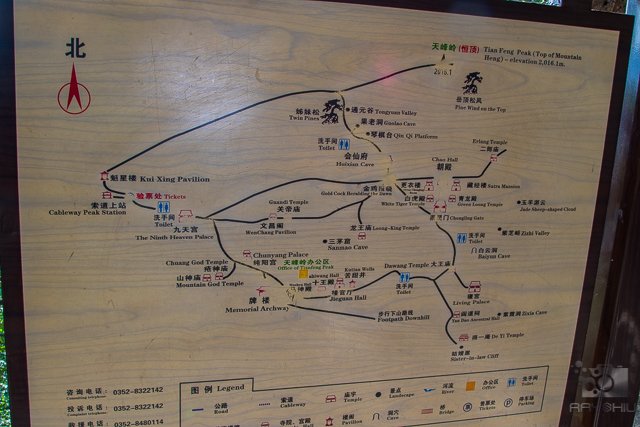 This concludes our one day excursion, stay tuned for our last day in Datong. Consider following me for updates and to find my previous travel bloopers, blunders and shenanigans.
All the photos (unless otherwise noted in the post) were taken by me and are available for sale. If you're interested in buying an image or three, 😃 please don't hesitate to contact me for more details. Thanks in advance!
Comments & Critiques are always welcome. As are upvotes and resteems, if you like what you see.
Thanks for viewing and best wishes,
Ray
PS. If you want to check out my other 'works', you can find them here: