Reach - 13.366.2020. Lightpainting and Camera Rotation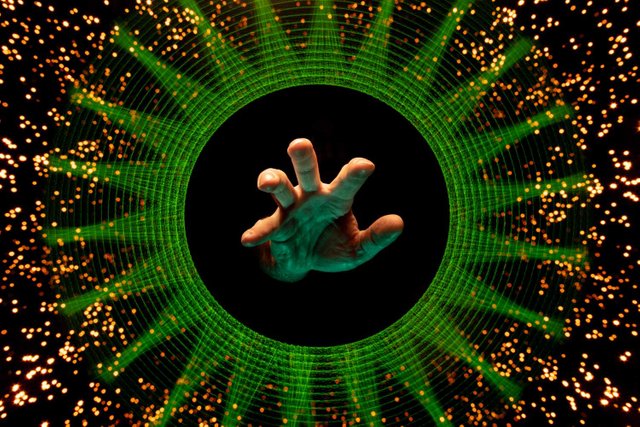 Evening all and I hope life is good. Back to a spot of light painting for today's post and 13 shots in to my photo-a-day for 2020 project already. Time is flying.
Doing a revisit of a shot I did a while back this evening. Originally inspired by the great light artist Jelle S and his hand shot. This time with the addition of a spot of camera rotation of a @oddballgraphics video animation (the funky green bit).
I started out with my phone mounted on a light stand, the top of which just kissing the bottom 3rd of the frame (this leaves space for my hand later) I did a full continuous 360 degree rotation of the camera then replaced the lens cap. Next the hand element where I had set up my usual arrangement of beauty dish above and a green gel attached to my flash on the floor. I moved my phone out of shot and removed the lens cap.
I reached out to about 25cm from the front element of the lens and popped the flashes and replaced the lens cap.
Next up the www.lightpaintingbrushes.com black fibers with orange gel filter, clamped about 20cm away and guessed the positioning so as not to interfere with where my hand would be. 7 or 8 rotations of the camera with the lens cap replaced in between and job done.
After this I did another Haduken style hand shot but my only zoom lens is a push pull and didn't satisfy my ocd as it made all the streaks of light wobbly.
I'm enjoying the 366 project at the moment and just taking each day as it comes.
If you'd like to see more light painting on Steemit then give @lightpaintershub "Lightpainters United" a follow and you'll be introduced into the world of light painting.

As always this was shot during a long exposure in complete darkness.
Happy days.
Posted using Partiko Android