Not long ago I created a community for anime & manga lovers here in Steemit and while recruiting members I decided to make a post about the Japanese geek culture, often referred as the otaku culture, the reasons why we love our anime so much and the kind of events and activities that you'll usually see when dealing with us.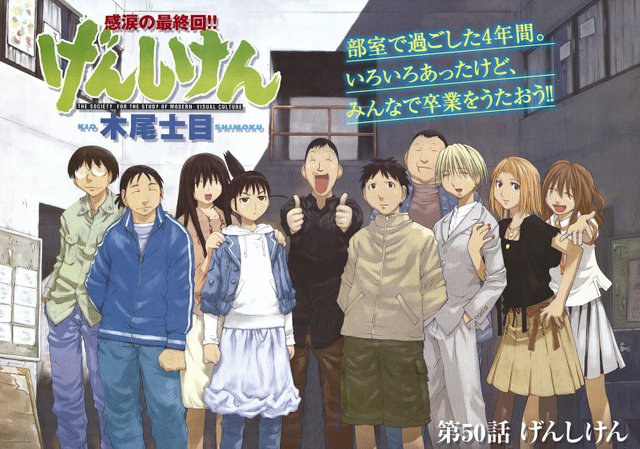 Source. Genshiken manga cover for chapter 50
To get things started I want to give a definition for anime: "cartoons for grown-up people". Yes, that's the best definition I can give to simplify anime. There's tons of anime, and there are some that are for kids, like Pokemon or Digimon, but I'd rather have my 2 or 3 year old children watch Mickey Mouse or Donald the duck. When thinking of anime, it's best to compare it to the DC comics or to Marvel, these are animations too, but Batman is hardly a cartoon for kids and the same could be said about Deadpool or Ironman.
Anime & manga has more variety than these classics, so it can appeal to a wider audience and that's the magic of anime. The most common genres are those that include battles, superpowers, adventure, magic, some erotic scenes (called ecchi by the fans for the japanese translation); but that's just the tip of the iceberg. The truth is that when making anime you're drawing and it's easier to get the spectator to find himself immersed into those fantasies; imagine an actor like The Rock in a film with diluted animations, superpowers, people that fly all over the place… I don't think I would enjoy such a film much, even with modern computer graphics and animations. Anime is very suited to make fantastic histories and really original and creative histories in any genre so it's really common to have really exceptional love or drama histories like Clannad or Angel Beats!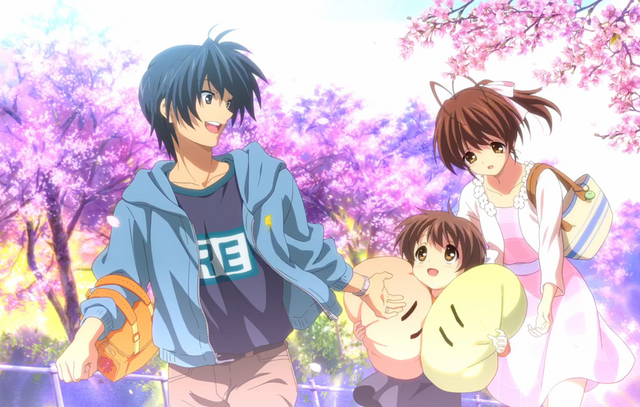 Source. Clannad anime picture.
Creation & Selection, breeding exceptional anime
Most anime have high production values, not Hollywood level values, but high nonetheless, so only the most popular and exceptionally good stories become an anime. Typically authors write manga or novels and present them to editorials and publishers; they judge the quality of these creations and decide whether to publish them or not. From those that are chosen, only the best of the best are converted into anime. The amount of authors trying to get their work published is really high so the competition is really fierce, an in fact some of the best works here try to represent this reality or are based on them.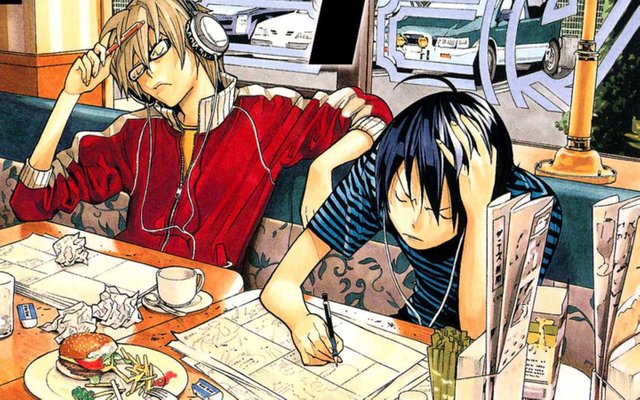 Source. Bakuman an anime about two aspiring mangakas.
While an author can create an exceptional story and see it made into an anime; most are adaptations of really popular manga or novels. There is one sad truth here though… most manga and novels are TRULY exceptional in terms of story writing, but due to the high values of production of an anime, most of them only cover a part of the entire work and while sometimes you can see some of them having several seasons, like Naruto, Dragon Ball or One Piece; most only have 13 or 26 episodes and if you really like it, you'll need to search for the original novel or the manga.
This fact is something that has made the anime & manga culture something unique, those 13 or 26 episodes limit make anime a seasonal event. That's right, 52 weeks a year divided by 4 seasons means 13 episodes per season or one episode per week, so every season we're greeted by a good amount of new anime to enjoy and this means that we're always moving forward, seeing new authors' work.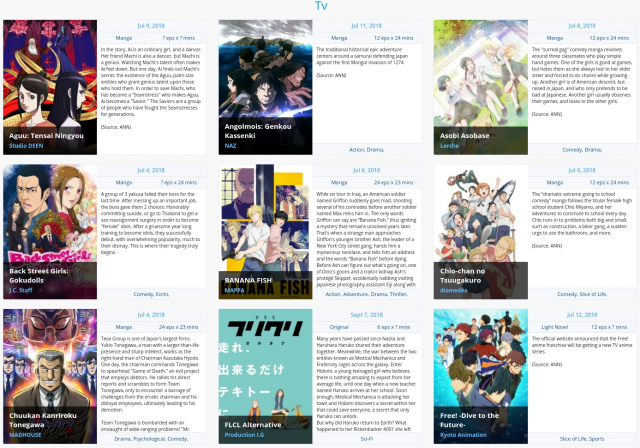 Source. Small part of the summer 2018 chart.
Passionate community
So what happens when you find some anime you love? Well, that's where the fun begins! The first step would be finding the related manga or novel and enjoying it to the fullest. At some point you'd probably like to talk with other people with how you felt, what you enjoyed, what you hated, etc… and perhaps by the influence of these very anime & manga we tend to be really energetic and passionate and either bash someone to death or stick together like blood & nails. You can be sure that if you find another person who has similar tastes then you'll be FAST friends and that's something I love about this world and this culture.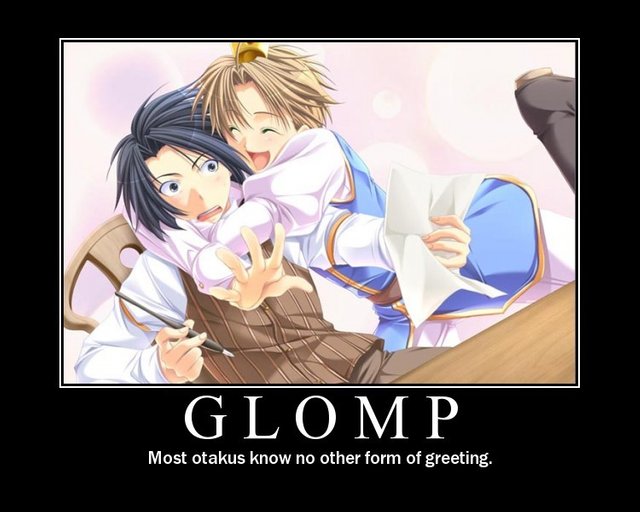 Source. Otaku greetings.
However, it's not uncommon for fans to go the extra mile and extend their favorite stories or create spinoffs, these are commonly known as doujinshi or fanfic, short for fan fiction, in western cultures. Here's one really good example:
It's a fanfic video in spanish, how awesome is that? the original series is japanese and yet we have a whole video made by fans for fans in spanish. At https://www.fanfiction.net Naruto ranks 2nd as the show with most fanfics made with 425k fanfics, losing only to Harry Potter who has 794k.
This is only possible due to the fact that the cost of drawing or writing is much less than that of filming a movie and anyone can do it… so many hard fans or aspiring authors write alternative stories using their favorite characters and many of them are actually quite good. 
In fact, many of these are published in the internet and enjoyed by the rest of the community, but many enjoy having physical copies or meeting the creators in person. One of the biggest events in japan is the Comiket (short for comic market), whose main purpose is to serve as a hub for anime fans worldwide. In this MAJOR event people from all over the world gather to buy doujinshi, meeting authors, and enjoy many other activities.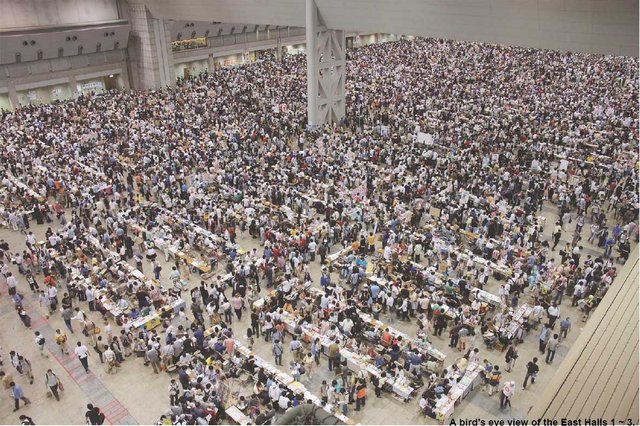 Source. A very small part of the comiket, East halls 1 to 3.
The only real problem with the comiket is the HUGE amount of people that visit it each year, making it an event difficult to assist. Many people camp at the entrance one or two days before and the waiting lines are incredibly long, so actually participating in the comiket is a competition in and out of itself and the place gets really cramped with all the visitors.
This event is a huge hub for anime fans worldwide, but what if I told you that we even have our own city representing our culture? That's right, just like movie stars have Hollywood, we have Akihabara.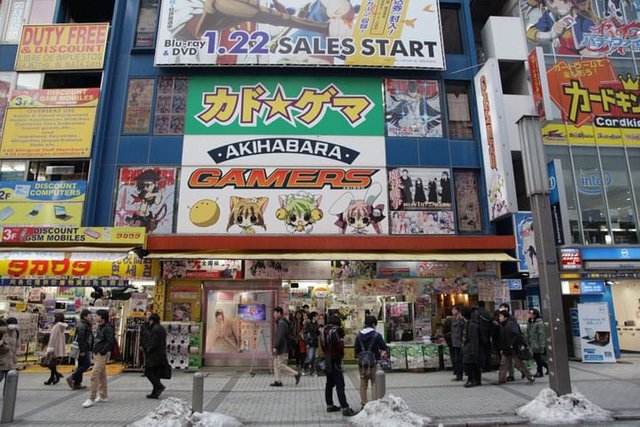 Source. Akihabara city.
Akihabara, frequently shortened to Akiba is the city of anime & manga, and it's also full of electronic stores and it's one of the most technologically advanced cities in the entire world. The city itself is quite the tourist spot, but I have to admit that I would only visit it as tourist, living surrounded by so many wonderful and interesting things would make it hard to focus on living a normal life…
Anime & Real Life, cosplayers and voice actors
Voice acting is one of the core points of anime, in fact it's so important that good voice actors are quite well respected and well paid. Not only that but some anime have been made about them, their lives and their work. Voice actors are really important for anime because they're the ones bringing the characters to life, but they're not the only ones that try and bring characters to life.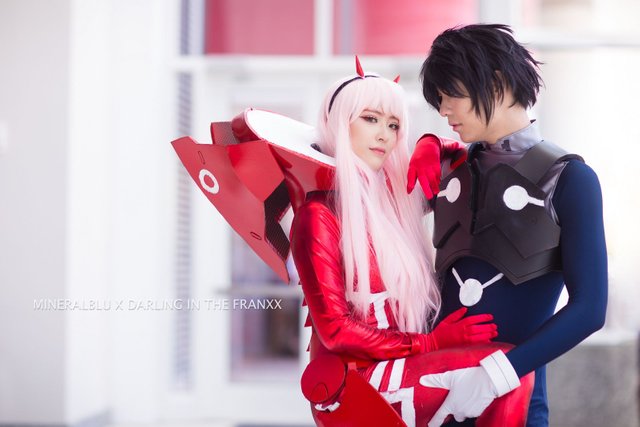 Source. Darling in the Franxx cosplay.
True fans might decide to dress as some of their favorite characters and act as them. This act is known as cosplay, short for costume play. Many shops specialize themselves in selling goods for cosplayers, from sewing tools to full costumes making it easy to get into character and interpret the character to the best of your ability. Cosplaying is not for the faint of heart, however; it takes some real courage to dress up like a character from an anime and perform in front of many people.
Another thing we love to do is to sing our favorite anime opening or ending songs, and sometimes some of us take the stage and sing them in public or in karaoke. Why? because...
Anime music & soundtracks, an immersive experience
While fluid animations and fantastic voice acting make watching anime a pleasant experience the two trump cards that make them awesome are story and soundtrack. Most anime begin with a 1:30 minute long opening video that serves as an introduction to the show itself and the soundtrack used in most anime is usually top notch, up to the point that some anime's focus is in the sounds themselves. There are very few things that can get to you as seeing a character you love die in the hands of a beloved with some violin background music and super voice acting.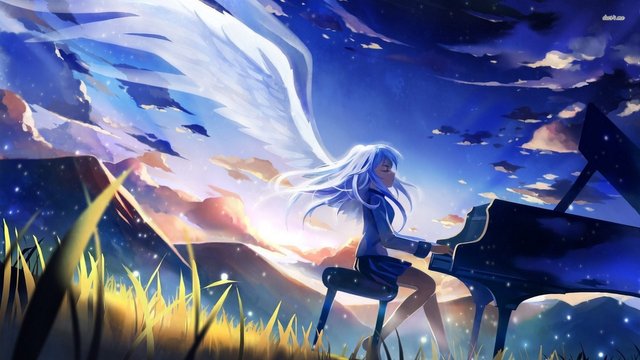 Source. Angel beats! a music focused anime.
A good example of how important sound is the anime Angel Beats! (the anime name includes the exclamation mark). The opening song of Angel Beats! is a masterful piano piece, and the name itself is a reference to music. Exceptional sound tracks can be heard during the whole anime, and there are small details like the name of the Angel: "Kanade", which means "music note" in Japanese; my translation isn't exactly top notch but it's the word used to describe the "do", "re", "mi" etc… sounds in music. 
It doesn't stop there however, the anime itself is about death and reincarnation, about meetings and farewell, about wishes left undone… and it's ending theme: "Brave Song" fits the theme perfectly. The song is about how we're all alone in the end, how we must continue forward supported by our memories together, how we can't give up and how we must continue forward, never stopping, no matter how hard the road may seem.
There are other anime that take music as the main theme, often classical music and other art representations. One of the most popular ones is Shigatsu wa kimi no uso; translated as: "Your lie in April", it revolves around the life of a pianist as he meets a female violinist who is sick with a terminal disease and their memories together. It's a really bittersweet story that has left emotional scars worldwide, but the point that makes it amazing is the piano competitions where you see the protagonist struggling with all his problems and surpassing them.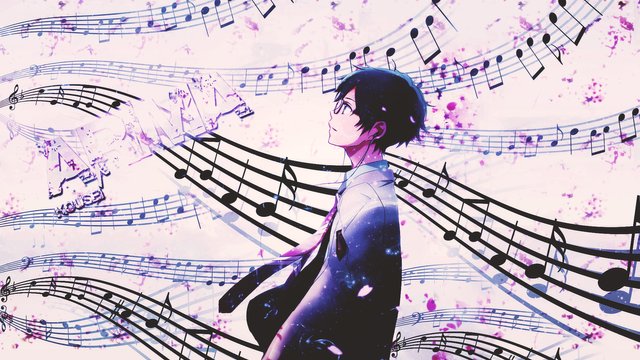 Source. Shigatsu wa kimi no uso protagonist.
Choosing what to see
I hope that this post has sparked at least some curiosity… my intention was to give a general explanation about this culture, since there's so much I would never end if I went into specifics. However you might have noticed I haven't given any particular reason to watch it, just mentioned some of its good points outside of the TV shows themselves. There's a reason for that, and it's this post made by @vimukthi, it's a passionate post explaining why anime rocks and why you're missing a lot of fantastic entertainment if you aren't watching it. He explained it much better than I probably could so do give it a chance. However, they say an image conveys more info than a thousand words, so: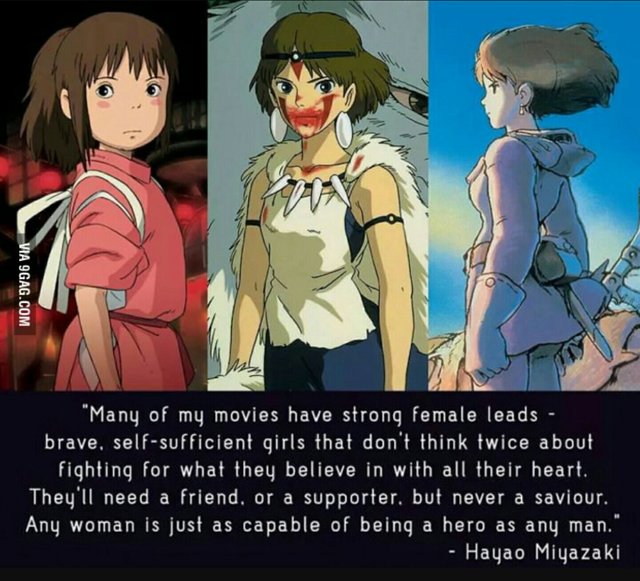 However, while anime is great and awesome, not everyone has the same tastes, so in a season chart they separate anime according to genres, so that people can watch the shows that interests them the most. Here's a collection of some really fantastic ones to watch of each of the core genres: 
Shonen, battles, superheros: This genre is suited for teens or young adults, and is often focused on battles, the power of friendship, supporting each other and so forth. Good examples are Naruto, Dragon Ball, One Piece and Boku no Hero Academia.
Kodomo: These are geared towards childs and aren't pretty common. Good examples are Digimon, Pokemon and Doraemon. 
Slice of life: As the name says, these are focused on normal everyday life, though the setting itself may not be our world. Famous ones are Mahoutsukai no Yome and Working! 
Comedy: While most anime have hilarious scenes, comedy anime are focused on making you laugh, really exceptional ones are Detroit Metal City and Asobi Asobase.
Mecha: Some anime focus extensively on robots, fusion, pieces, big moves, etc… up to the point it's become a genre itself. The most popular ones are Gundam, Macross and Mazinger Z.
Seinen: These ones are geared towards adults, they contain strong scenes often including violence and cruelty; philosophy, social behavior, and political corruption are amongst the most used topics in this genre. Good ones are Speed Grapher, Psycho Pass, Evangelion, Serial Experiments Lain and others. 
Yuri, Yaoi: Yuri is anime focused on lesbian relationships and yaoi is anime focused on gay relationships. This genre doesn't have many great examples, but Citrus is one of the best.
Sports: Many anime are focused on sports and competitions, some are good, and most are exceptional. Eyeshield 21 or One Outs are good examples of the genre. What makes sports anime exceptional is the fact that they always make things interesting because the setup itself makes it awesome, such as a newbie becoming a star, or a weak team fighting for the finals.
Drama: The tag says drama, but it usually means sad stories, really sad stories. Some of them have happy endings, but some don't; exceptional ones are Clannad and Shigatsu wa kimi no uso. 
Music: There is a tag for music itself, and one of the most prominent ones is Hibike Euphonium! and Angel Beats!
Fantastic: Usually related to magic or superpowers in a medieval style world. Definitely the two most famous ones here are Full metal alchemist Brotherhood and Sword Art Online.
Shoujo: These are geared towards teen and young girls, can't say I've seen many of the ones in this genre, but an interesting one was tsubasa chronicles.
Supernatural: Often focused on demons and paranormal stuff, these usually try to keep the line between reality and fiction very thin. Famous ones are Death Note and kiseijuu sei no kakuritsu.
And that's it, those are the major tags and some of the most popular ones. You can see other minor tags used to describe some very specific element, like mahou shoujo to describe magical girls or historical when the anime has a high amount of historical elements.
Final words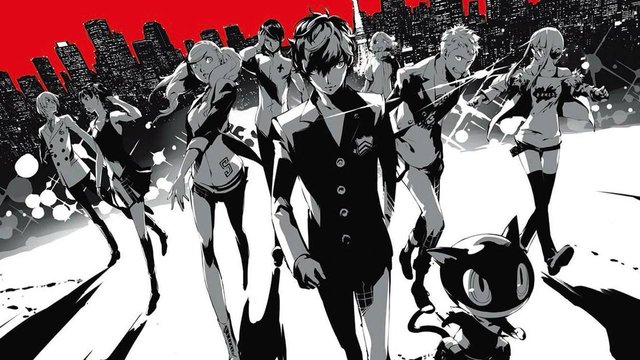 Source. Persona V Wallpaper.
I'm going to bring this post to a finish with a special mention to games inspired by anime and anime inspired by games by referencing Persona V, an anime that's airing right now and it's based on the game with the same name. It's about a group of teens that acquire the capability to change people's hearts and how they fight to change the corruption in japan. I picked this one because it's pretty unorthodox and both their drawing style and story is easy to get in if you've never watched anime before, so give it a try if you're interested.
As mentioned at the top of the post, I've recently created a community for us anime fans here in Steemit: https://discord.gg/7JQruwm 
If you're interested in joining then please do so, we can give suggestions and share opinions… but we warned, it's not uncommon for a conversation to last for hours if the topic is good enough :D 
Kind regards 
An Eilder Jorge hoping to find more friends who share this joy.