Let's Keep the Dream Alive! - Season Two of Welcome 2 Slothy's!
Welcome to Season Two of Welcome 2 Slothy's!
Hello Slothicorns! A lot has happened! We're officially building Planet Slothicorn! So much change is happening but don't worry. We're going to take the Rainbow Road together and build our abundance and creativity as we go. We will build Planet Slothicorn. Slothicorns are born on blockchain and feed on whimsy, fun, creativity, art, games, and crypto. To build Planet Slothicorn, we have to feed it all those things! Together we're going to use the Rainbow Road to help us build them. Every transmission from Planet Slothicorn we receive and every time you and I visit like this, we earn STEEM to build Planet Slothicorn. Isn't that nice? To reach our goal of 50,000 steem we'll have to be very clever. Don't worry! Slothicorns are very creative and clever creatures. I have a feeling there are some surprises in store on the Rainbow Road! And remember... One dream of Slothicorn is to reward artists with crypto. The other is to teach them about crypto. We can keep both of these dreams alive. Join me again next time as we keep building Planet Slothicorn and we keep the dream of Slothicorn alive.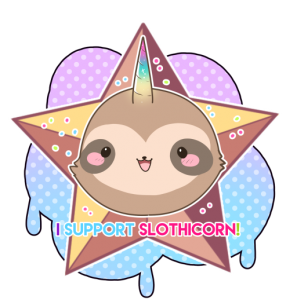 We're at 3/50,000 STEEM towards our goal of restarting daily art curation!
Would you like to delegate to us? Click one of the links below!
25 SP | 50 SP | 100 SP | 500 SP
---
Music: "Android Sock Hop" Kevin MacLeod (
incompetech.com
), Licensed under Creative Commons: By Attribution 3.0 License.
https://creativecommons.org/licenses/by/3.0/
Made in Manyland.
http://www.manyland.com/
Creative Commons License This work by welcome2slothys (
http://www.slothicorn.com
) is licensed under a Creative Commons Attribution-ShareAlike 4.0 International License. This license does not extend to the artwork feature. Please see original artist posts for specific artwork licenses.
Slothicorn Links
Website:
https://www.slothicorn.com
Steemit:
https://steemit.com/@planetslothicorn
---
Posted from my blog with SteemPress : https://slothicorn.com/lets-keep-the-dream-alive-season-two-of-welcome-2-slothys/
---