That's my Sicilian friends Pipa and her capo - Don Massimo. Massimo is a traveler, mountain climber and a sailor man. Pipa follows him everywhere, on rocks, forest or even open ocean. Not so easy to be a traveler dog, it's requires some patience, and discipline sure. I never saw relations like this between dog and man, he just asked her to lay in front part of boat to don't disturb guests, cause we were around 12 people on the deck of 42 feet's boat.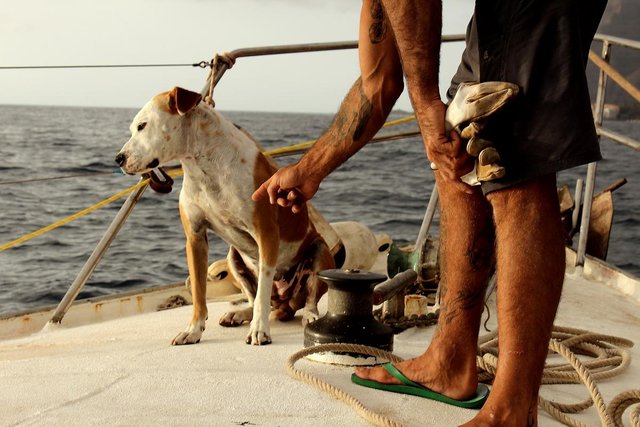 She laid there for 40 min and don't move at all, you should understand the boat was shaking, jumping on waves, and make a lot of noises. They love each other so much! Both of them! You can see her portrait on his right hand, and all profiles he has like instagram or facebook include her name as well. Right now Massimo in hospital to recover from some accident, and they can't be together for some days. Don't know if he fell down from the rock or some car accident, I saw photos on his instagram. I'm trying to contact with him now. On the photos he looks quite happy so I don't worry. I will send to him this photos now. I Hope all will be good with him and soon I see their reunion again..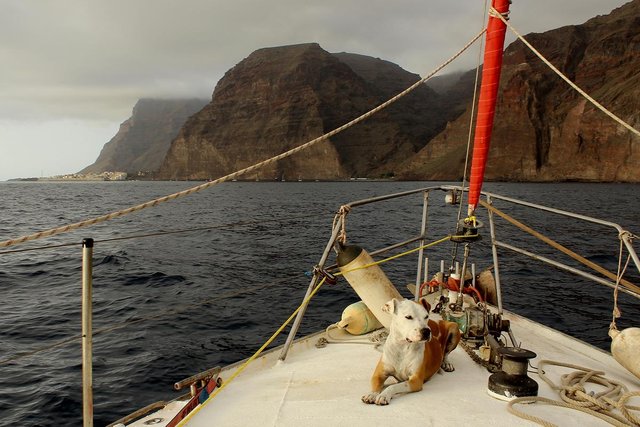 If you like my works, please follow my photo blog about the longest worldwide trip ever.
Around the World in 80 years..
Original photo's / Canon 600D 18 - 55 mm / Valle Gran Rey / La Gomera / Canarias / winter 2016 -17
Thanks to @juliank for amazing @photocontests
[//]:# (!steemitworldmap 28.077282 lat -17.325997 long good achorage spot d3scr)