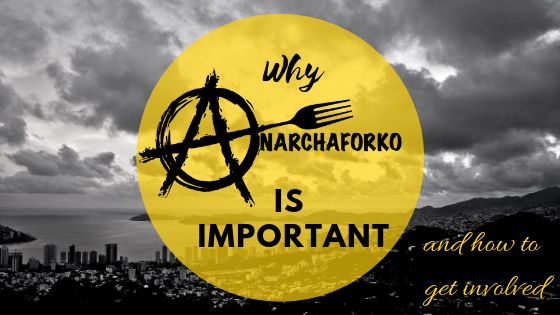 We talked about this a lot last year but I realize I haven't highlighted one of the most important questions to ask about Anarchaforko.
Why is Anarchaforko important? Why bother?
I shared what the difference was recently in this post and I think that has a lot to do with this but I think it goes further as well. I also dedicated a page of the website to answering this question, click here to see it. But I've got some thoughts that're worth fleshing out tonight!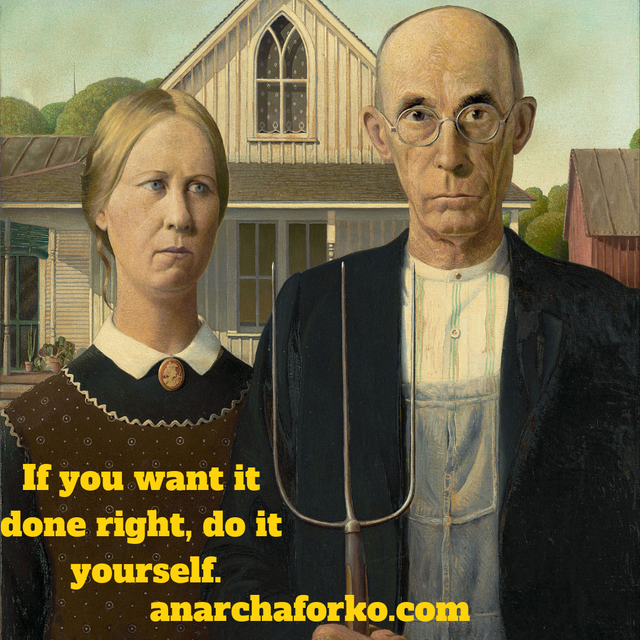 Photo caption: Concept of this was by @erikaharris, I translated her idea into reality with this
Anarchaforko was born in the criticisms of Anarchapulco. As they moved towards a more standardized conference structure a lot changed and not all of it was for better. Everyone seems to have their opinion of what they do like and what they don't like about Anarchapulco and Anarchaforko is the attempt to harvest it so people can actually get what they want out of their experience here.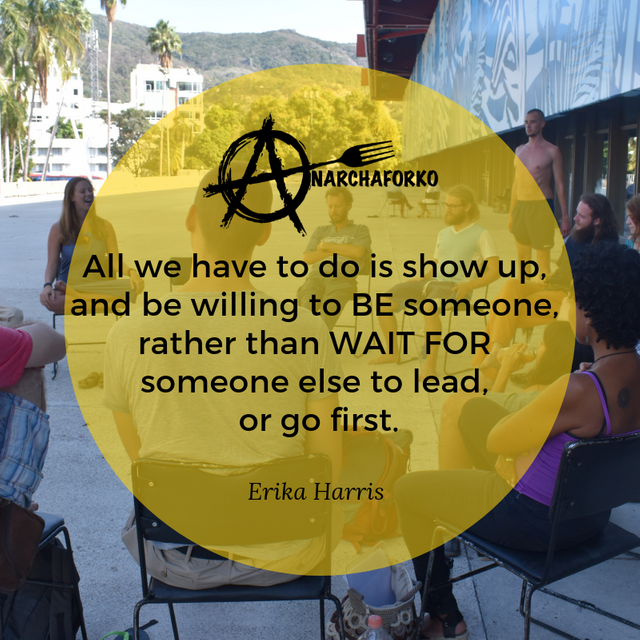 Have you ever been at an event and been like "This is good, but could be better". Why isn't there more room for positive growth in events? I think many events get bogged down in trying to deliver the whole package and they end up often falling short by delivering things the market doesn't actually want! Why not leave it up to the participants to decide how they want to spend their short, precious time in Acapulco?
Furthermore, why try and offer something you can find locally! I'll use the example of the controversial strip clubs that Anarchapulco plans to have this year. Acapulco is known for their amazingly raunchy and anarchistic strip clubs that have surprisingly nice atmosphere (I'll write about my strip club experiences sometime soon). Men bring their wives to them all the time here which was unexpected.
I personally think it makes more sense to make it an event to go to Chicas or something in a big gringo group than try and build it separately, when the original is just so awesome! Our format also gives people the option to ignore that bit completely and that doesn't just mean walking by the strip club area, it means not being involved at all if they don't want to be. And I much better like the idea of stimulating the local economy while also giving forko attendees a truly immersive Acapulco experience.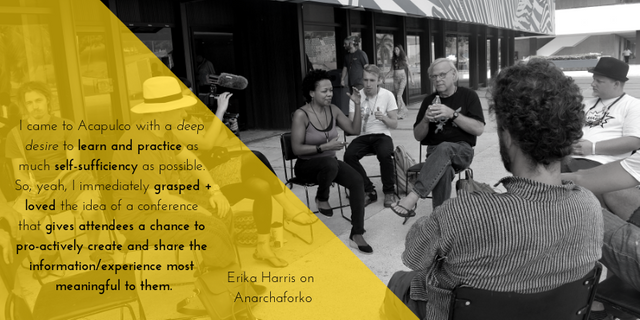 The open source DIY format of Anarchaforko is intended to allow people to get the experience they want out of Anarchapulco and do so with like minded people.
Instead of us building everything in one venue like Anarchapulco is attempting to do, we're inviting you to adventure out into the city, using the Anarchaforko.com as a digital platform to organize and collaborate with other anarchocapitalists!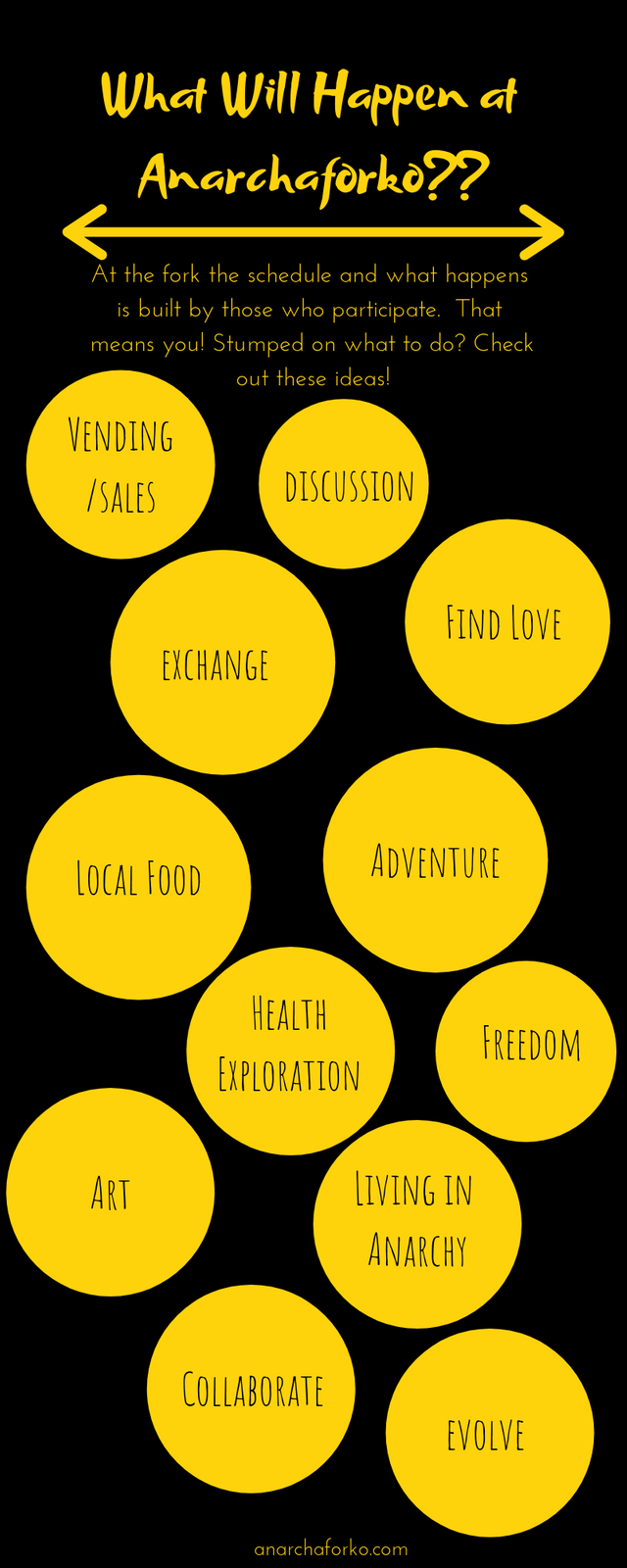 Everything from trips to the central market to the archaelogical zone would count as fork events that'd be awesome, fun and informative. Events added display immediately with no gatekeeper, so the schedule will change constantly! Scuba diving was a hit last year and I expect someone to propose to do so again, perhaps even us! VIP cinema movie experiences are a luxury you literally can't get in the states, we could all see a movie in English sitting in lazy boys with delivered food and you'll even learn a little spanish because of the subtitles.
There's so much to enjoy about this city and a lot of it teaches you about anarchy in small ways. I love this city even now after three years of being here I'm not tired of it but more proud to call it my home.
All you need to get involved with Anarchaforko is a ticket! If you're having money troubles in this bear market, ask me for details about possible discounts!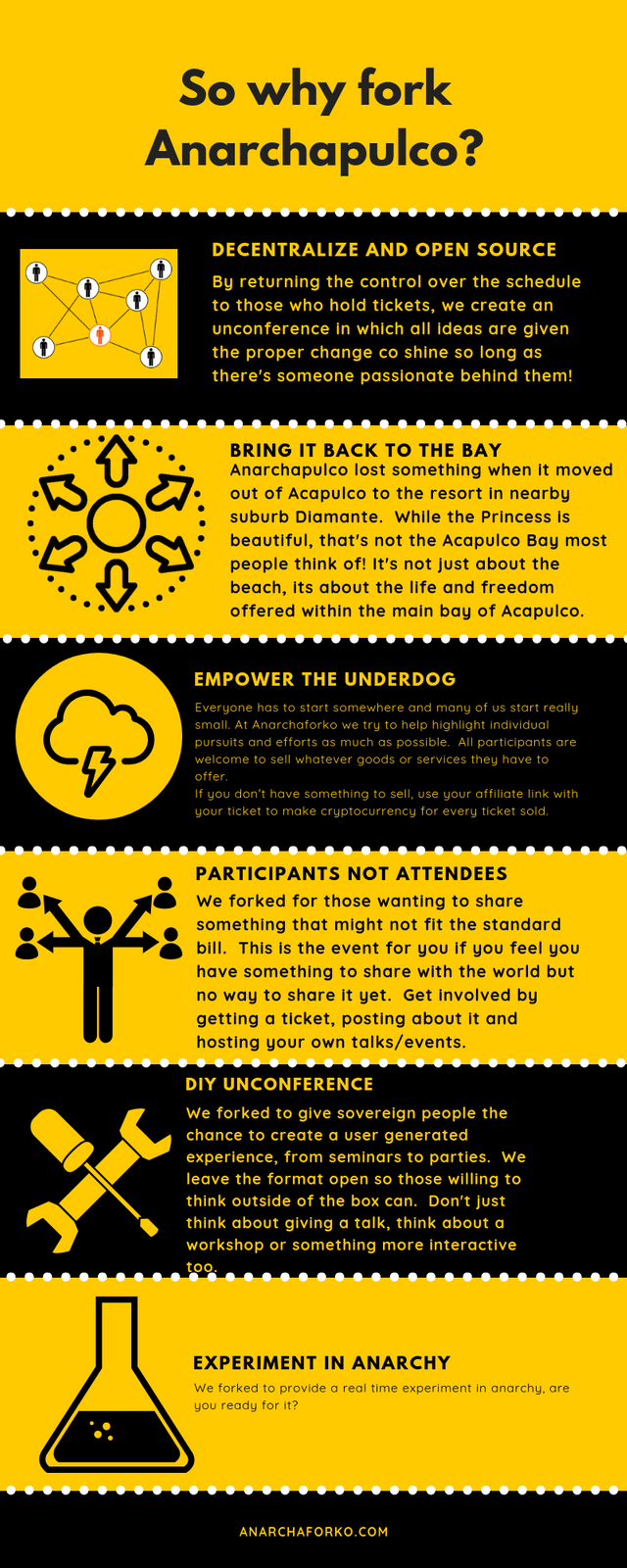 Is there something you really wanna do while you're here? There's probably a lot of other people who would like to do it to. Get a ticket, add it to the calendar and promote it so people know it's an option! We will help with promotion as well!
Wanna know what there is to do in the city? There's a post coming about that soon, but in the mean time just ASK! I love to chat about the fork! You can join us on our discord channel here or find me on Facebook!
Wanna get involved but don't know how? Start by sharing our posts. Even if you just share our posts every time we put one out you're doing WAY more than you even realize to help us out. Share, upvote, comment with your thoughts and questions!
Check out the links below for more like this one!
Anarchaforko Anarchapulco Fork Update: Fork Flashback to Scuba Day!
Anarchaforko Update: Visit to the Copacabana
Anarchaforko Anarchapulco Fork Update: How to be a Speaker (Or Whatever you Want) At Anarchaforko!
In case you missed them, some of my recent posts:
Acapulco Adventures: On a Boat in the Bay
Satoshi the Littlest Bit
Christmas Tomahawk

Hi there, if you're new to my blog here on Steemit check out this for more information on who we are and how we got here.