BTC Analysis. Will there be a massive correction?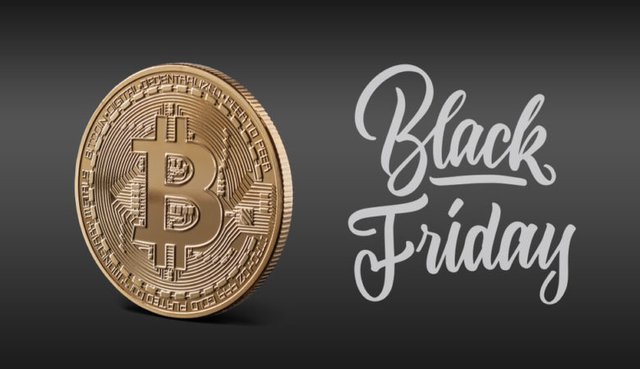 The Black Friday is usually followed by a black weekend. As far as e-shops are concerned, often the black Friday continues on the weekend and perhaps even more days. Thanks to Black Friday, I bought The Witcher 2 for 2.5 Euro, because this piece was missing in my collection (I already finished The Witcher 3), then I also bought cheap smart TV and a discounted mobile phone for Christmas presents. And one more thing. Discounted Bitcoin.
Does Black Friday apply to crypto?
Yes, it's interesting that the biggest Bitcoin sales happened in the range of similar sales called "Black Friday". I have one more interesting point. About a year ago I also bought Christmas gifts at Black Friday. I used one Czech e-shop in which a green alien offered me a payment via Bitcoin. I used this advantage and bought gifts for the whole family, including things I would not normally buy. I was sorry for the Bitcoins later... Within a few days, one Bitcoin was worth almost a 20,000 USD.

I am not sorry for them, today. Since December, the Bitcoin has fallen by 82%. If someone invested 1,000 dollars on the peak, he has 180 USD today. Sad, huh? If he invested it in ETH, it would be even worse. ETH dropped by 87% and that guy would have 120$.
Well, then... does the crypto end? Does the Bitcoin price go to zero and in our Trezors we will have only worthless records on the blockchain? Not this time, let's try to be optimistic.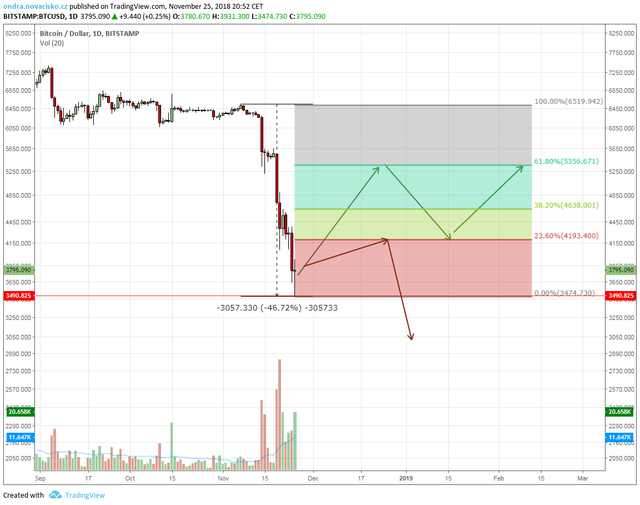 I do not think that the Bitcoin itself is worthless. On the one hand, it still works and probably will still work. Even though the hashrate has started to go down, it is a drop just as a result of the price drop when it is not beneficial for some miners to mine. With the decline of the hashrate, the difficulty will drop and thus the mining price will be reduced and the balance between the mining price and the BTC price will again be found on the market. In addition, development around Bitcoin continues. We could especially mention the Lightning Network. This network brings cheap instant payments to the Bitcoin protocol without overloading the blockchain.
In the next week, I expect a correction and a return to somewhere between 4200 – 5300 USD. As in 2015, if there are no further declines, it could trigger the accumulation process. It will be there several months and it will cause the price to move up and down roughly in the mentioned range.
An alternative option is another drop below 3000 USD, but before that happens, there will be a "resting phase" lasting perhaps a week or two. I would personally look forward to early January. The "resting phase" (unlike the accumulation path) will start with a smaller growth that will gradually lose its strength.
Sentiment in the market, interests on stock exchanges
Bitfinex
: shorts – 27 thousands long, 34 thousands short.
Okex top traders
: shorts - 36:64 on positions, volume-balanced
BitMEX Leader board
: shorts - 47:52 on positions
Recommendation: Black Friday, discount on Bitcoin purchase. Buy. Sell at 5356 USD or 3490 USD. If the price does not seem to exceed 4200 USD, then also sell.
---
Disclaimer: These articles cannot be considered as an investment advice, and it is still a good idea to make speculation on bitcoin stock exchanges only with funds you can afford to lose. The high-profit potential is balanced with a significant risk of losing, especially here on the crypto markets.
Česky: https://btctip.cz/btc-analyza-prijde-po-historickem-propadu-masivni-korekce/