Bitcoin Course - Analysis. Just a step from the shopping madness
---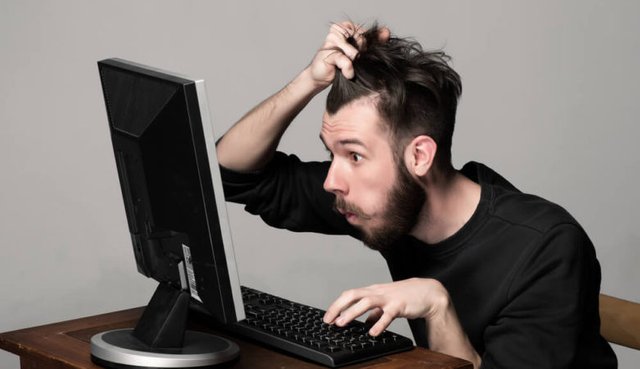 ---
Bitcoin is definitely looking for interesting times. Let the one, who understands everything what is going on, speak.
---
Hard fork here, hard fork there ...
---
The first is the planned Segwit2X fork. Although it should be just a technical upgrade of the bitcoin protocol, not everyone agrees with it, and it looks like the original bitcoin will also continue in a separated chain. And then there is the thing around the next fork – Bitcoin Gold. The developers apparently enjoyed the success of Bitcoin Cash, which, as you all remember, was practically free money, plus bitcoin price raise over the 3000$.
The next two new bitcoins promise more money for free. I am afraid this will make a new way of making money. Will we have forks every month next year? In my opinion, this can only hurt bitcoin, but I would still stay calm. Anything about bitcoin is also advertising and advertising means greater awareness and greater awareness means more demand and it will cause price increases. And rising prices will cause further shopping madness. Maybe…
What does the chart say?
---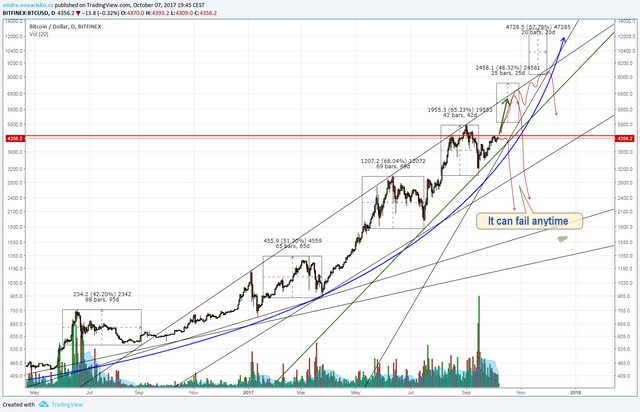 ---
If you zoom out in the graph with a 24h candles and switch the display to logarithmic axes, you will find that even though the prices are logarithmic, the graph draws a beautiful parabola. Again. Not for the first time.
---
Autumn in parabola sign. Will the bitcoin cost 6000 USD?
---
These growths are already very suspicious and risky. Many failed failures indicate that bitcoin still has a great strength to grow higher and higher. Still, I would be very careful about growth bets and I would prepare sell orders. Keep in mind that even a drop of 40% does not mean anything.
Bitcoin may grow up to 8000$ in the near future and another month to 12000$, assuming we are still looking at a parabolic shape. A slightly more sober estimate is the price of 6400$, that is where the green arrow points. When you look at the graph, this peak touches the line that connects all the tops in the past.
But do not fly so high, I would rather see a more rational correction. If the 4500$ will not be exceeded soon, the price may eventually break down in the south. Then we could see 2000$ - I suppose, the sign would be the 4000$ break down.
The possible downtrend was signaled by a doji candle on the daily chart last Monday with a maximum of 4460$. This price at the time of writing the analysis has not yet been overcome. This price must be taken as a significant resistance. If it is not overcome, the doji candle is approved and the bitcoin goes down. Exceeding this price will probably result in a sharp increase over the 5000$.
---
Stock market and interest rates on lending and the final recommendation
---
OKEX - vote 52:41 for long – volume balanced
Bitfinex - 24:30 (shorts lead)
Bitfinex the interest in USD descends, interest fell from 0.042% to 0.038%. Growing interest in bitcoins, interest rose from 0.020% to 0.028%.
Recommendation: Do not do anything, just wait. You can buy, but prepare a stoploss. I would leave it at 4000 USD. Likewise, I would wait with the short.
Disclaimer: These articles cannot be considered as investment advice, and it is still a good idea to make speculation on bitcoin stock exchanges only with funds you can afford to lose. High profit potential is balanced with a significant risk of losing, especially here on the crypto markets.
---
This is an article from btctip.cz which was translated with the permission of Karel. Česká verze k mání zde.