Moday Trance | Plaid - Tekkonkinkreet OST
HELLO STEEMIANS
Have you ever thought about the sounds which could be heard when the first living organism on this planet was born ? Innovative electronic music duo of Andy Turner and Ed Handley, known from the stage as Plaid, has defined a life-creationism sounds as their approach for the soundtrack for anime movie from 2006 called Tekkonkinkreet.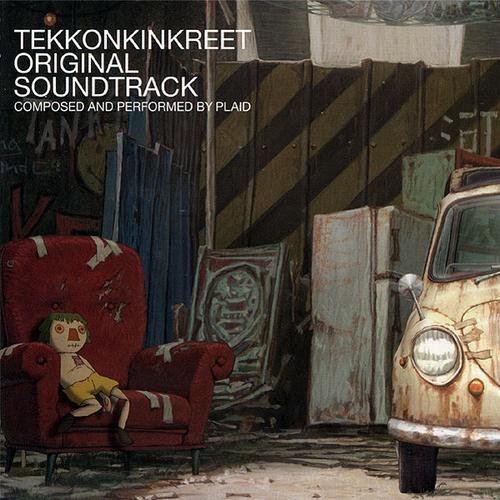 It is hard to write something about Plaid which wasn't already written. This legendary English group has their roots in late 80's and early 90's, recording as The Black Dog together with Ken Downie. In the similar times, year 1991, as a duo they released their first LP Mbuki Mvuki. Today this albums stands as an absolutely classic and must-known for every electronic music lover. With growing attention, it was just a matter of time for the first official appearance on the most important label - Warp Records, in 1997 with Not For Threes LP followed by EP and LP albums counted in dozens. During their over 30 years story with music, duo has opportunity to record with artists like Bjork, Goldfrapp, Nicolette and work in many respected studios including Trent Reznor's Nothing Records. Plaid is generally described as IDM (intelligent dance music) and has been referred to by some critics as "post-techno."
Plaid - This City
But back to the official soundtrack, Plaid's members were asked from Japan to write the music for upcoming Michael Arias' film. Only indications they've received were that 'the music initially had to have an analog, old world feeling', to gradually evolve into a more futuristic tone. Final effect is a collection of carefully crafted, extremely intelligent tracks that with every second reveals a new chapters of the story of their own - every time a different one and every time a complete one. Songs combine elements of jazz, electronic, ambient and sounds that are beyond any dimension of measurable classification. It is a pleasurably warm album, accompanied with diverse of instruments, all driving forward the cinematic perception of a fantastic world existing somewhere far away from here. Even hundreds of thousands of words are unable to describe the complex beauty of this audiosonical multi-dimensional space designed by Plaid. Year after, in 2007, collection of remixes from many respected artists, including Perfuse 73, Mathew Jonson, Vex'd came out as a tribute for the masterpiece of the authors. Director of Tekkonkinkreet satisfied with the final effect, decided to continue work with artists for his second movie, Heaven's Door, as well as two of his subsequent short films. Exciting fact is that, unlike to other albums of Plaid, this soundtrack was never re-pressed and limited availability of CDs released by japaneese label Aniplex makes it very attractive for collectors right now.
Just sit comfortably, adjust your speakers, close your eyes and turn your imaginary synchronized with this playlist. After meditative 13 songs and positive trip to another realities during visualization the whole story behind closed eyes, we strongly advise to watch Tekkonkinkreet movie to compare and complete the story.
---
DAILY MUSIC TAGS
Monday Trance by @andyjaypowell
Disco Tuesday by @musicgeek
Wednesday House by @andyjaypowell
Rap Thursday by @flipstar
Techno Friday by @neutronenkind
Dance Weekends by @uwelang

enjoy
PEACE LOVE UNITY RESPECT