Neymar-Cavani 'fight' is going on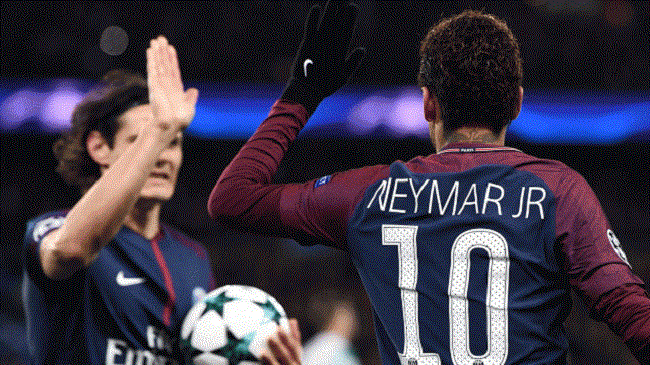 The incredible form of Covani is going on. Neymar is also trying to level the ball.
The next penalty will be taken by Neymar. Edison cavani has spoken. The responsibility of the penalties today is Neymar's shoulders. Neymar took the penalty on the cold head and took out the penalty. However, in the battle of Monaco-PSG, the light is holding the light on itself, but the cavani holds its own. He gave the team the lead in 19 minutes. Nimmer's 2-0 lead in 52 minutes Hawa Mutinoho reduced the gap in the 81st minute but PSG finally won 2-1.
And in this match, in the French league, 9 points ahead of Monaco and Leo was ahead of the 14 unbeatable PSG in the match. And behind this is Cavani-Neymar's 'Good Student Competition'. Both of the battles are in-between, the match is understood. Both of them got the role of number 1, but Kabhii was very much ahead in the fight. This season has scored 22 goals in 19 matches. Neymar scored 14 goals in 15 matches.
In the French league, Cavani scored 16 goals. Neymar is ahead in double digits. Brazil stars 8 goals, in the remaining 6 Champions League Champions League, but Kavani's goal 6!
The fight between the two was public, from the dispute about taking a free kick. PSG is still being dragged into it. Even today, news has come from a number of media reports that Neymar is still unhappy about coach Unai Amery. However, Kabhii has long withdrawn in this fight. It was a sign that the penalty penalty was given without any doubt. Why do you want to stay in the shadows of the cave under the shadow of Neymarai or Messi?
In this match, however, there was more attention than the Cavani-Neymar, to Kylian Mbabp. He is not yet officially a PSG. It will be the end of this season until the end. He is still a player in Monaco in the calculation of documents. The first thing to come back to that old address is the first thing that has changed since then. But without losing the opportunity of one goal after another, it could not be recalled.
If not, in the last match, Celtic, who was blown away by 7-1, will be able to blow up Monaco in the French league and keep a message. But the final is the victory of the minimum distance. However, the newcomers, Radamel Falcao, have their own achievements. They have struggled to fight. But two rolls are already allocated; There is only one thought of being the third in the world!
PSG is now playing such a one-sided game, when the uncertainty of the match is over, Neymar v Kavani's fight is just interesting!