18th April 2017. Poloniex is tweeting about delisting 17 cryptocurrencies from their exchange:
On May 2, 2017, the following will be delisted: BBR, BITS, C2, CURE, HZ, IOC, MYR, NOBL, NSR, QBK, QORA, QTL, RBY, SDC, UNITY, VOX, XMG

Poloniex Exchange (@Poloniex) April 19, 2017
Panic ensued.
Average price drop? 63 percent.
How are they doing now? Are they dead or are they living well and prospering?
Let's find out!
Meet Andrew Unluck
For this very reason, I created fictional online portfolio owned by Andrew Unluck.
Andrew is an injured football player that wants to make some money on the side.
Unfortunately, he ends up investing 100 bucks in each of these coins, minutes before Polo announces their delisting.
But (unlike other people) this quarterback won't flinch.
Instead, he just screams: "HODL all the way!"
Andrew's portfolio
5 months later, Andrew is making gains.
He turned his initial investment ($1700) into $2155.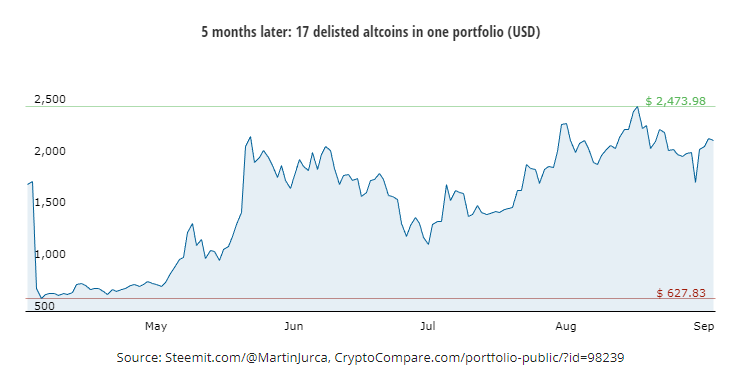 Winners
Which crypto was performing the best?
I/O Coin (IOC) made Andrew $464 in profit.
4 coins (at least) doubled their value:
Coin Magi (XMG)
MyriadCoin (MYR or XMY)
SuperNET (UNITY)
Voxels (VOX)
Numbers were green for 3 other digital currencies:
Curecoin (CURE)
RubyCoin (RBY)
NuShares (NSR)
Losers
But the majority of Andrew's altcoins turned red:
Qora (QORA)
NobleCoin (NOBL)
BitstarCoin (BITS)
Coin2.1 (C2)
ShadowCash (SDC)
Quatloo (QTL)
QuBuck Coin / Qibuck Asset (QBK)
Horizon (HZ) and Boolberry (BBR or XBB) were the worst investment since they are already dead.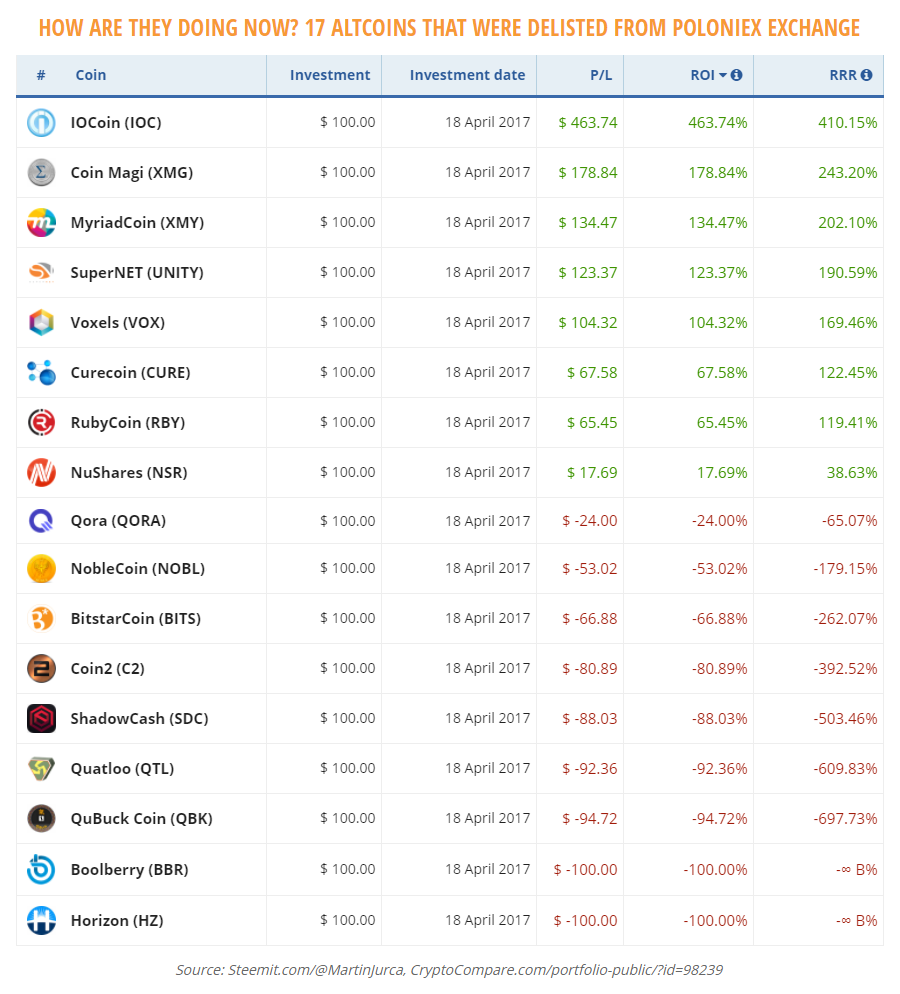 Wait a minute. What about Bitcoin?
Good question.
Everything seems fine because Andrew is tracking things in FIAT.
Switch to the Bitcoin shows that this gunslinger actually lost 0,7 BTC.
¯_(ツ)_/¯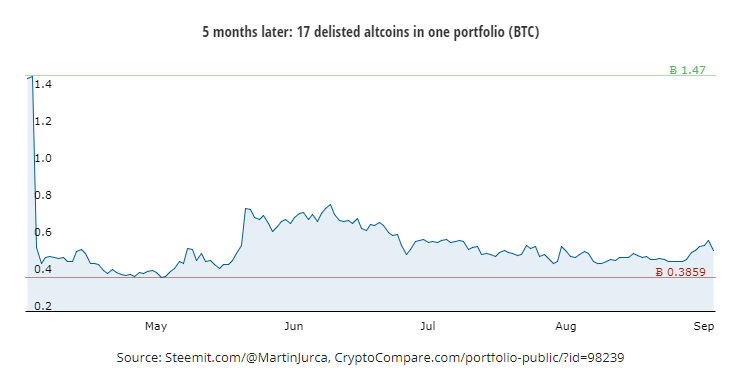 PS: Isn't liquidity a problem? Could be. But Andrew is working with a modest investment, so it's resolved.
Data sources: CoinMarketCap.com, CryptoCompare.com, WorldCoinIndex.com