Front wheel lift | Cycling Essentials | Ajs vLog | Indian cycling vlog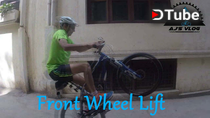 ---
The front wheel lift is useful to climb over obstacles. This is different from a wheelie as you do not use your pedal to power the front wheel up.
In city traffic, its useful to get onto and off footpaths, while on the trail, its useful to get over obstacles.
Music courtesy -
See you soon - Otis McDonald
[email protected]
[email protected]
Social Media
https://twitter.com/ajsvlog
https://www.facebook.com/ajsvlog/
https://www.instagram.com/ajs.vlog/
DISCLAIMER
If I have missed out on any names / credits please email me and I will do the needful.
---
▶️ DTube
▶️ IPFS