Rear wheel lift | Cycling Essentials | Ajs vLog | Indian cycling vlog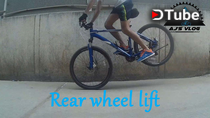 ---
The rear wheel lift is another useful skill to learn. This is different from a stoppie because you do this without using the brakes. This is useful to get over obstacles like stones on the road and branches and other things on trails.
Music courtesy -
Night Vision - Bird Creek
[email protected]
[email protected]
Social Media
https://twitter.com/ajsvlog
https://www.facebook.com/ajsvlog/
https://www.instagram.com/ajs.vlog/
DISCLAIMER
If I have missed out on any names / credits please email me and I will do the needful.
---
▶️ DTube
▶️ IPFS