Witaj!
Bardzo często można spotkać się z opiniami i dyskusjami na temat mocy sprężyn. Z pewnością i Ty nie raz zastanawiałeś się ile #FPS wygeneruje sprężyna którą chcesz kupić lub wsadzić do Gearboxa swojej ulubionej repliki. Być może operujesz jedną repliką i zmieniasz tylko sprężyny w zależności od terenu w którym się strzelasz (teren gęsto zabudowany, otwarte przestrzenie)
Zrobiliśmy research z którego wynika że czasami w zależności od producenta te same teoretycznie sprężyny mogą oferować nam różną moc. Gdy jesteś zwłaszcza początkującym graczem taki fakt na pewno nie pomaga Ci w podejmowaniu decyzji, co doskonale rozumiemy.
Dobrym i prostym przykładem takiej sprężyny znalezionym w sieci zresztą w ciągu 10 sekund, może być choćby sprężyna M120 oferowana m. in. przez dwie firmy: JBU oraz Poseidon, które generują teoretycznie 400 FPS. Jednak czy zawsze ? No właśnie.
Tutaj chcielibyśmy zaznaczyć że recenzje różnych sprężyn to odrębny temat i zajmiemy się nim innym razem.
Niekiedy z takimi mocowymi rozbieżnościami wśród sprężyn można się też spotkać w samych sklepach oferujących na terenie naszego kraju te same produkty.
Oczywiście trzeba tutaj uczciwie powiedzieć że w sklepach większość tych danych jest podana mimo wszystko orientacyjnie i że nikt nie chce w ten sposób nikogo oszukać.
Efekt końcowy, to co najważniejsze, a więc nasza zaplanowana moc, będzie finalnie zależna jeszcze od wielu innych czynników. Ale o tym również w innym artykule :)
Oto proste zestawienie które pomoże Tobie zorientować się w zakresie oferowanej mocy przez poszczególne sprężyny dostępne na polskim rynku.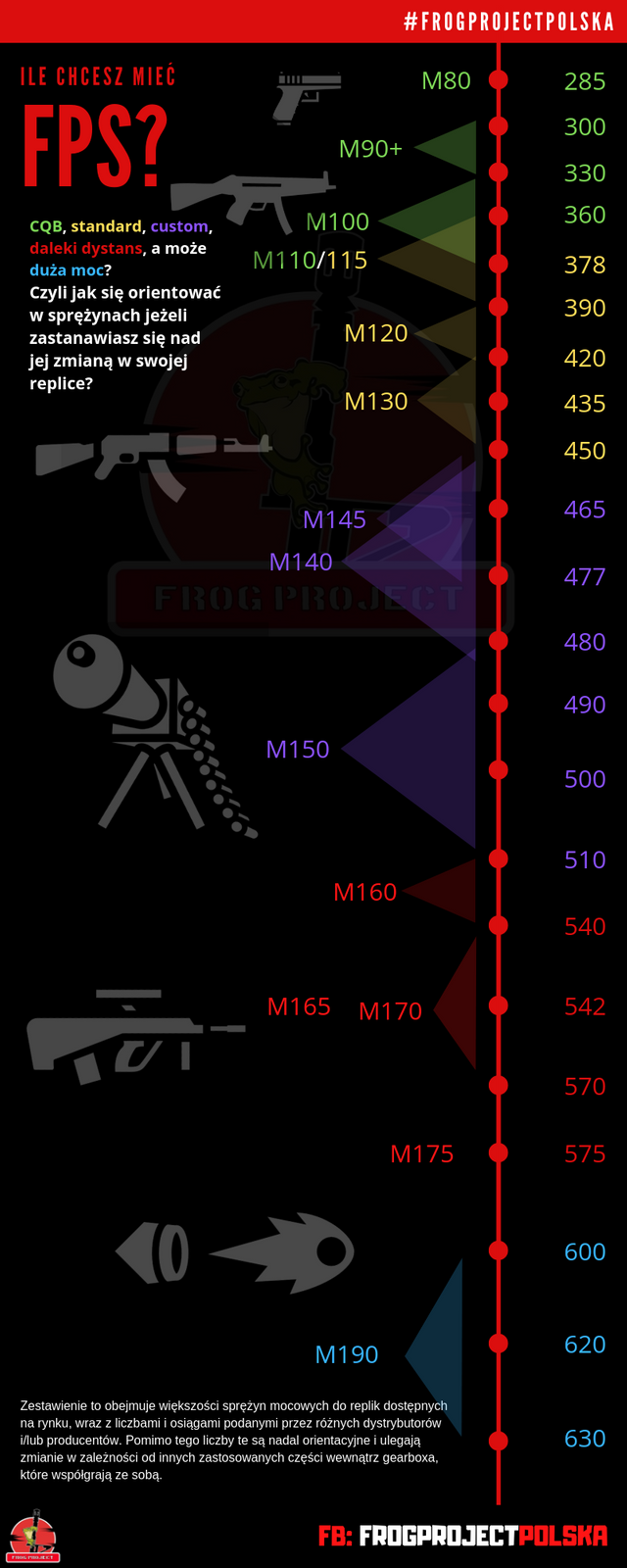 Podziel się ze swoimi znajomymi tą wiedzą i stań się częścią naszej społeczności udostępniając tę infografikę :)
🔽
Jeśli chcecie więcej takich #airsofttip'ów, dajcie nam znać w komentarzu, czekamy na Wasze sugestie.
#FROGPROJECTPOLSKA #ASG #airsoft #airsoftpoland #airsoftpolska #AirsoftTarnow #Tarnow