Yaay!! Thank God its Friday!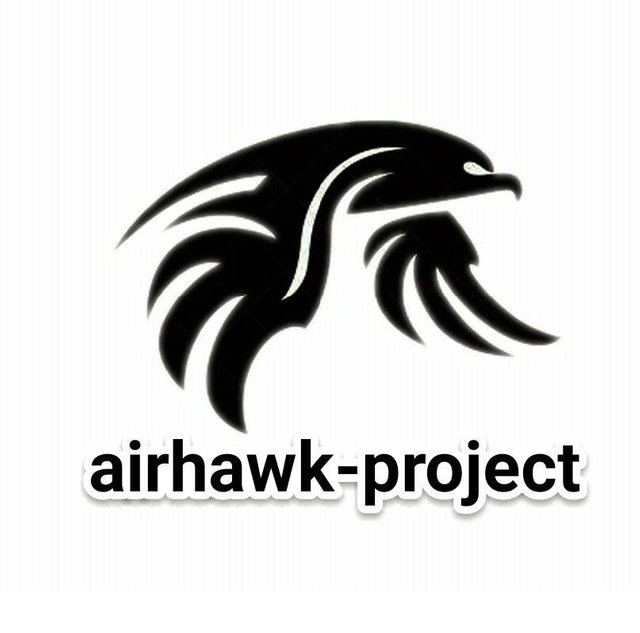 Time to blow off some steam and make more STEEM!!
Reporting for Airhawk-project is @aderonkemi and I'm here to talk about the progress the community has made since the beginning of the week. As we all know, Friday is a day of reckoning as well as relaxation.
I'd love to quickly brush through last week's posts where we had the post on earning as a minnow on steemit by @drepo15 where he broke down the major concepts behind steem power and earning on steemit. We also had the post from @dorth presenting the "white paper" for our Airhawk-Exchange.
---
Now the main issue
---
Activity Review for 08/10/17 - 13/10/17
---
Contest/Giveaway
The week started out with @diana01 emerged the winner for our just concluded weekly contest with a reward of 12sbd rewards for her effort. The weeks contest was aimed at encouraging members to use the markdown styling guide for their blog posts. You can find her gratitude speech which she titled Airhawk-Project, Keeping Faith. Thanks to the founding members who sponsored this contest with their humble donations. Keep yourself updated on the blog for the next contest which would be announced soon. Meanwhile, await the announcement of another contest shortly on the group.
---
Contest review
@rickie took us into the adventure with our airhawk as he started his series on the top contests on steemit. He started with compilation of Literary Contests where he mentioned the likes of Sankofa Literary contest, STACH'S short story, Spotlight and so on. If you didn't see the post, here is the link. Meanwhile, watch out for him next week as he brings you another of the contest reports.
---
Surprise
So we had an august visitor in October, sometime last friday, @stellebelle dashed into our group.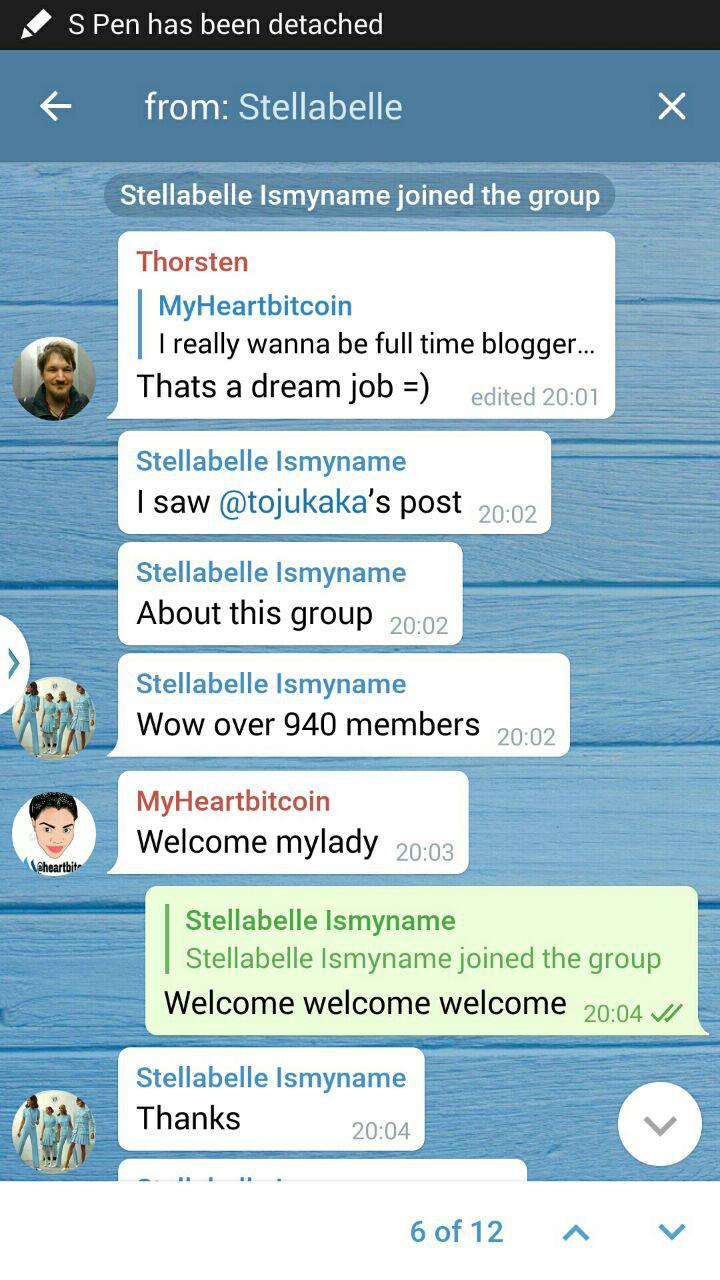 She won't stop being creative as she recently made some humorous Steemit inspired gifs which you would find useful in your day to day chats and even usable on posts. Below is one of my favorites: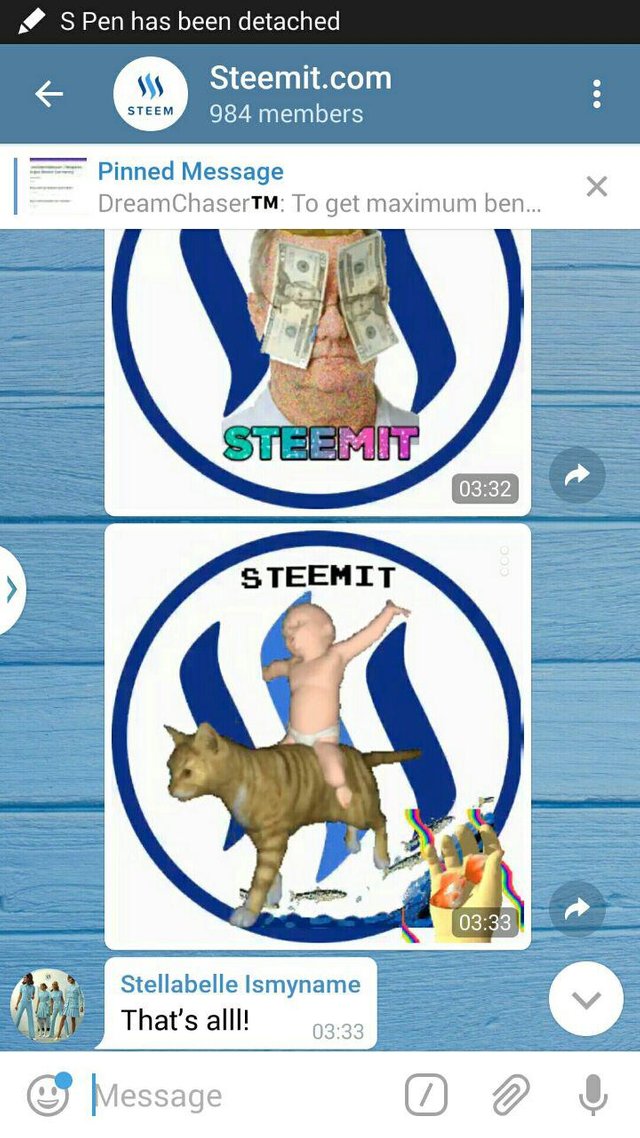 ---
Steemit knowledge
@dreamchasser held two sessions. The first was on the SMT tokens and the future it portends for the media publishing and companies and the resultant effect on better value for steem and it's general growth in all. Although this took place last friday, I feel obliged to include it in this report.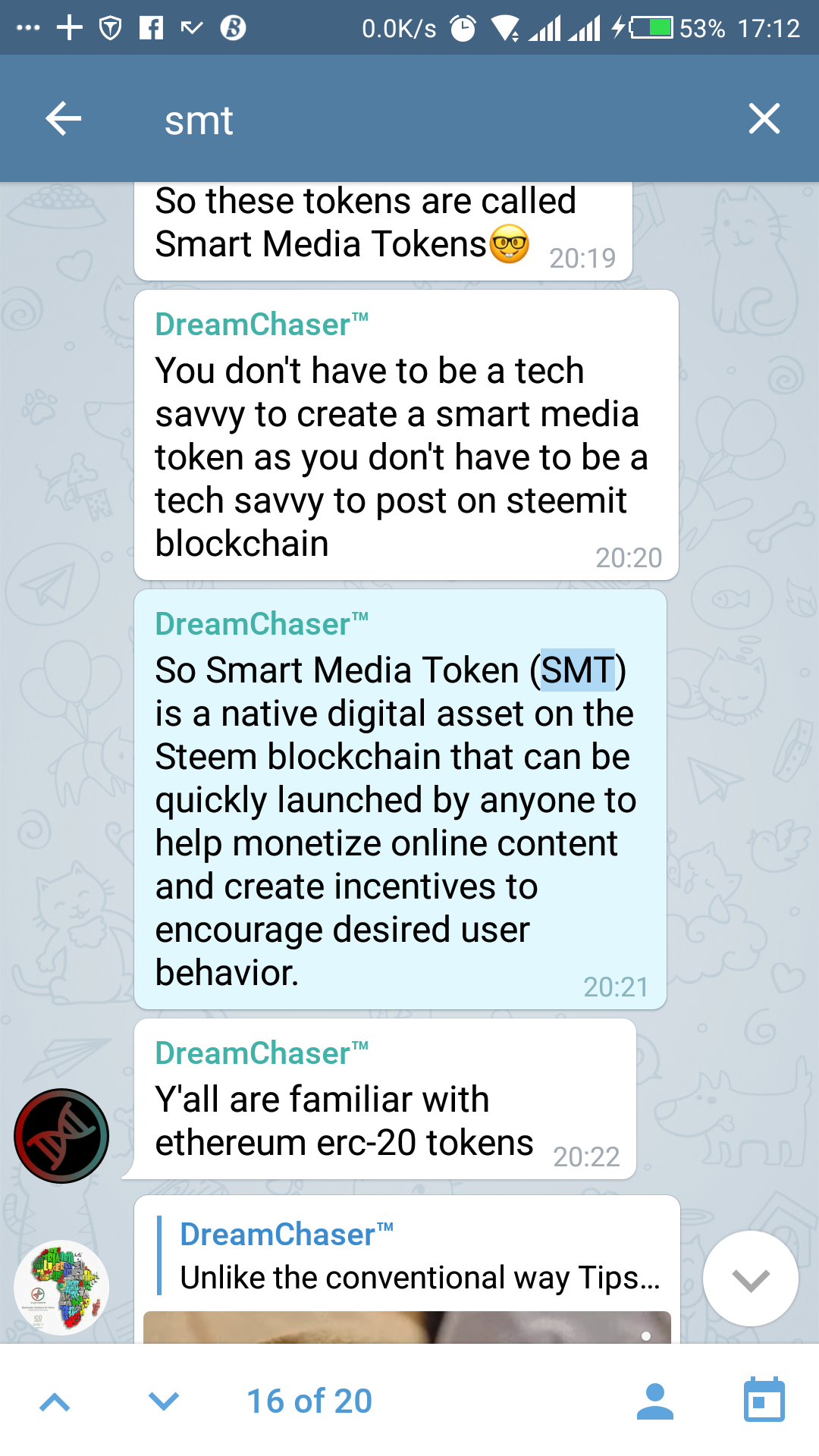 @dreamchaser also enlightened the group about who witnesses are and the need to vote witnesses from the 30 slots available to each and everyone. He didn't fail to explain the pros and cons of picking a better witness who has in a large way contributed to the growth of the steemit community as a whole. In some of his words, I quote;
DreamChaser™:
Now Steem blockchain produces blocks just like other cryptocurrency blockchain, it's a decentralized blockchain thing and it needs a varied set of people with running computers to create these blocks. So Steem uses a consensus mechanism called Delegated Proof of Stake, or DPOS. A steemit witness is someone who plays a crucial part in how the STEEM network functions. Witnesses are to STEEM what Miners are to Bitcoin.
A STEEM witness is a person whom operates a witness server (which produces blocks), and publishes a price feed of STEEM/USD to the network........
---
Curation Efforts
Teamwork is at play again in the airhawk-project as the need to maintain its curating prowess is at the heart of all. This brought about the issue of renting SPs which of course has been properly explained and broken down by @drepo15 here in the second post on our blog . There is the creation of 3groups for contributing steem which was not without consideration for those who only has little to offer. The intention is not to extort but rather encourage everyone to work and contribute as a team towards building a better community. Below is the diagram illustrations of the proposed lease categories. Also the analysis of curation according to leased SP.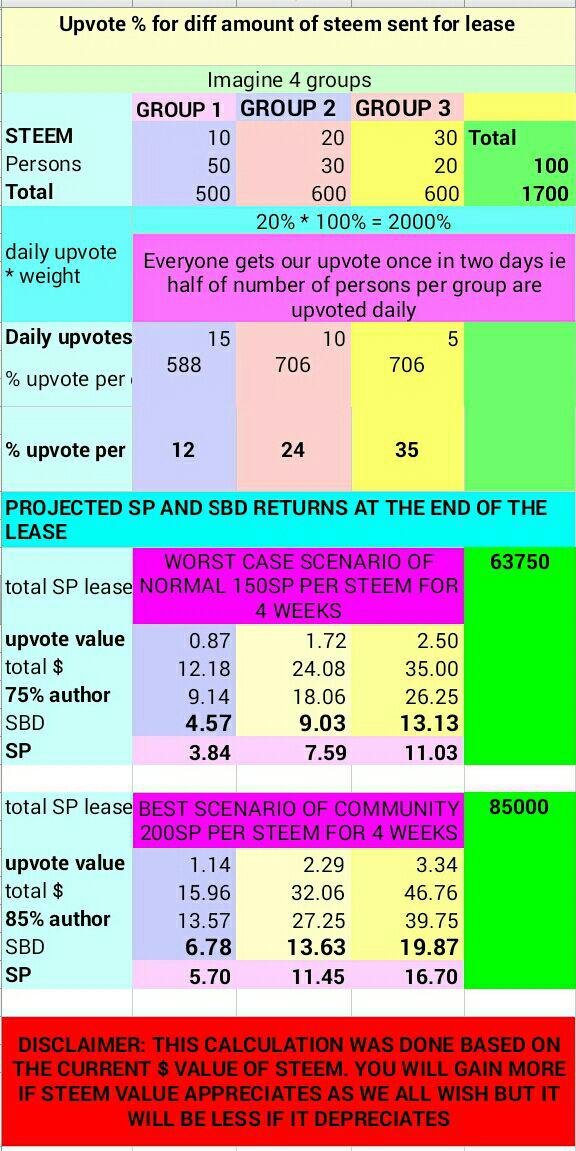 One of the aims is to help members get some commitment gradually into steemit before they could find their feet. No surprise though, thesame guys who sponsored the last lease have already sent in their steem in readiness for the next journey.
---
Airhawk-Exchange
The Airhawk Exchange has since started operations. You can now easily exchange your Steems and SBDs into local currencies. Join the airhawk exchange here to enjoy these benefits.
---
Airhawk Got Talent
We got the talent, we got the initiative. "Cartoonize" your display picture at the terms of our friend @camzy. Also, we have a graphic designer and a cake maker @ambmicheal. You can check @camzy's blog for his several portrait galleries.
---
Pheeewww!!! Its been a tough week and a productive one. Our mission always is to encourage new steemians to strive to stay relevant in the community and also to train redfishes on their journey to whales land.
---
We welcome every form of contributions to the AIRHAWK PROJECT SCHEME and together we strive to achieve a STEEMFILLED Steemit community and beyond. ___
Join us on Telegram HERE
Join Airhawk-Exchange HERE