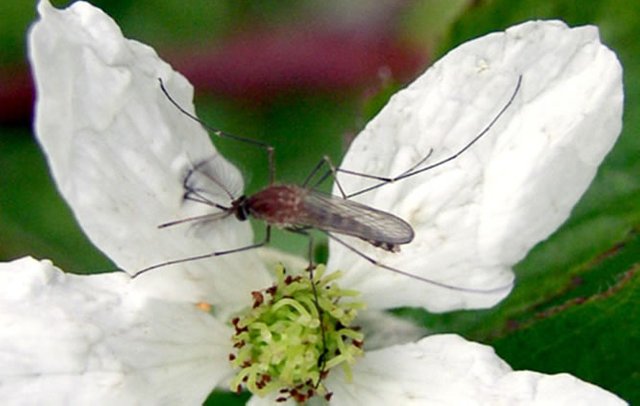 This is fiction, set in the future. Some believe it spoils the fun for me to make that disclaimer, but for me it spoils more fun to read dozens of comments in which people think it's true when it isn't (yet). Recently, I read a news article mentioning that harmful mosquitoes could be genetically engineered to ignore blood meals and instead focus on plant nectar only (link at end of this post). That engineered lifestyle change is different from the broader proposal to genetically engineer harmful mosquitoes out of existence altogether, which was been discussed in many places. Males of harmful species already eat only nectar, while there is one mosquito species in which both sexes dine from flowers and not by biting animals. The next step in logic was mine. But it's still fiction.
San Joaquin Valley, California, United States. February 2045.
It was here, in a broad valley plain, that almonds met their demise. Irrigated water from the rivers that begin in the Sierra Nevada mountains became less and less reliable each season. The west had entered a dry period that most blamed on climate change. And they were right: global climate change was wreaking havoc everywhere, though in truth California had always been dry. For more than a century after the Gold Rush, there was an unusually wet weather pattern that people believed was California's normal.
It was not. California had been drier before and since that time. Too dry to support almonds anymore; those trees were taken out and used for firewood. Rising temperatures and spotty irrigation called for a new crop. Today, pomegranates are the new normal here. Once grown further south, pomegranates had proven to be an ideal crop for this arid valley with rich soil.
Even 25 years ago, the almonds and apricots and peaches and other stone fruit trees in this valley would bloom in the spring. Old timers still tell stories about walking through fields here that were covered with blossoms as far as the eye could see.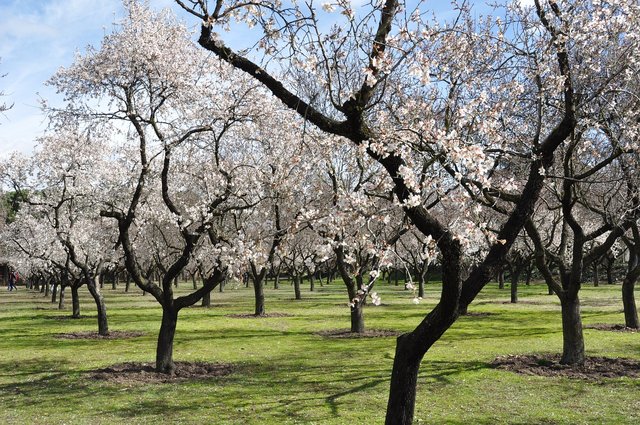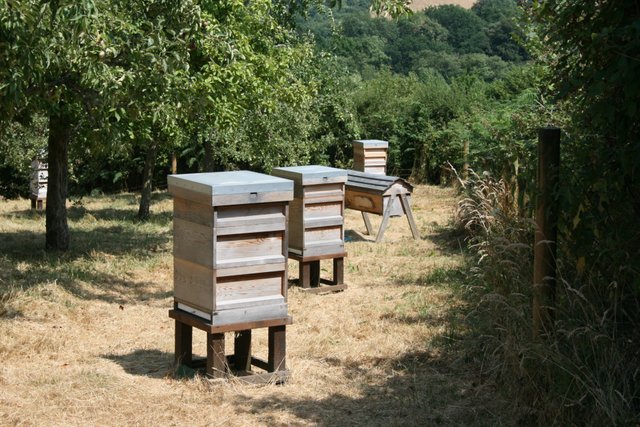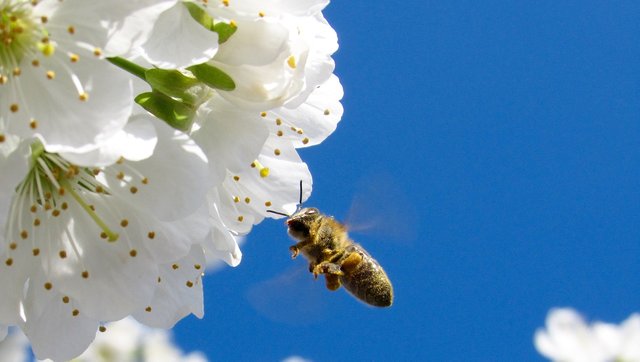 Accompanying the pink and white flowers would be a buzz from the bees. Boxes and boxes of honeybees would be trucked in from points afar. These mobile hives would be transported around the country from one agricultural area's bloom to another. These honeybees pollinated the almonds and stone fruits, creating honey at the same time that could be sold.
---
Back to the Present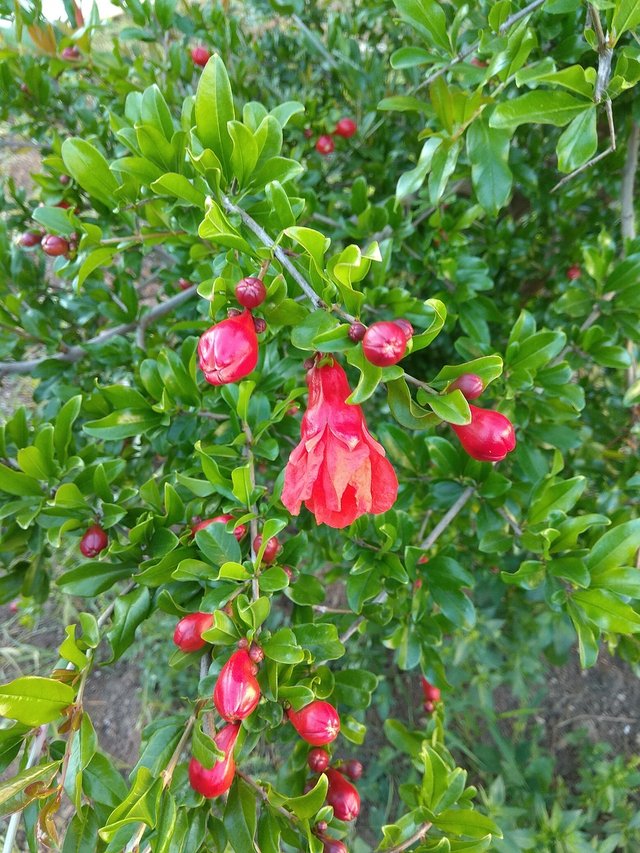 Today, a young woman stands in the field beside the growing pomegranate bushes. They will soon be trees. And already, the red and pink buds are opening in a bloom of their own. The woman motions her hand as if she is directing an unseen orchestra. She is watching a channel we cannot see, pointing and swiping at a screen that hangs above the fields and is visible only to her.
In the distance, a rail car turns off the highway and down a side road. Interestingly, there are no train tracks and it appears to glide on the surface of the ground. The young woman focuses for a moment on her unseen screen and makes sure the train car makes a quick right turn again into a row of her pomegranate bushes. The car is moving with little friction along the soil between the fruit crops, making its way to the woman's exact position.
She clicks the air to stop it. And that begins another chain of events. Doors on both sides open. Robots roll out and deploy themselves throughout the row crop of pomegranate trees. It takes 10 minutes for all of them to get in position. The woman checks the readings on her unseen screen, confirms that the time is right for nature's big intervention, and authorizes the next action.
Like clockwork, each robot opens a small door and pushes out what looks like a lantern. The contraption is set on the ground in front of the pomegranates, each lantern-type device servicing a certain number of bushes. Seconds after being placed in position, the lantern-type devices pop open to reveal that each one has not a battery below, but a reservoir of water.
It's not clear water, but more like water from a pond or stream. There's some scum in it. And hundreds of little wriggly things in each small reservoir.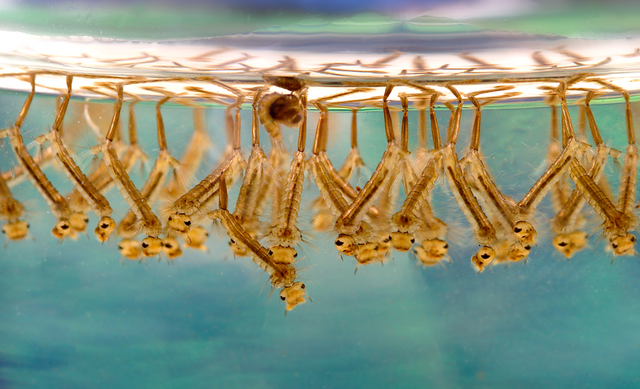 Mosquito larvae in water. Soon to become small helicopters. Creative Commons via Wikimedia by Public Library of Science.
The Buzz Cloud
They are mosquito larvae, which live in water. And within hours, each of them will complete their transformation into whiny, flying insects. The larvae will cease to exist and the robots will return their dish devices back to the train car. The robots themselves will remain a little longer to monitor their work and take readings.
The young woman has no protection from these bloodsucking insects and she doesn't need any. She watches in amazement as the billions of tiny insects take flight. It's like being stuck in a Georgia swamp, but instead of vile biting insects, this cloud of skeeters is here for a purpose.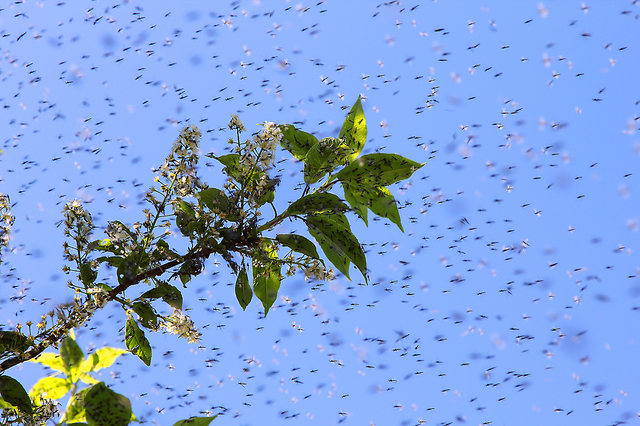 Cloud of mosquitoes. Source: http://www.mosquitomagnet.com/articles/purpose-of-mosquitoes.
The mosquitoes flying near the young woman continue right by her, attracted not by her CO2 or body heat, but by the smell of the pomegranate flowers' nectar. A few lucky birds delight in this sudden orgy, but they have little effect on the overall numbers. Once upon a time, honeybees did this job, but now the mosquitoes have been trained for it.
Ah, the power of genetic engineering. Scientists first determined how to eradicate the mosquito by breeding new genes into it. But honeybees were dying around the same time, and so some smart person on Steemit said, why not use the mosquitoes to pollinate fruit trees? After all, even with biting mosquitoes, the males always have fed on nectar while the females do so some of the time. Other times, the females are attracted to and drink animal blood.
The female mosquitoes had to have that gene turned off, so the scent of a red-blooded animal does not interest them. They hunt for nectar from these red flowers instead. And their whiny, buzzy little wings beat at the pollen of their flowers, transferring it from flower to flower as they do the work that bees once did.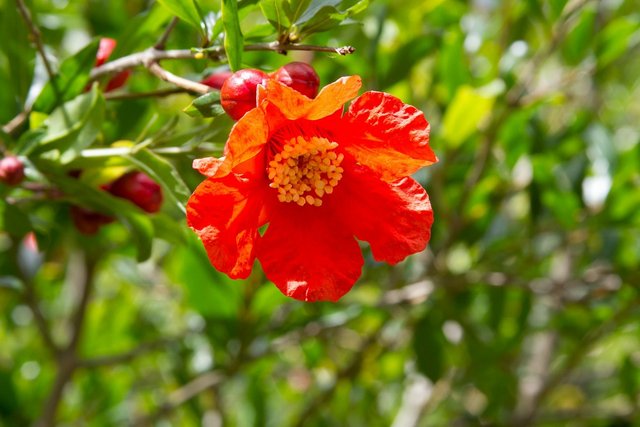 Mosquitoes are pollinating the fruit tree crop. They are no longer biting people or animals. Now if only we can get them to produce honey, they will be every bit as useful as those bees that used to work here. Coming soon to a store near you: Mosquito Honey! That's still a joke (I think). A few bees remain; their honey is very expensive and worth every penny. But mosquitoes proved to be much more efficient pollinators.
If you can't beat them, hire them.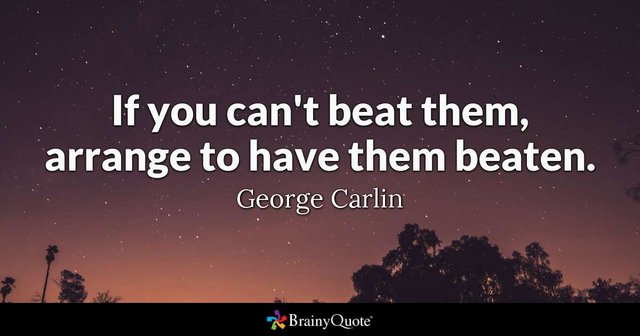 This was a work of fiction. All photos are public domain unless otherwise referenced in the text. Material references:
https://www.insidescience.org/video/flower-loving-mosquitos
https://www.mantecabulletin.com/opinion/other-views/bee-economist-explains-honey-bees-vital-role-in-growing-almonds/
http://blogs.discovermagazine.com/crux/2018/08/03/honeybees-pollinator-really-going-extinct/#.W3s0L7gnaUk
https://cbs4indy.com/2018/07/23/woman-builds-mason-bee-homes-to-help-declining-populations/