@Oracle-D Will Present @AGFAcademy at Nakamoto's Den Blockchain Event in Cyprus.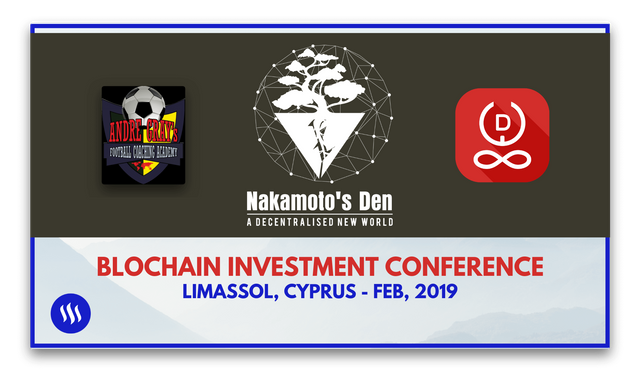 4 months ago we launched @agfacademy - The world's only soccer coaching academy on STEEM Blockchain in order to support young people from disadvantaged backgrounds. Anyone can earn rewards for practicing the drills, and improving their game. Andre Gray is a professional English footballer who plays as a striker for Premier League club Watford). We want to take this opportunity to thank him for putting his name, time and efforts into the creation of this academy.
Please check the website: http://www.agfacademy.com/
We have also created a documentary to showcase the highlights and participation of footballers from all over the world. Please watch and see the power of communities on STEEM:
The drills on the video entails basic passing, different variation of passing, how to control the ball and different shooting practices. The aim of this project is not solely to make people have an income after doing their drills, but also to promote football here on the blockchain and beyond. Learn More

Nakamoto's Den, 2019: Introducing @AGFACADEMY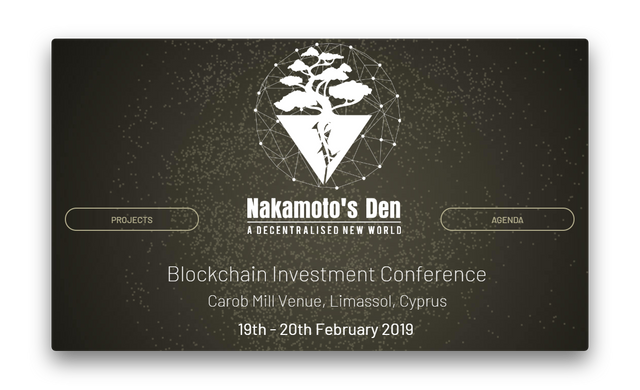 @Starkerz is going to attend and introduce the Academy at Nakamoto's Den - A Pioneer Blockchain Investment Conference to be held in Limassol, Cyprus from 19th to 20th February. This project will be presented as one of the many use-cases of this amazing Blockchain and hopefully get the word out far & wide.
This February, in front of a huge crowd of blockchain educators, investors, and innovators; blockchain start-ups will battle to be the winner of Cyprus' ultimate Digital Startup Battle. At the same time, established companies will be competing to secure the funding of some of the world's top capital firms… all in real time! Join us on Cyprus' greatest-ever blockchain investment and networking event. In the sunny city of Limassol, you'll meet the people in charge of building a new, decentralized world!
Source: https://nakamotosden.com/
Apart from this, we will try to hunt the next set of investors who might be interested to get involved with @Oracle-D and STEEM Blockchain in general. We will share the livestream of the event in case it is available. Please do watch it. Link will be updated as soon as we get it. It's going to be very exciting & hopefully 2019 will kick off on a high note. Please stay tuned!
Note: Also, if you are reading this and attending the conference, kindly get in touch with us through our discord server.
Website: https://nakamotosden.com/
Tickets: https://nakamotosden.com/#tickets
Date, Time & Location: https://nakamotosden.com/venue/
Agenda: https://nakamotosden.com/agenda/
Speakers: https://nakamotosden.com/#speakers

Oracle-D
is a new STEEM blockchain business venture bringing new investment into the ecosystem. Founded by @starkerz and @anarcotech, we previously were co-founders of the #promo-steem and @steem-ambassador projects, and we developed the CAMPUS curation system, which is a fully decentralised system for distributing rewards.
Core Mission
We remain apolitical, and our number one goal is to raise the price and utility of the STEEM blockchain, improve culture and education about the blockchain, and create opportunities which support exceptional quality content creators through collaboration with investors and clients. In other words, to add as much value to the blockchain every day as we can.
Account Creation API
If you are a DApp owner, your might be interested in our new account creation API. It helps small DApps with little SP or RCs to create their own sign up process to onboard new users on the Blockchain. You can read more about it in this blog or directly go to http://go.oracle-d.com/acapi to register. It is available only for the DApp owners and not for the regular endusers.


You can support us in the following ways:
Upvote & Resteem this blog and spread the word about Oracle-D and our campaign.
Support our writers and their content which will ultimately empower quality on the STEEM Blockchain.
Join our curation trail in SteemAuto to maximize your curation rewards.


Upvote @Oracle-D witness by going to https://steemit.com/~witnesses
or directly through SteemConnect
Any kind of contribution is much appreciated and thank you for being a part of this Journey! Also, please do not hesitate to connect with us for any kind of collaborations that can help the STEEM Community grow.


Connect with us at the following: