Boost Your DApp - New User Onboarding API by Oracle-D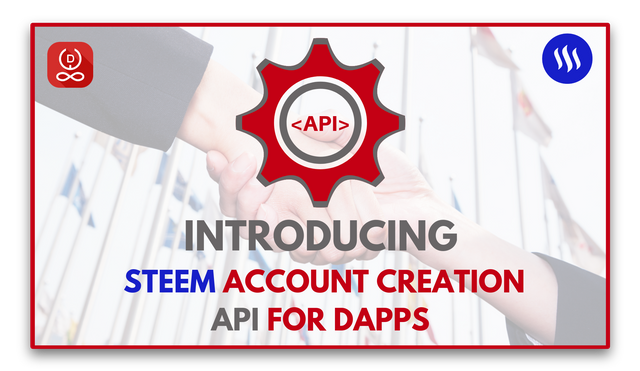 In the past one month, @Oracle-D has traveled to various locations and spoken about Blockchain Technology at multiple events. We even gave seminars to many universities in Indonesia. We have also shared stage with Blockchain Enthusiasts in South East Asia Blockchain Summit 2018 in Jakarta, Indonesia, Steemfest-3 in Krakow, Poland and Decentralized 2018 in Athens, Greece. All this was done with one mission at large - bring outside investment to Steem Blockchain. But here is the twist, we do not want random people to invest and do nothing. We want them to contribute, create tasks and communities. This will in turn give our content creators (bloggers, vloggers, graphic designers, social media influencers etc.), amazing opportunities to showcase their talent. We also want to bring in more people to use the blockchain and create case-studies for the future Steem generations to come. We alone cannot do that.


With great SP delegation comes the great responsibility. Past HF20, our development team started working on claiming accounts using Resource Credits enabled in the fork. RC system allows any individual or Dapp to create STEEM accounts quickly. This was a breakthrough update on the chain which will help in scaling the whole system. There is a small twist added in this. To claim one account you need about 5,000SP at the time of writing this post. There are many apps and developers which are doing great work but they do not have enough SP. One of our missions is to help other apps in onboarding new users on the blockchain. We feel that we alone cannot reach everyone. This way we can help Steem reach more people and get Dapps more users. Win-Win for everybody! Introducing OD's API which can help DApp owner to create their own sign up mechanism. Using the API, they can easily claim free STEEM accounts for their end-users.
Share2Steem is the First DApp to Use Our API
@Share2Steem is a mind-blowing project founded by @algo.coder and @sebbbl will be using our API to create their sign up system. It is a simple cross-posting service where you can share your posts from Instagram, Facebook (to be added soon), Twitter, YouTube, Twitch and Medium to Steem Blockchain directly. They are also rewarding people who are using their service to cross post. Please go have a look at their tool. You can get started by logging in using SteemConnect and then link your social media accounts.

We are excited to have Share2Steem onboard with us!
The API is available only to a selected number of Dapps. We are providing the access only to DApp Owners/Developers who are using STEEM Blockchain and adding value to system. Access is only granted to platforms which do not have enough SP to claim the accounts themselves. If you think you want our help, please follow the steps mentioned below:
Registration Process To Get API's Access
Please register your DApp for the v1 of OD's account creation API by filling out this simple form: https://api.oracle-d.com/v1
Once you submit your details, our internal team will vet the application and get in touch with you to provide access and further setup.
Yes, there are only two steps to it but please be careful with your form. Fill every section with enough detail to help us evaluate your application. Check the FAQs section to know about further details of the API.


Q. What is Oracle-D's account creation API?
A. It's a web service that allows Dapp owners/Devs to use our account creation service and claim accounts for their end-users. The API will provide a swift medium between app owners and oracle-d to request accounts.
Q. Do I have to pay something for using this API
A. Once you are approved and granted access to the API you can use it free of charge.
Q. Can I use this to create accounts for my friends and family?
A. No. It's not for personal use.
Q. Is there any limit to the number of accounts that can be claimed?
A. Signups per DApp per month are limited. The limit depends on size of the DApp and available claimed account of oracle-d.
Q. Role of Oracle-D in Account creation service offered by DApp using their API?
A. Oracle-D will only provide the API which can be used to claim accounts by DApp owners. Developers of the DApp will have to create their sign up page on the project's official website and ensure full security to avoid abuse or fraud.
Q. Approval or Rejection Guidelines?
A. We will accept applications from scam free and non-fraudulent DApps with no huge SP delegation. If our team thinks that a DApp can be a great gateway to STEEM and should be able to onboard new users we are going to consider them.
Q. What happens after approval?
A. DApp Owner/Dev will be contacted via email to discuss the configuration details.


If you have any questions, please drop a message in the comment section below. Also, if you think that any project can use our API to onboard more users on STEEM, we would be happy to help you. Please feel free to come by our discord server and find our team to discuss this. Also, requesting you to resteem/share this announcement with your developer friends.

Oracle-D
is a new STEEM blockchain business venture bringing new investment into the ecosystem. Founded by @starkerz and @anarcotech, we previously were co-founders of the #promo-steem and @steem-ambassador projects, and we developed the CAMPUS curation system, which is a fully decentralised system for distributing rewards.
Core Mission
We remain apolitical, and our number one goal is to raise the price and utility of the STEEM blockchain, improve culture and education about the blockchain, and create opportunities which support exceptional quality content creators through collaboration with investors and clients. In other words, to add as much value to the blockchain every day as we can.


You can support us in the following ways:
Go to our campaign's link given above and donate to us. The funding we get will be used only to cover the expenses of the events we will attend to attract more investors.
Upvote & Resteem this blog and spread the word about Oracle-D and our campaign.
Support our writers and their content which will ultimately empower quality on the STEEM Blockchain.
Join our curation trail in SteemAuto to maximize your curation rewards.


Upvote @Oracle-D witness by going to https://steemit.com/~witnesses
or directly through SteemConnect
Any kind of contribution is much appreciated and thank you for being a part of this Journey! Also, please do not hesitate to connect with us for any kind of collaborations that can help the STEEM Community grow.