SKYDIVING IN GALVESTON, TX- Come share the experience (PHOTOS & VIDEO)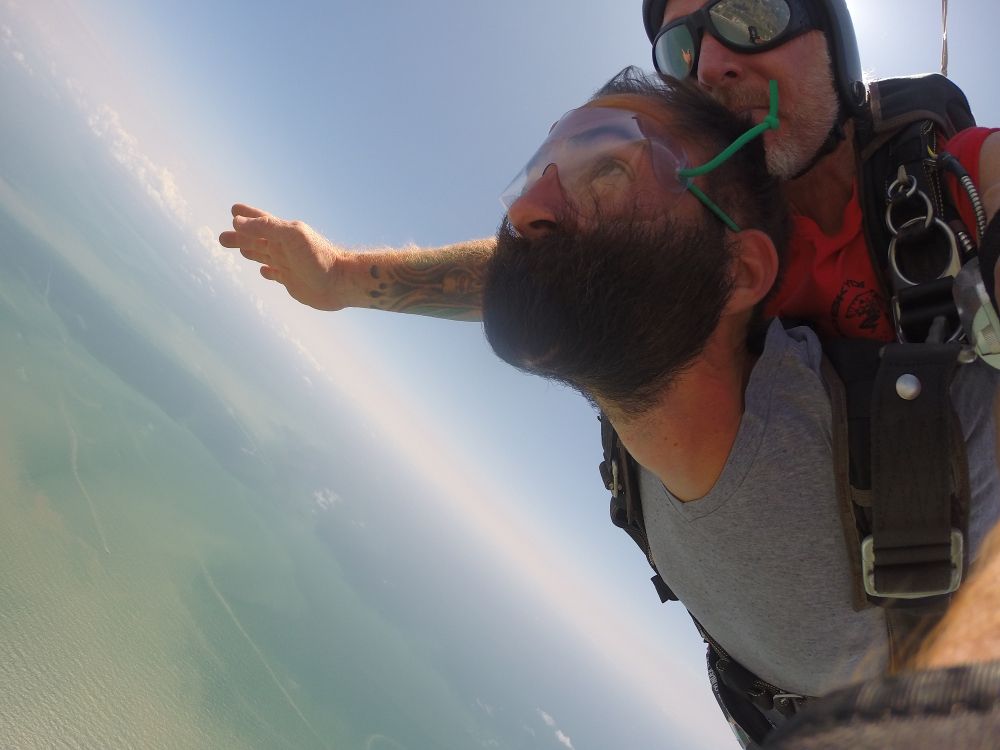 Hey Steemit Family
Real quick before we get into the fun bits. A little while back I delegated almost all of my steempower. So I can't really reward you through up-votes for your awesome comments, but I hope that won't stop you from leaving them. :)
I'm going to be powering up on all my posts so I can reclaim the power to show you all my appreciation.(*Edit- tried to power up this post, but apparently changed the settings in the wrong window. I'm hopeless. lol) I hope if you all enjoy this post you give some mega up-votes to help push me back beyond the world of dust voting. Thanks. Now to the fun bits.
Re-scheduling Christmas
My skydiving trip last Sunday was better than I even imagined. We used Skydive Galveston where they always land on the beach. It was originally set for a couple of weeks ago, but had to be rescheduled. So then we were set to go on the 13th instead. Then on the 12th I got a message that said there was a weather alert and it might have to be rescheduled again. I was a little bummed Saturday night because that is more fucked up than rescheduling Christmas for a kid.
I had originally planned on taking it easy that Saturday, but the weather wasn't looking that promising so I joined in on a drinking and jam session that might have lasted a little too long, and I only ended up getting about an hour and a half of sleep.
The Sheer Terror................of Being Late.
I decided to ride with one of the guys I was jumping with which made me nervous as hell since he is typically late for everything. I was much more worried about being late and losing my $50 deposit as well as missing the jump than I was jumping from a perfectly good airplane. Once we made it there and checked in everything was smooth sailing.
It's Getting a Little Dark In Here
Don and Simon were our instructors, and I have to say that these dudes really made this a blast. Once they realized that Bon and I didn't have a fearful bone in our body they opened up even more, and a very dark sense of humor filled the rest of the journey. I really wish the camera was rolling the entire time because there was some comedic gold getting dropped behind the scenes.
These guys average 1000 jumps per year, and I'm sure that they cherish they chance to be carefree and joke around. They can't open up like that with just anybody. Some people would have really been having second thoughts after some of the morbid humor of equipment failure jokes and much more.
A New Addiction
I Knew about 2 seconds into the free fall that I was hooked. The free fall and the spins were my absolute favorite part. Now I'm thinking about spending the $2,500 to do 25 jumps in one week and get certified.
Anyway, enough of this wall of text. Let's look at some of the photos and video.
Here we are after our brief training session all talking shit to each other.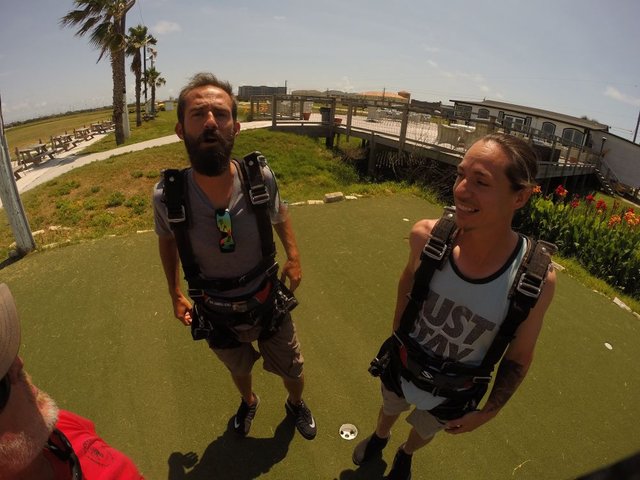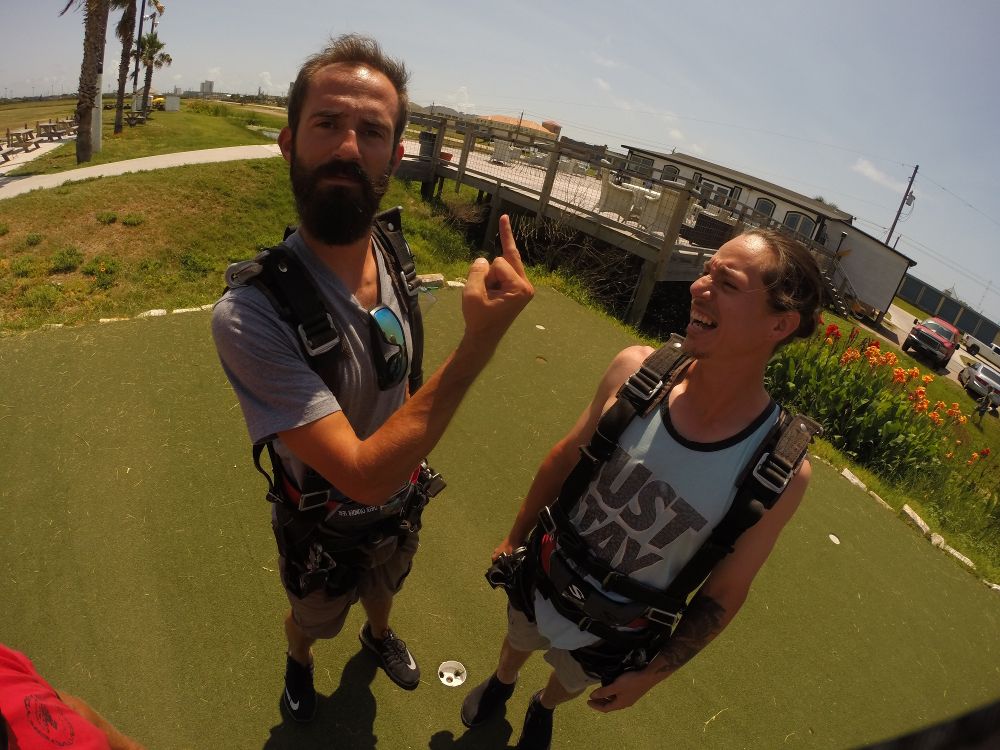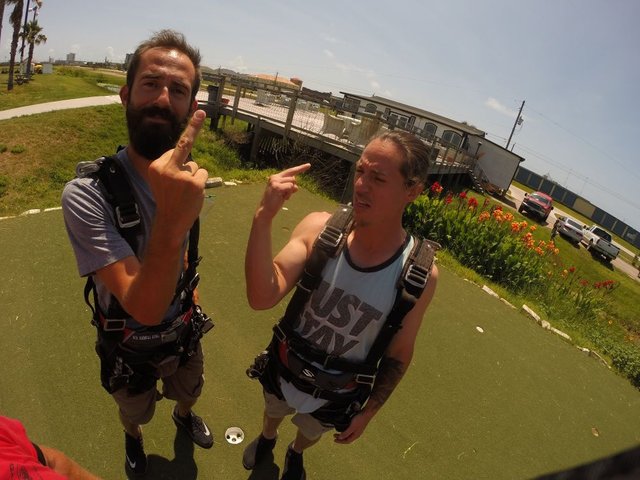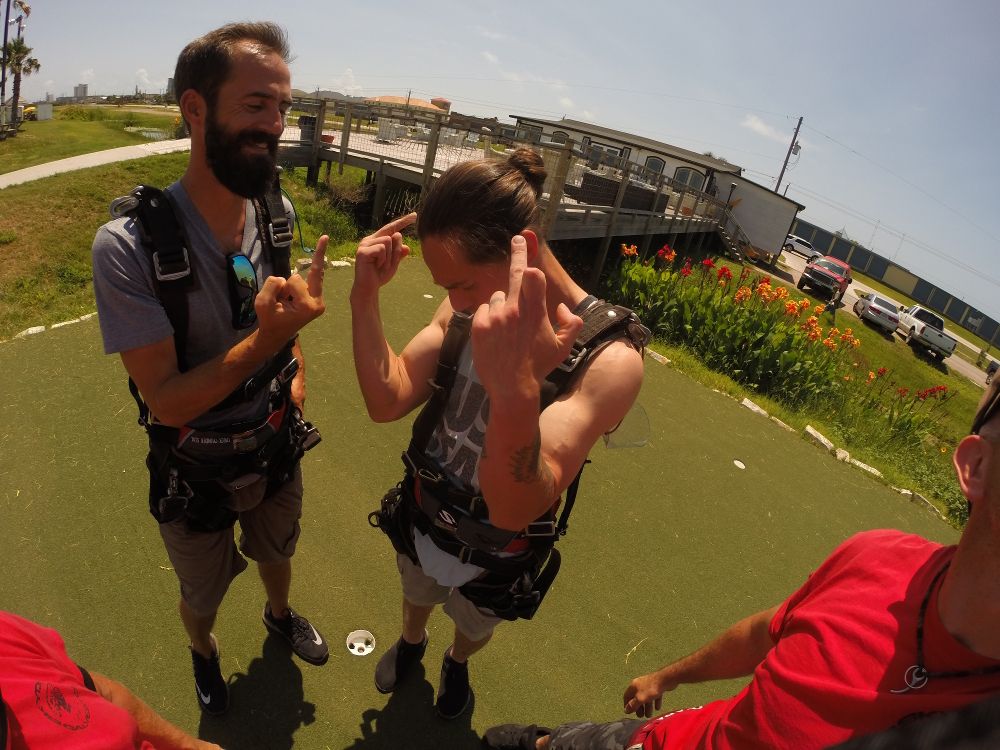 I was so hyper on the way to the plane. I couldn't believe I was finally getting to do this. I really felt like a child at Christmas. My soul was smiling rather large.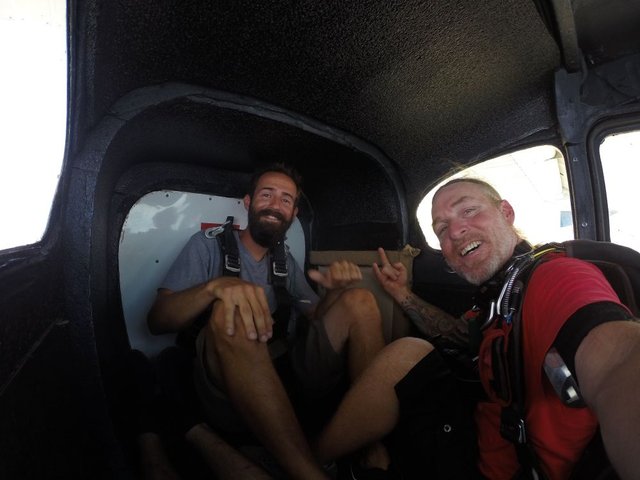 The view of Galveston after take off. Once we were in the air the hyper energy had transformed to bliss as I started taking in the scenery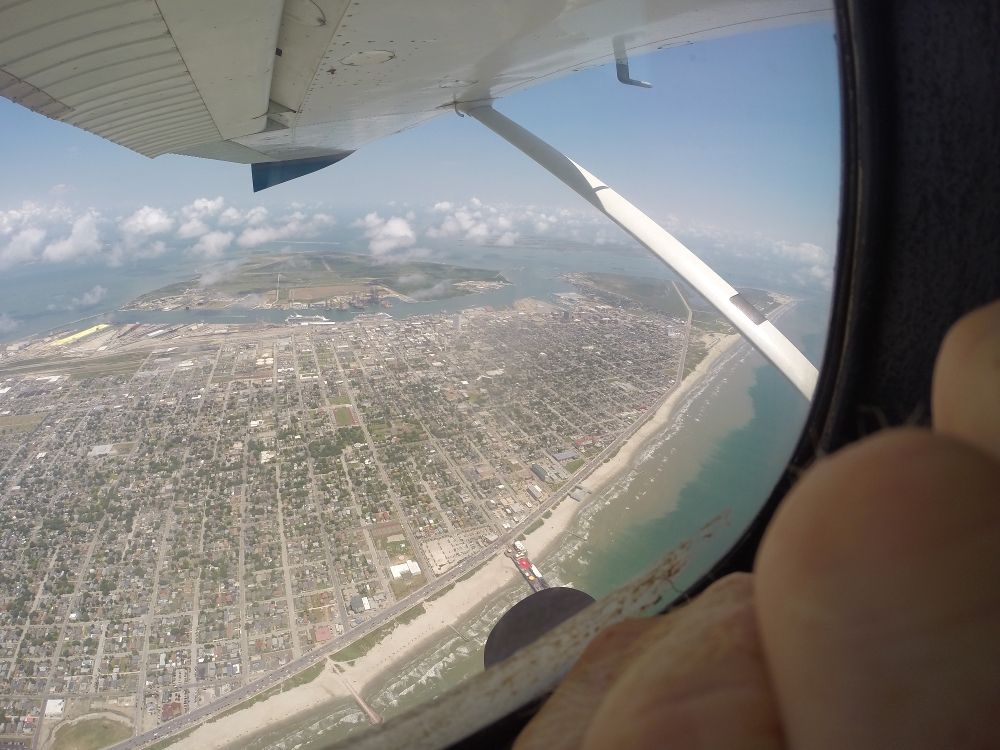 Once we were all latched in and getting close to jumping altitude Don said to me, "Either you are already dead or you are the calmest person I have met. At this point I can always feel people's hearts beating through their back, and I don't feel yours at all."
I was truly at peace. Again, I was more nervous about being late, and losing the deposit than I was jumping out of the airplane.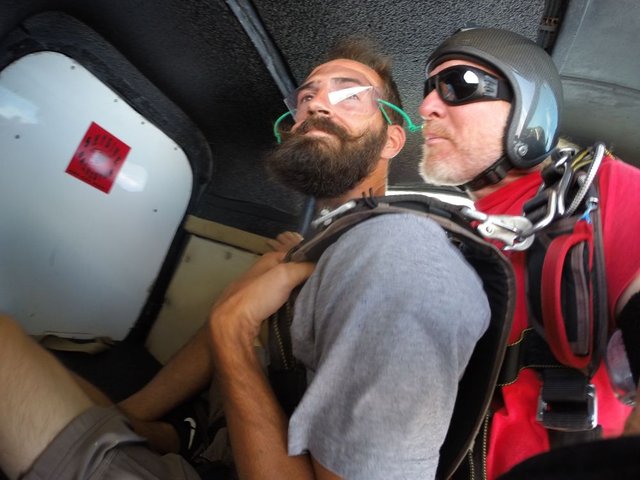 Here is Simon holding Bon's Hair back as they are getting ready to jump.Now that is service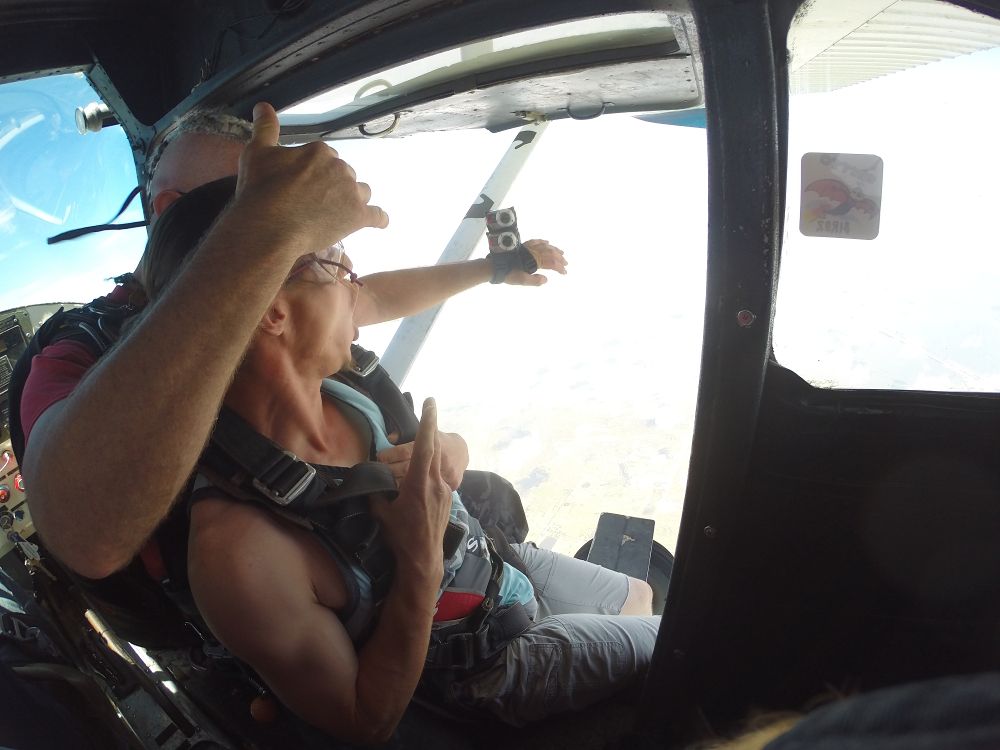 Out on the platform seconds before the jump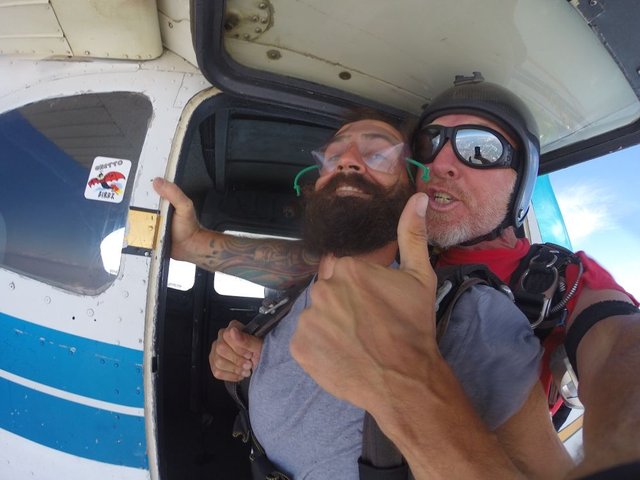 ....And We're Off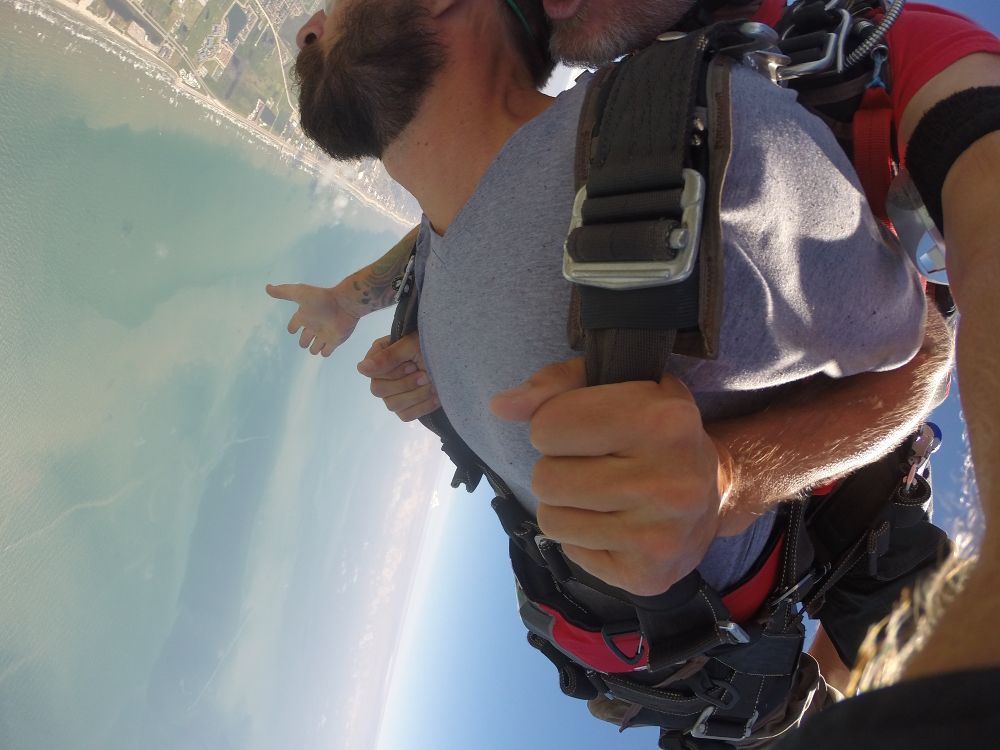 Travelling at over 120 mph does things to a beard, basically turns it upside down. My beard was all over the place.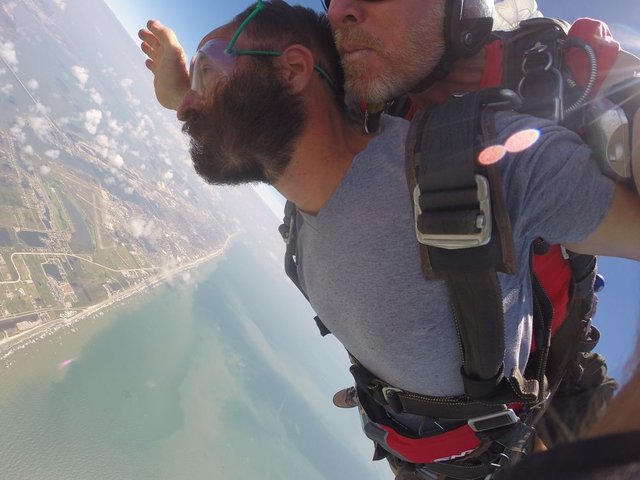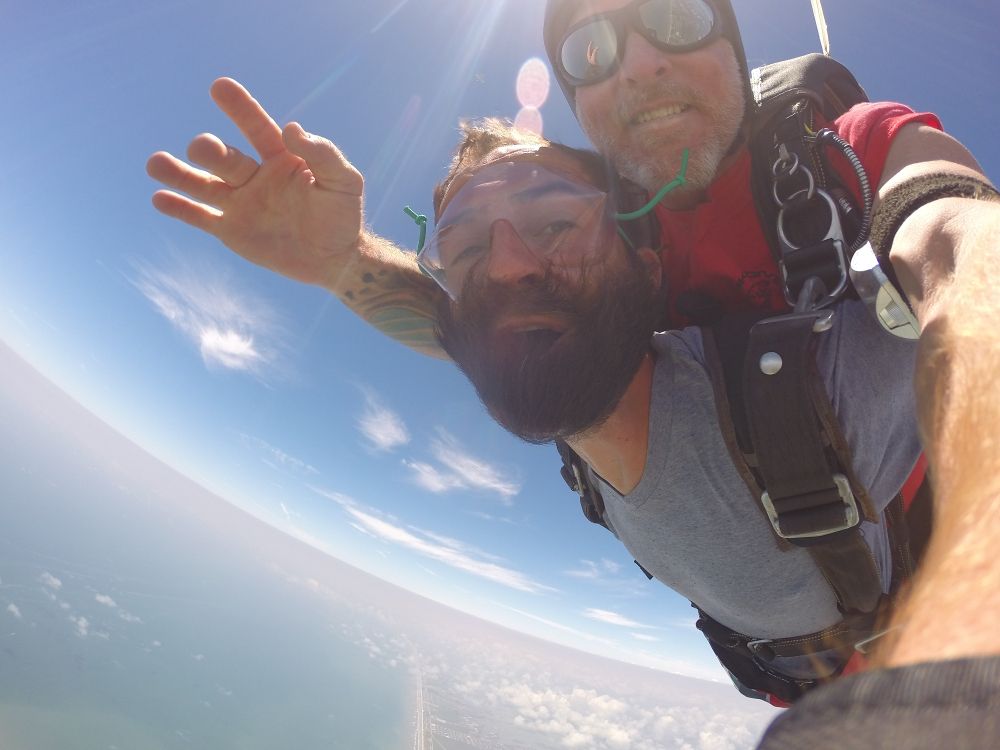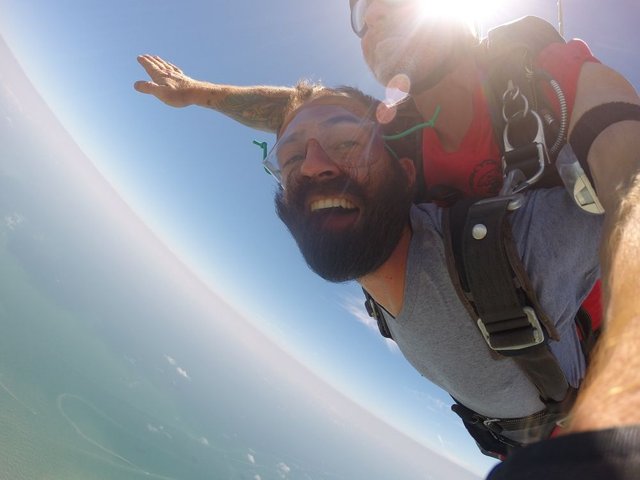 I'm smiling here. Not sure if you can tell.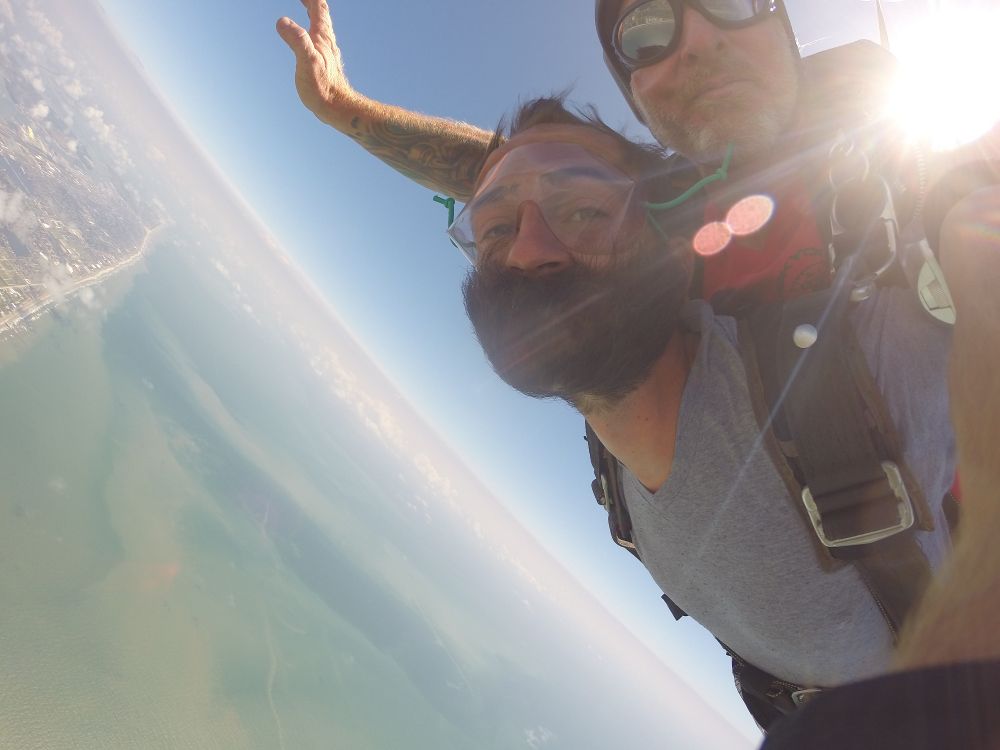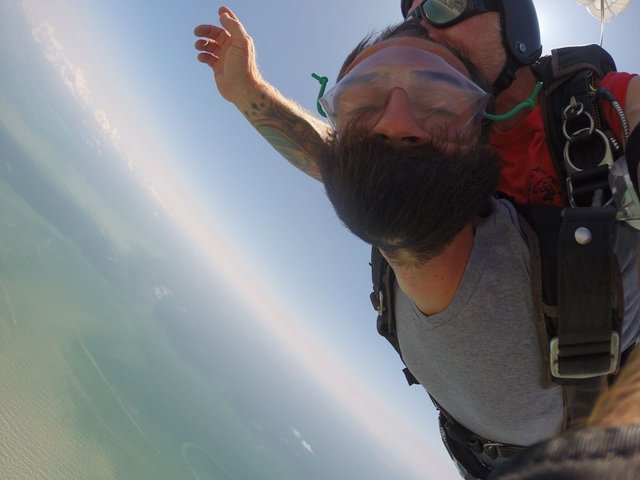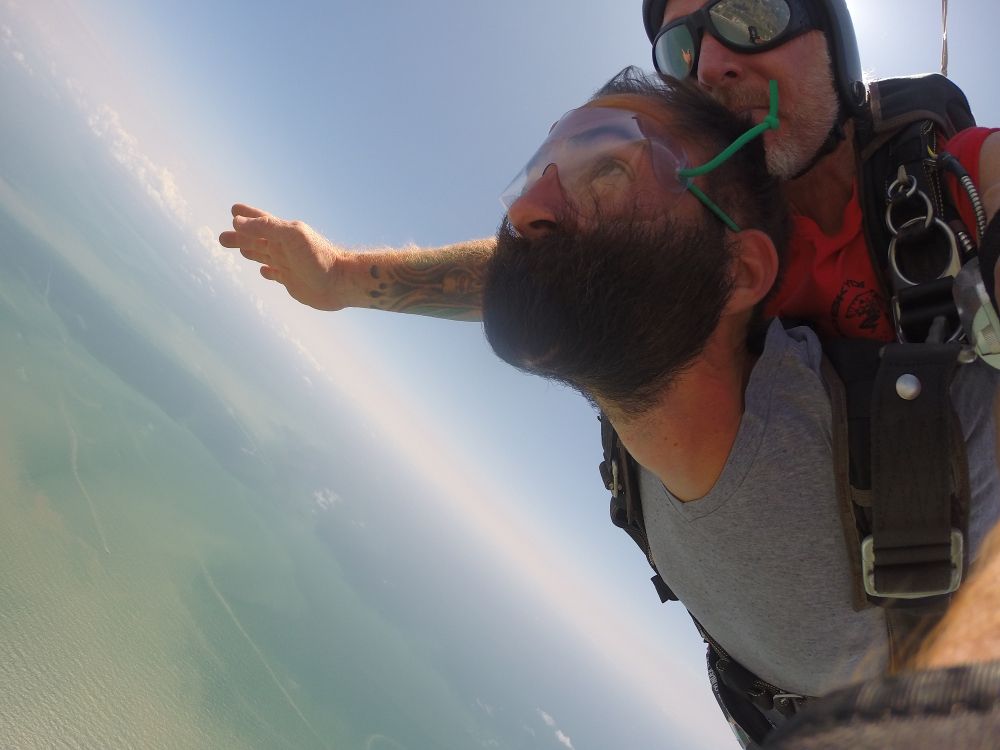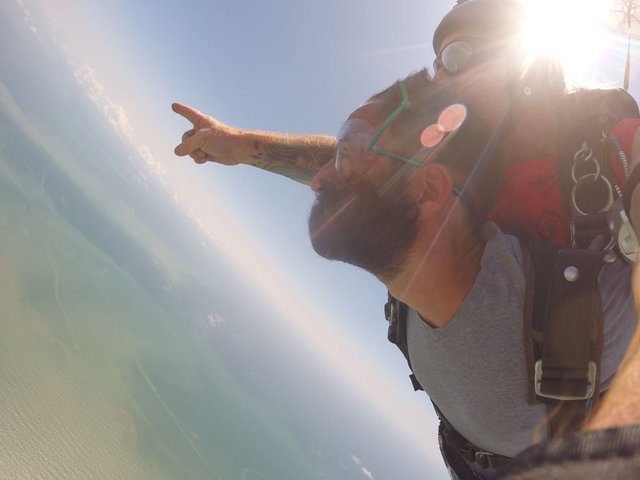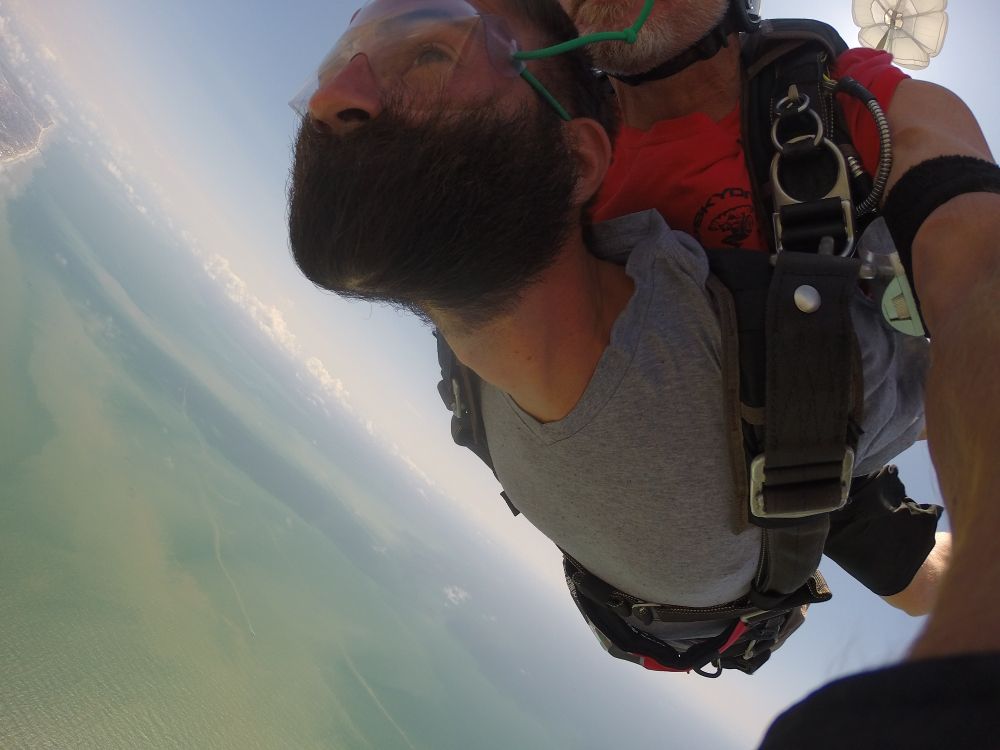 Then Don pulls the chute.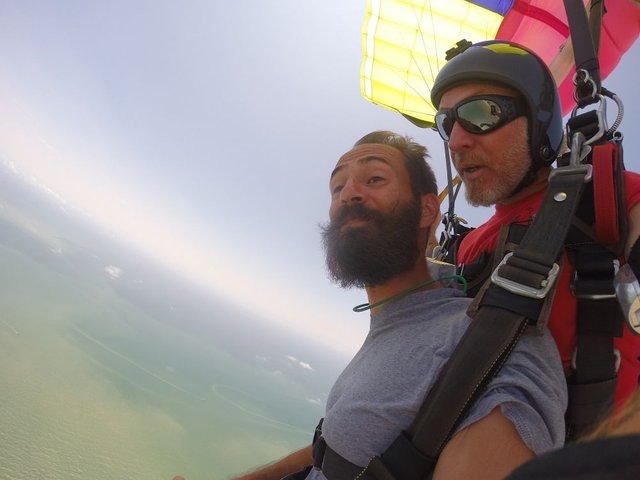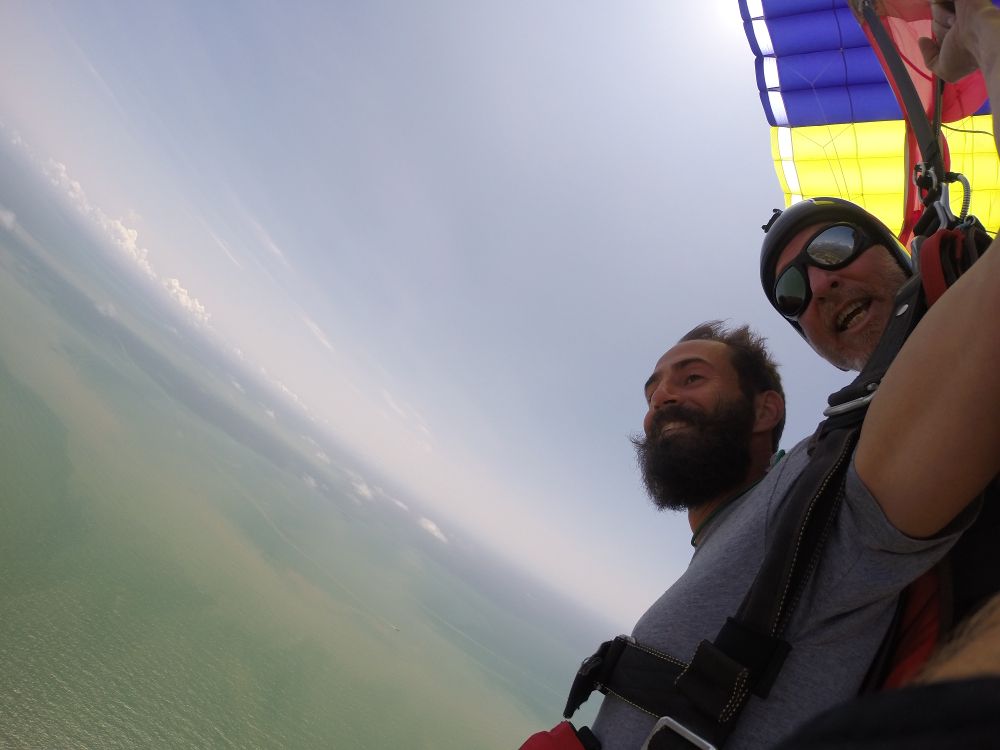 ....And the Spirals Begin
In some of these photos you can see that I have goosebumps. Despite it being about 84 degrees outside that day. It was much cooler at 14,000 feet.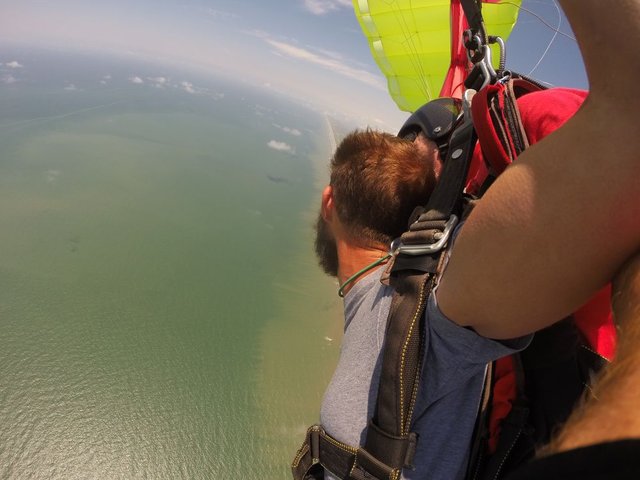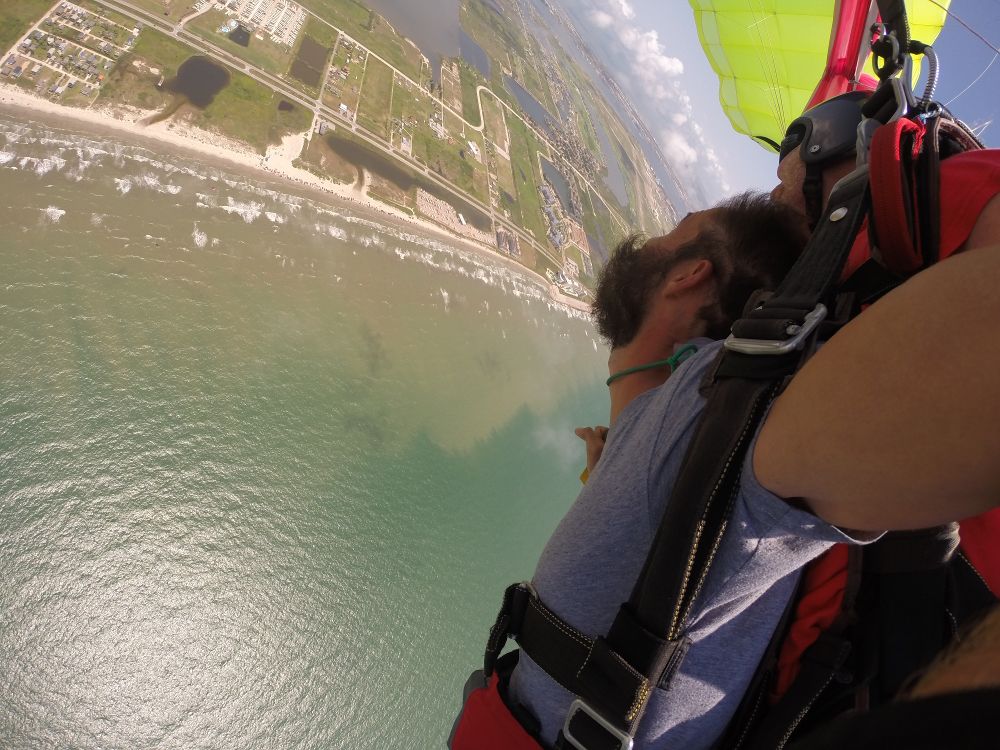 Back on land.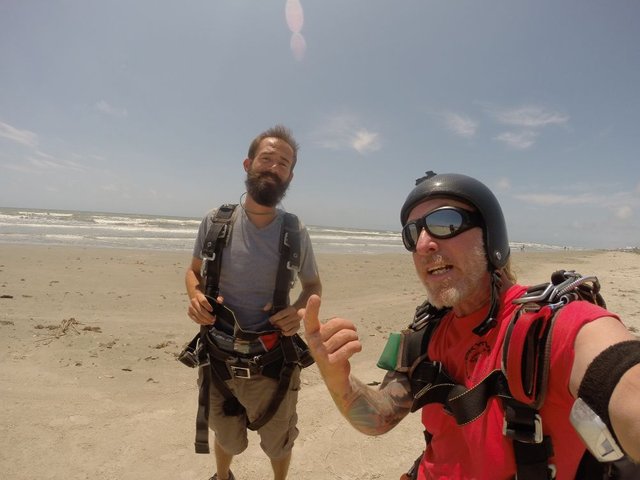 ...And Now the Video.