"How are we going to get widespread, real crypto adoption?"
This question has been the subject of countless conversations, at Meetups, conferences, and if we had to guess over 94,483 Twitter debates.
Let us now preface this by stating we are not claiming to have the answer, but think we are on the right track to getting to something that works.
There are two clear problems:
Merchant
Consumer
Merchants
According to eMarketer in 2018 Amazon.com processed $258.22B in revenue within the USA accounting for 49.1% of all eCommerce transactions. As of the day this article is written thats more sales than the entire crypto currency market cap.
Let's employ some deductive reasoning and assume that 60% of all individuals within the USA & Canada that are in crypto are already patrons of Amazon. If we are going with that assumption then let's ask a question:
Q: Why would Amazon accept crypto if customers are willing to pay in FIAT?
A: They won't due to opportunity cost.
In other words the work vs. potential reward is not clear or present. This is not just true for Amazon but for many merchants. Accepting crypto is a nice to have but is seldom a deal breaker for anyone who was already going to purchase.
Consumer
Let's take that example one step further and say you are holding Enjin ($ENJ), and want to buy a set of slippers, Spider Man action figure, and yoga mat on Amazon with your profits. The process to get liquidity to be able to make this a reality is as follows:

Would you opt to pay with crypto and jump through the hoops or just whip out your credit card?
A final alternative is simple. Bidali Gift Cards. We keep things simple for the merchants, and customers. It's easy UX, and fast fulfillment direct from our website. (https://giftcards.bidali.com/)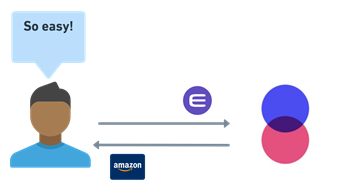 The future of commerce needs to be fast, simple, and user centric for both merchants and consumers. We're not reinventing the wheel as much as we are making the wheel better, and more flexible.
Bidali allows you to buy gift cards from 200+ top brands in USA, Canada, Australia, and the UK. Our catalog is growing consistently, and so are the territories we support.
Partners
For better experiences we allow people to transact directly from their wallet or exchange. If you have a wallet or exchange in mind that you would want to partner please don't be a stranger.
Hit us up with love (or hate) @Bidali
Hit us up with integrations at [email protected]