"UPTICKS".........."THE TWELVE STEPS OF AA"......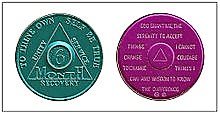 I feel fortunate that I found a way to look at life in a much less destructive way and to find a "philosophy" or "rule book" that I can use as a guide to muddle my way through this often over whelming life....
Step One....
"We admitted we were powerless over alcoholism....that our lives had become unmanageable".....
Picture by......By Foto: Jonn Leffmann, CC BY 3.0, https://commons.wikimedia.org/w/index.php?curid=31203522