My Actifit Report Card: February 3 2020
Pokračování servisních prací. Tyto teplé dny jsou přímo příhodné pro nutné práce na skútru. Jak to tak bývá, přes sezonu není čas, není chuť či se najde jiná výmluva. Posledně, asi před měsícem, jsem zahájil servis výměnou přední pneumatiky.
Tentokrát byla na řadě výměna kombinovaného přepínače směrových a dálkových světel. Konstrukce tohoto vypínače je vyrobena z hliníku a v místě pohybu přepínače, ovládající směrovky. Byl natolik prošoupán, že se vypínač uvolňoval a létaly z něj pružinky. Závady nečekají na konce sezóny, tuto jsem zjistil v létě a dočasně opravil vypodložením volné části smirkovým papírem. Oprava vydržela až do konce sezóny, ale další už riskovat nebudu.
Druhá závada, kterou jsem objevil několik týdnů před koncem sezóny, byla ve volném uložení zadního ramena. Prakticky bych si toho ani nevšiml, kdyby mi v některých zatáčkách nečekaně nezačalo "podjíždět kolo". První myšlenka byla, že jsou volné matice osy kola. Což nebyly. Stačilo jemně vzít za zadní kolo, když byl skútr na hlavním stojan a příčně s ním zahýbat. Vůle byla odhadem milimetr. Skútr má maximální rychlost 45, opět jsem se zjištěnou závadou dojezdil. U výkonnějších strojů bych řešil opravu ihned.
Vzhledem k tomu, že se jedná o kvalitní skútr čínské výroby. Nakupuji nejdříve zde - skútry Malšice. Sice se jedná o eshop, i při osobním nákupu vyjdou vstříc, kterému dávám přednost. Nemusím čekat několik dní, než kurýr zazvoní s balíčkem.
Potřebné díly vymontuji a vezmu si je s sebou jako vzor. Tentokrát se mnou jely přepínač a celé zadní rameno. Vše měli skladem. Což je výborné, protože vše hned namontuji, když si ještě za dobré paměti pamatuji, jak vše bylo.
---
Oprava
Výměna přepínače byla jednoduchá. Stačilo demontovat několik krycích plastů a přepojit konektor. Se silentbloky zadního ramena to bylo trochu složitější. Krom klasických klíčů na demontáž kola, blatníku a dalších krycích plastů. Je tentokrát potřeba lis. V dnešní době jsou k sehnání lisy pro domácí použití, jejichž základem je hydraulická panenka. A nestojí mnoho.
K lisování jsem si našel několik pomocníků ve formě oříšků z Goly. To proto, abych netlačil lisem jen na střed silentbloku, a aby se síla co nejvíce roznesla. Nové silentbloky je dobré nastříkat olejem. Každé snížení třecí síly se počítá.
Před konečnou montáží ještě bylo potřeba očistit příčku a natřít ji.Byla totálně ohnilá. Příčina je jednoduchá. Dříve se blatníky montovaly z důvodu potřeby ochrany před odlétávajícím blátem a jiných nečistot od kol. Nyní blatníky plní jen designovou úlohu a praktická ochrana před blátem skoro žádná. Plastový blatník, který tuto úlohu by měl plnit, dělá přesný opak. Místo toho, aby příčka byla za blatníkem schovaná a chráněná. Blatník veškerý nečistoty přesně vede na tuto příčku. Výsledek je vidět na fotkách. Tento nešvar není jen u tohoto skútru, tímto je postižena většina dnešních strojů. Bohužel. Nyní mi už zbývá jen provést diagnostiku baterie. To už bude brnkačna. Pro mne to znamená. Baterii s nabíječkou zabalit a odeslat do autorizovaného servisu.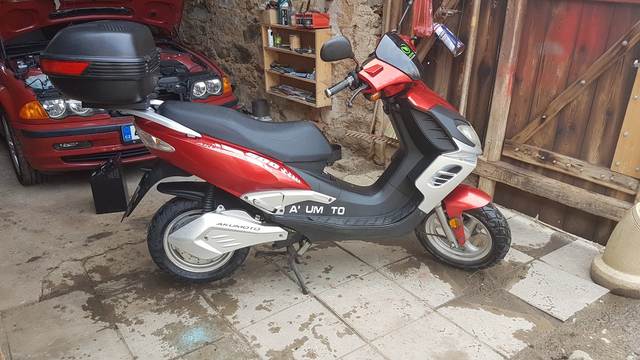 Foto z archivu. Nyní po dvou měsících ve stodole vypadá poněkud zašle.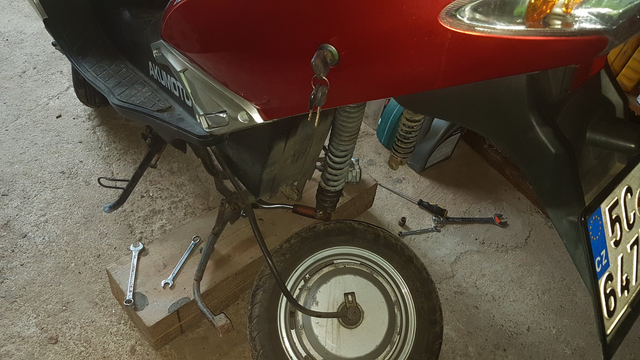 Bez ramene. Přívodní kabel k motoru zadního kola mi připomíná pupeční šňůru.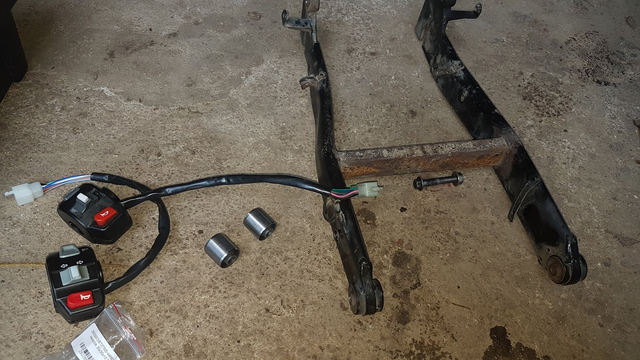 Demontované rameno snovými silentbloky a kombinované přepínače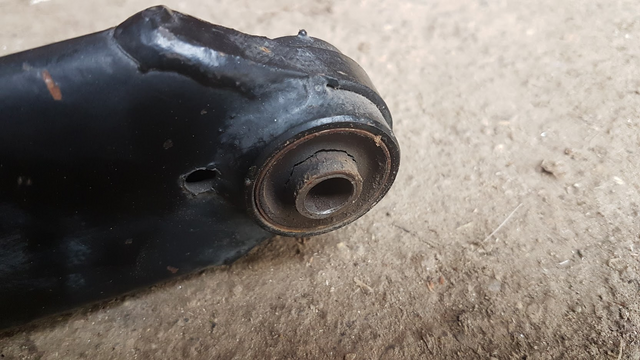 Příčina toho všeho. Vnitřní část je utržená. Málem jsem si toho nevšiml a vše zase smontoval.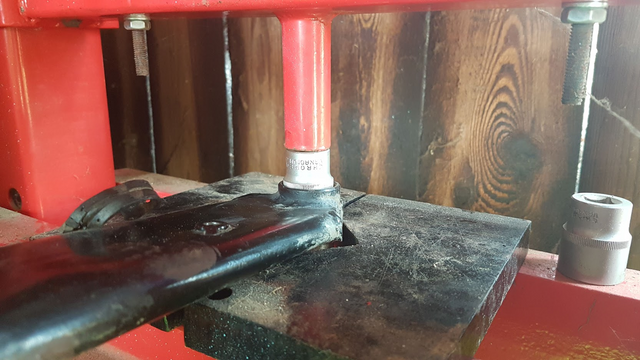 Vylisování starého.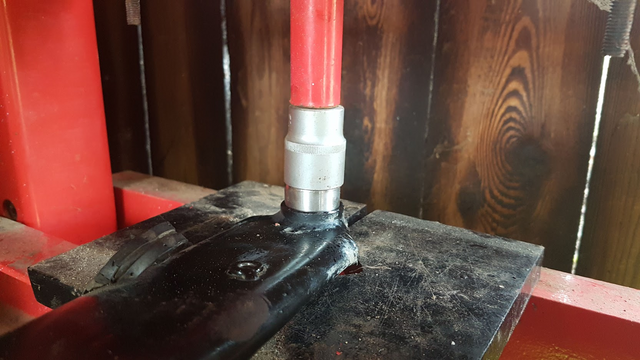 Nalisování nového.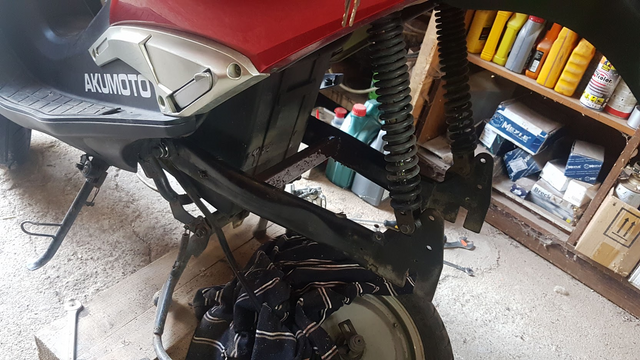 Rameno zpět na místě. Příčka natřena. Byly potřeba i nové šrouby, ty staré jsem zničil při demontáži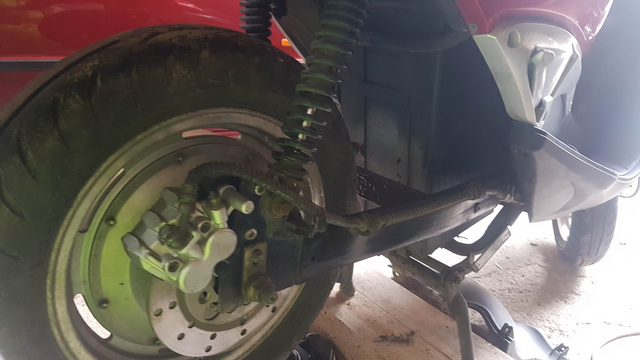 Jednoduchost konstrukce elektroskútru. Na zadním kole je jen třmen zadní brzdy. Zbytek jsou jen krycí plasty.


8754

Daily Activity, Home Improvement, Walking
| | | | | | |
| --- | --- | --- | --- | --- | --- |
| | | | | | |
| cm | | cm | | cm | |