My Actifit Report Card: January 21 2020
Zima je čas nejen odpočinku, ale i příprav a údržby. Většina motocyklistů v této době "spí". Záměrně v uvozovkách, protože nejsou na silnicích vidět. Občas letošní zimu potkám, jako včera, ale to jsou výjimky. Nemají do čeho píchnout ani servisy a prodejny s tímto sortimentem. Ideální čas udělat si, nebo nechat udělat údržbové práce na svých strojích.
Přední pneumatika. Vyhláška o technickém stavu jasně definuje, kdy je pneumatiky vyměnit za nové. Z jedním z klíčových faktorů je hloubka desénu. Ta je stanovena na 1,6 mm u všech vozidel, vyjma mopedů. Ty mohou sjet své pneumatiky na 1 mm (ono nemají moc velké vzorky, cca 2,5 mm). Na kontrolu hloubky není potřeba žádné speciální měrky. Pokud ji máte, tím lépe. Ve vzorku jsou osazeny kontrolní plošky. Když je pneumatika sjetá, tyto plošky jsou ve stejné úrovni běhounu. U nové pneumatiky jsou tyto plošky sotva viditelné, protože jsou schované až na dně drážek. U některých pneumatik pro zimní období jsem se již setkal i s kontrolními drážkami na hloubce 4 mm.
Důvod výměny byl jasný. Vykoukla na mě kontrolní drážka. Není divu, má za sebou natočených neuvěřitelných 55 tisíc kilometrů. V tuto chvíli je to pro mne guma rekordmanka, tolik jsem na žádnou nikdy neujel. Stejná byla osazena i na zadním kole. Ta vydržela přibližně 25 tisíc. Měnil jsem ji z důvodu jiného poškození. Co se týká hloubky vzorku, byla přibližně na polovině.
Výběr padl na produkci firmy Michelin. Stejná jako je již na zadním kole. Pořizovací cena byla též příznivá. Za necelých 950 korun českých mám opravdu dobrý pocit nejen na suchu, ale i na mokru. V mezi čase jsem odzkoušel i pneumatiku Mitas ze slovenské produkce. Vzhledem k měkké použité směsi rychle ubývala. Když jsem ji píchl, rozhodl jsem se ji nahradit již zmíněnou Michelinkou.
Výměna probíhala pěkně postaru. Ručně s mont pákama. Pokaždé je těžší starou gumu sundat, než novou nandat. Jako pomocníka jsem použil mýdlo a styčné plochy jím namazat. Ne nadarmo se říká: "Klouže jako mejdlo."
Po krátkém, asi čtvrthodinovém, přetahování byla guma osazena na ráfku. A nyní je již připravena na jarní výjezd. Příště pokračování na zadní části, kde jsou volné silenbloky zadního ramena.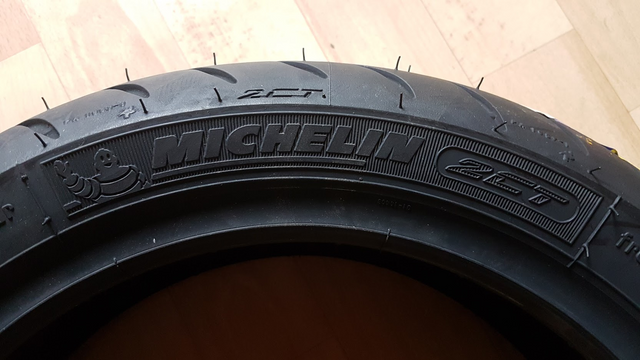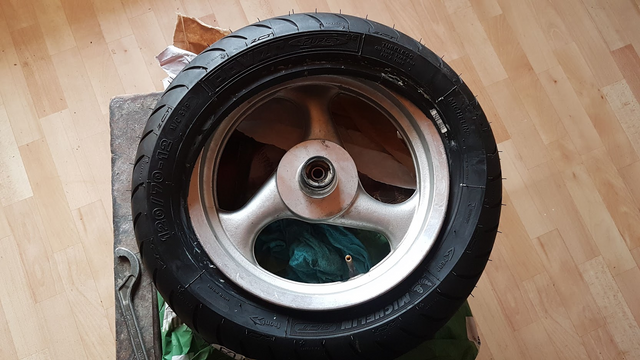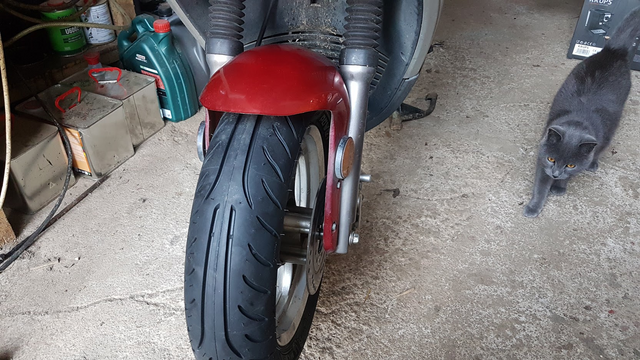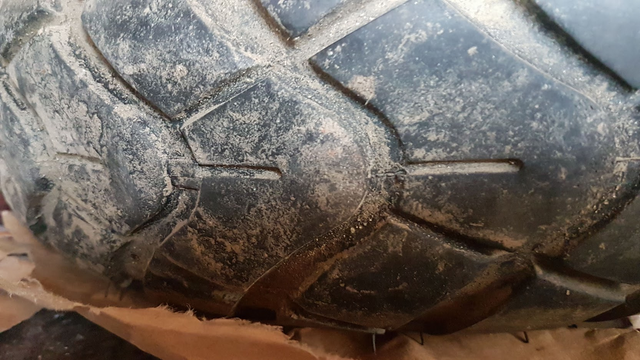 14994

Daily Activity, Home Improvement, Moving Around Office, Walking
| | | | | | |
| --- | --- | --- | --- | --- | --- |
| | | | | | |
| cm | | cm | | cm | |