20 Hikes in 20 Parks - Number 2, Devil's Den State Park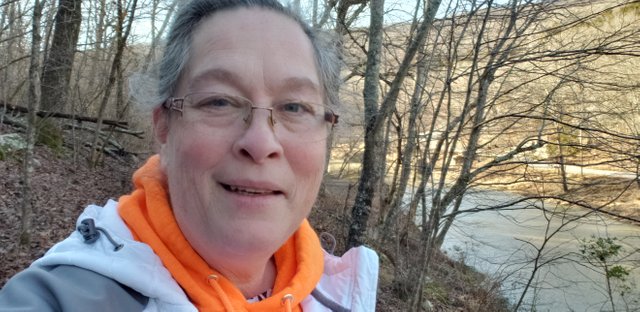 Such a positive outlook as we just start out on the trail! Image is mine.
We have decided to do 20 hikes in 20 parks in 2020. On January 1 we did a First Day Hike in the Hobbs State Park in Arkansas. This hike was about a mile and extremely easy because it was made for anyone hike it. The park we decided to do today was nowhere near as flat and level. It made for an interesting hike.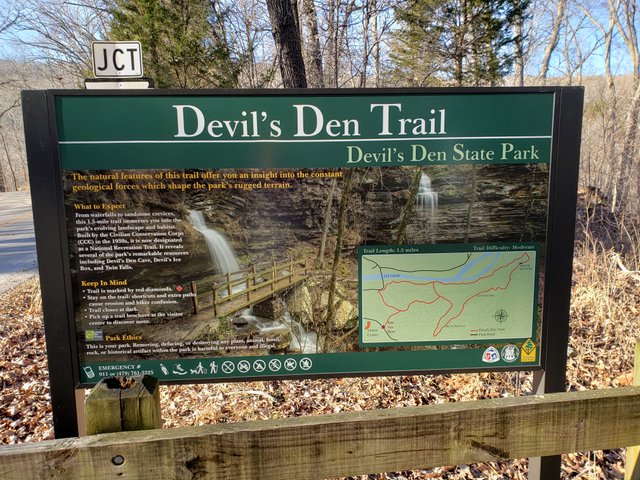 A little information before starting the trail. Image is mine.
Today we went to my favorite Arkansas State Park, Devil's Den State Park. If you have read some of our past posts, you will be aware that until the late 1920s this land the park is on once belonged to my family. So there is always a "coming home" feeling when we visit.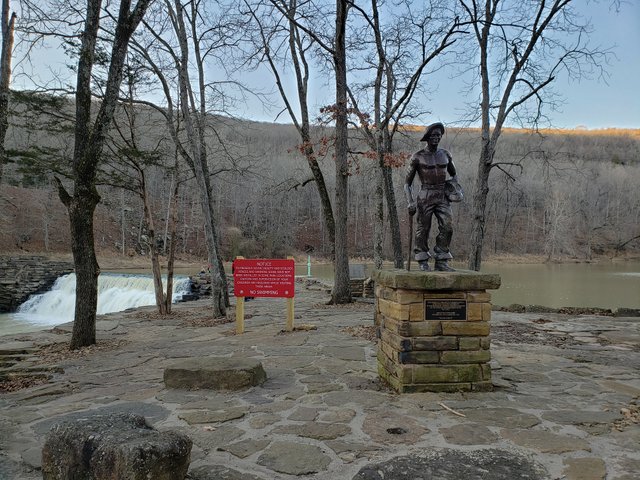 Statue to remember the young men who served in the CCC with their dam running full force. Image is mine.
This park was created during the 1930s by the federally funded program called the Civilian Conservation Corps (CCC). This was where young men between the ages of 18-25 would work on programs such as road building, park construction, and even dams. They would be paid $25-30 a month and all but $5 was sent back to the young man's family. This program saved many families and we, as a country, have received many wonderful parks such as this park.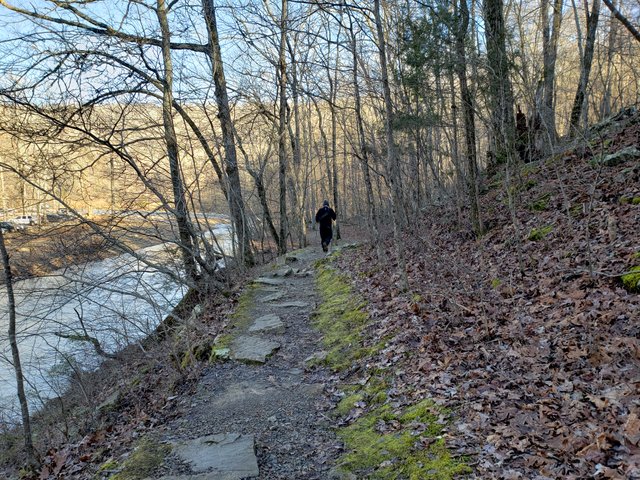 Scott takes the lead to make sure the trail is safe. Image is mine.
The trail has many local stone steps and is smooth. However, there are also areas where rocks have come up from the ground naturally along with washed out tree roots. One must be careful in these areas or, as I found myself doing, one would stumble about. The trail runs along the Lee Creek which has a waterfall upstream.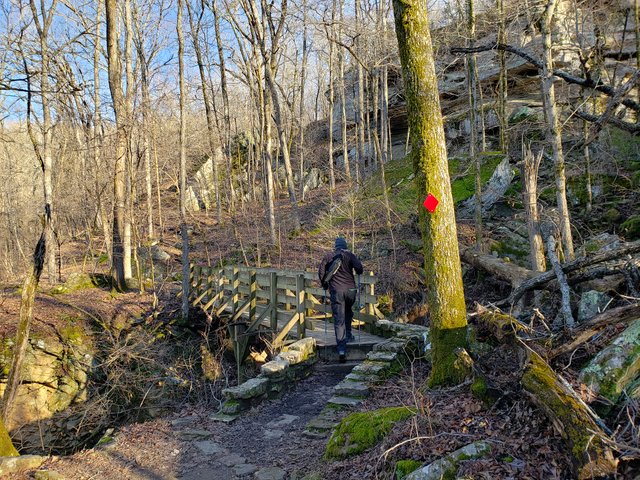 This bridge minds the gap created by the heavy water flow leading to Lee Creek. Image is mine.
There are plenty of structures, natural and manmade, to keep the hike interesting. Because there are so many water crossings that would be treacherous to cross through, the hiking groups and friends groups have come together and made attractive bridges to aid the travelers visiting the park.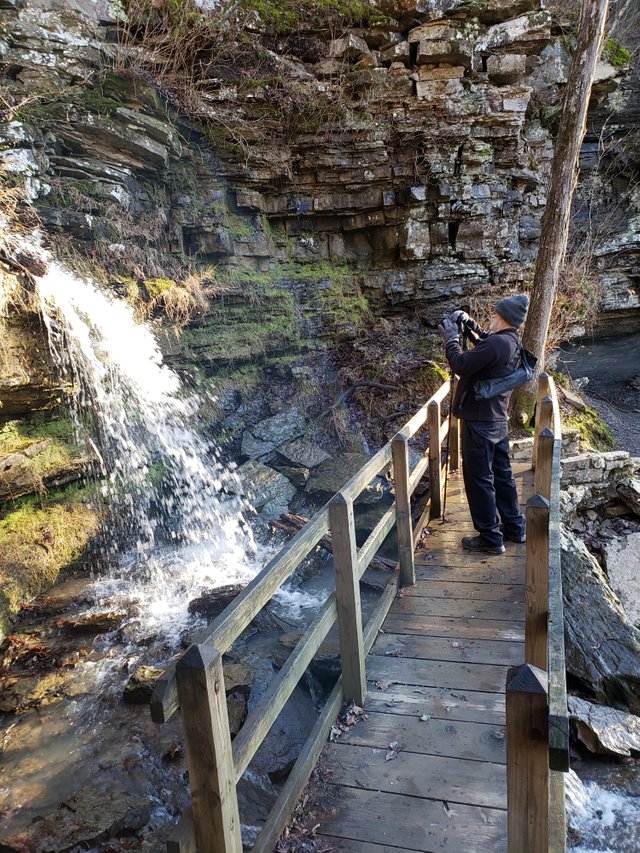 Scott loves to take photos of water. We are getting up close and personal to this waterfall. Image is mine.
The waterfalls on the Devil's Den Trail is 47 feet high and is a sight to watch in awe. There are two falls next together and they are named the Twin Falls. There was a light mist as we walked across the bridge.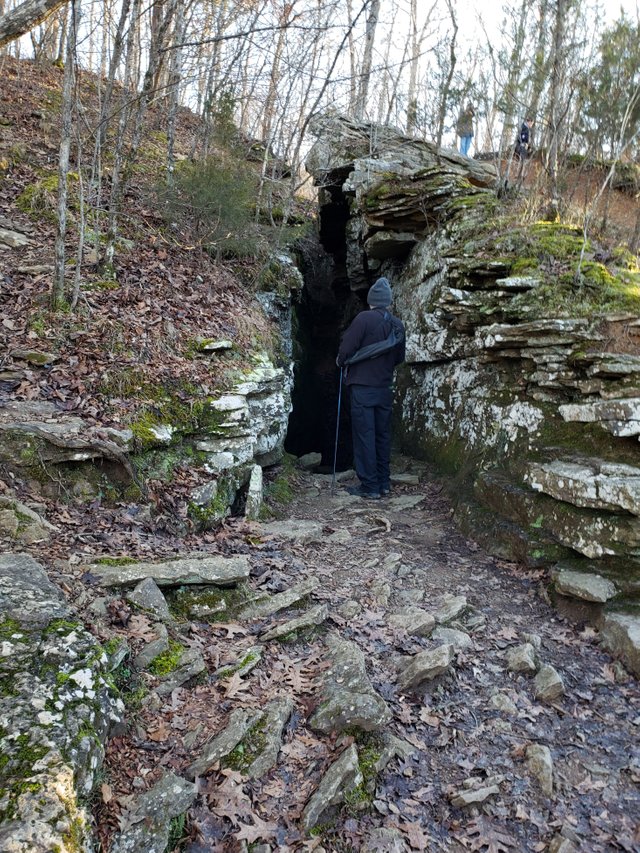 One of the viewing spots of the deep cave at the park. Image is mine.
There are many caves here and at one time they allowed tours. Unfortunately, because of the White Nose Disease that is killing many bats across the US, the park has closed the caves.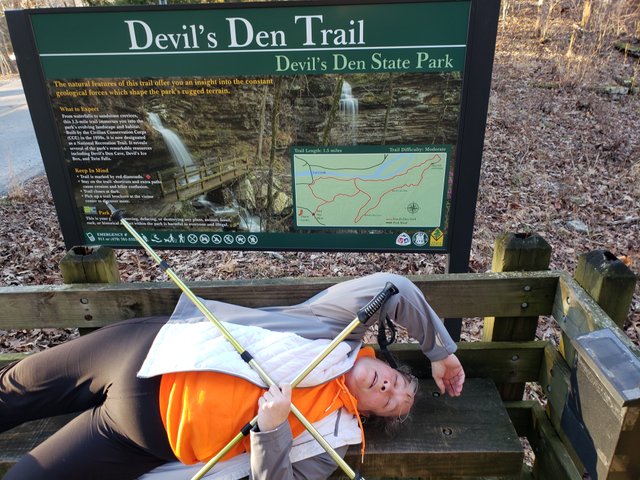 DONE! Hike number two is finished for our 20-20 in 2020 project. Image is mine.
It took us about an hour and a half to two hours to get through the trail. There were definitely moments the uphill elevations kicked my tookus, but by the time we finished, I felt amazing. Of course, that was about thirty minutes AFTER we had rested!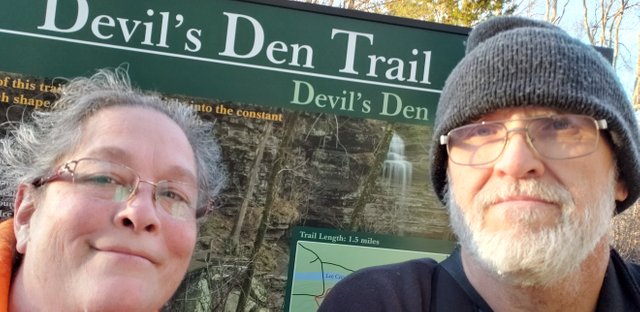 A celebratory selfie for finishing the Devil's Den Trail. Image is mine.
So we have done two hikes in two parks so far, only 18 left! Thanks so much for joining us for the second hike this year.


9253