My Actifit Report Card: September 8 2019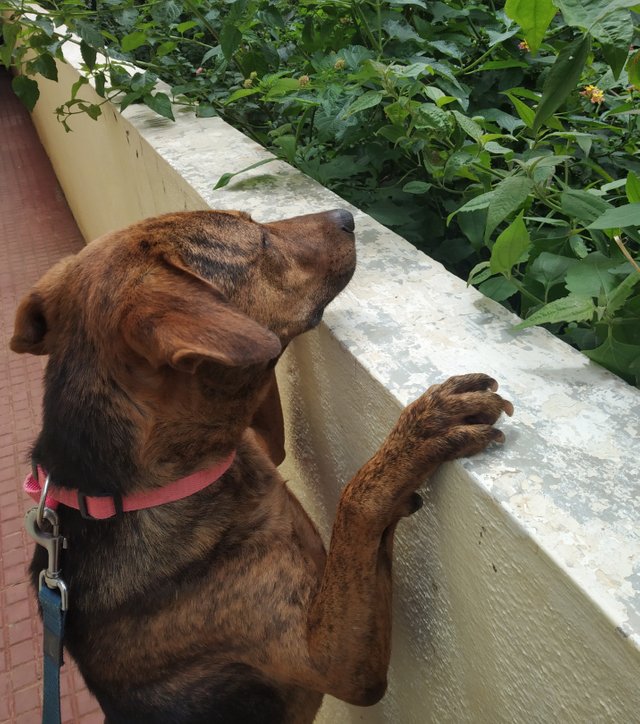 Why does bhowbali eat leaves?
If you have a dog too does it eat leaves? Have you ever wondered why does it do so?
I mean I know I am supposed to talk about my activity here. But I know, probably nobody reads it. And I don't blame you why would you be interested in knowing how did I complete my 10 K steps. So that's alright. I am going to talk about something else. Dogs and leaves. And I case anyone is interested in my activity it was similar to stuff what I did during last activity - that is walk my dogs and go to the lab.
Well talking of walking the dogs. Since bhowbali was a pup I have noticed that he just loved chewing leaves. Initially, I thought that's because he has some chronic stomach illness. Well, that's what the doctor told me. But guess what bhowbali doesn't puke every time he eats the leaves. And he does that almost every time he has finished his walk. And he is not so much interested in the grass as much he is interested in leaves of the plants you see here. His favourite is the drumstick tree, by the way. Strange!
In fact, what is even more interesting is that my other dog June, who never use to eat leaves has also started to do so. Probably learnt behaviour! I suppose.
So, I did a bit of digging. Turns out some dogs have this disorder called pica. It's kind of behaviour in the dog where they compulsively eat non-food items. But hey bhowbali doesn't eat any other non-food item except leaves. Also, pica won't explain why June developed this habit.
Another possible explanation is that they feel good after eating these leaves because they are aiding indigestion. I mean dogs are not the only animals that have discovered herbal therapies (Shurkin, 2014). Good luck next time claiming our ancestors were so smart that they discovered medicinal herbs. 😋
Another possibility is they might be lacking fibre in their diet. It has been shown in some studies that dogs eat plants to get some fibre in their diet. Which is in line with the above argument of digestive aid (see this we me article). So, this is what I am going to do. Right now they are on rice and chicken diet, so I am going to increase fibre in their diet from tomorrow and let's see how that goes.
What about my diet you ask?
Oh well, it didn't work out. I am still eating anything possible. In fact I am having too many hunger pangs which is interfering with my weight loss. I have been a bit low in the mood lately. Which is why I am also writing a post on depression. And I have craving sweets real bad. Why does that happen? Maybe I will tell you in next activity report.




10180

| | | | | | |
| --- | --- | --- | --- | --- | --- |
| | | | | | |
| cm | | cm | | cm | |