My Actifit Report Card: May 9 2019
I woke up this morning feeling pretty excited about riding on my new ebike some more. I planned on doing about thirty miles round trip and playing a nine basket disc golf course.
As I was getting ready to head out I thought I had better put in a patching kit and tire remover just in case. I had been riding a couple longer rides earlier without them because the tires were sold as being extra durable flat resistant tires with a built in liner and solid casing.
I set out riding on the lowest pedal assist mode because I wanted to see how much the battery would be used and what kind of range I could expect. It used around 88 watts and I was moving along at around 15 average speed.
I came to a split in the road where half the traffic was turning right and the main highway kept going straight. A big semi came roaring past me with the right turn signal going. There really wasn't any way it would get safely past me and make the turn.
He was about half past me when we both could see this was not going to work out and I could hear his brakes applying. I thought about my options. I could do the Tesla autopilot move and slam into the side of the semi. I could try to make an emergency right turn and avoid the front of the truck. I could queue the "MIssion Impossible" music and haul the bike over and bounce along the pavement sliding under the truck bed with sparks flying, to pop back up afterward like nothing had happened.
As luck would have it the truck stopped before turning and I rode past on the right of it like nothing had happened. (The mission impossible thing seemed like the most fun if he had continued turning, LOL)
I finally got down to the disc golf course and there were some "half baked" teens hanging around there that seemed to take a particular interest in my new bike. I decided to just use the toilet and head back home. They seemed like nice kids but I was tired from the traffic and riding. I thought about inviting them to play disc golf but they didn't seem likely to want to do that.
On the way back the ebike was handling a bit differently and I was starting to wonder about the tire. I just passed a nice older graveyard that was at the top of a hill and thought about stopping but there was traffic coming.
I rode on a little way and sure enough the tire was going flat. I pulled over just before a busy highway so it was really a good place to take my time and repair it. I looked at the tire really carefully and there was a small metal object in it. You can see it in this picture if you look hard enough: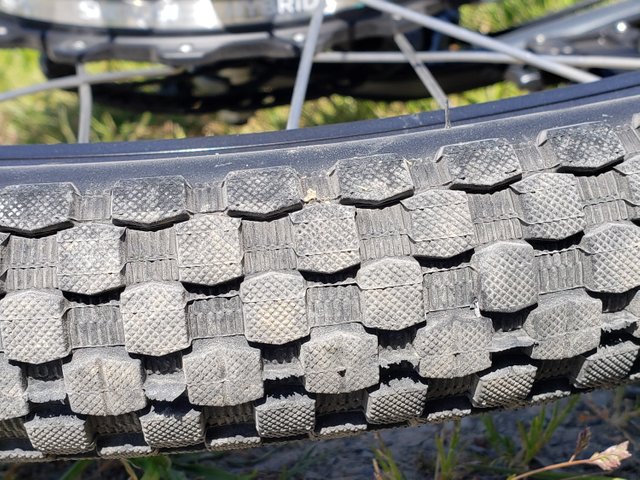 I pulled the object out and it was a little staple. Not something that would typically go through a tire liner. Usually a nail would go around a liner and hit the tube on the sidewall.
It was easy to fix without removing the wheel and lucky for me the glue in the patch kit was still good. I had not checked it really and it was from last season but the glue held and the pump worked.
If you have ever pushed a bike for ten miles you know how hard that can be. I wasn't looking forward to pushing that bike back with as much as it weighed.
Lesson learned: Always carry a patch kit and as soon as I can get to a bike shop I'm going to put some sealer in the tires.
I thought briefly about keeping the staple as a memento. I could mount it on a small plaque and gold plate it. Add a title: "My first flat on a Radcity." It seemed a bit much so I just left the staple by the roadside.
On the way back pedal assist setting one didn't want to give me more than about 49 watts or so. There didn't seem to any rhyme or reason to it. I kept slowing down and speeding up my pedaling but it did not change. The wind was against me and I was tiring out going uphill averaging around ten miles and hour.
I got within a few miles of home and there was plenty of battery left so I just opened it up and rode on pedal assist four and five. (Five being the highest). It really felt good after the long ride to just easily ride fast like you were being pulled along by the peloton at the Tour De France.
Getting close to home I just motored down the street without pedaling at near twenty miles per hour and eased up the hill into my driveway.
All in all it was another very fun ride.
Here's a view of a stream at the disc golf course that I visited yesterday: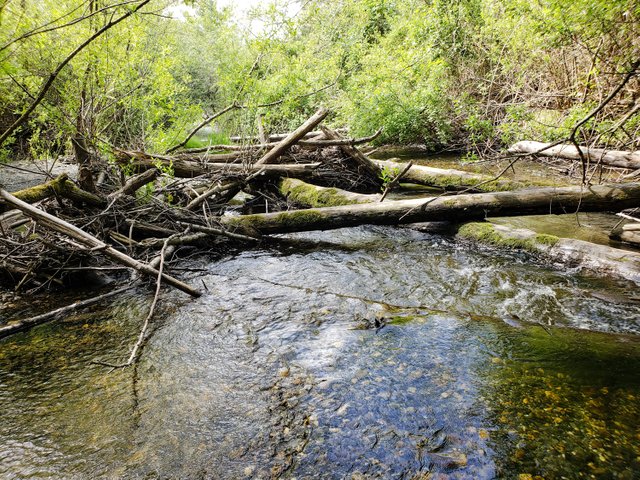 Here's another view of the old abandoned building that I found the disc at yesterday: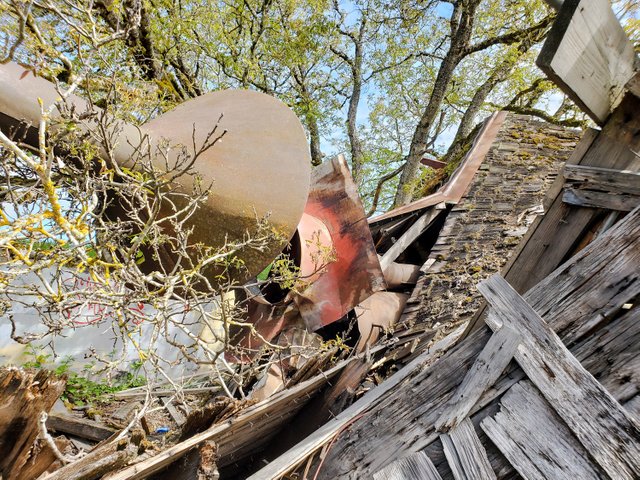 I'm kind of fond of old abandoned buildings especially when the natural surroundings seem to be starting to blend back in with them. There were some apple trees blooming near the building and it was really a pleasant area.
---
Thanks for reading! I always value your support and comments. The pictures were taken by me with my Galaxy S9+. Text and graphics copyright lightsplasher & litesplasher.

---


17559

Cycling, Daily Activity, House Chores, Walking