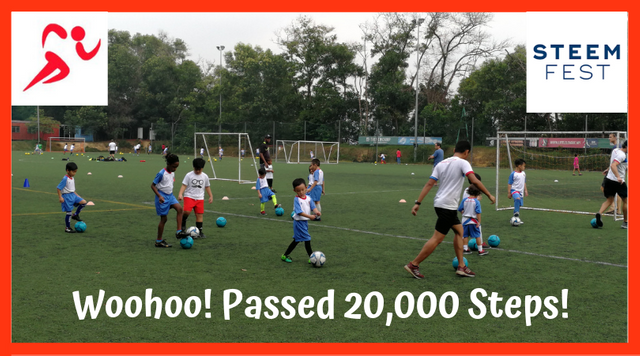 The kiddos learning football skills
I am starting to love this habit of getting up and moving more. Thanks to @actifit and @blocktrades for the opportunity to possibly win a Steem Fest ticket + accommodation makes it a great incentive to staying active. If you are not sure what this is all about, do check out this post by @anomadsoul.
I woke up this morning absolutely determined to get my steps in early and football practice is a great way to do that since I missed getting it yesterday. Off we went to the New Camp in Bandar Utama, though I don't quite like the pitch over there as it is not as well maintained, the place is a lot bigger. So as Chapati was playing I jogged and walked around to warm up and get into my body. Sigh, I do sometimes wish for my younger days when I could hit the track without worrying if I was going to pull a muscle or not. LOL! However, over the last 7 weeks, I have really moved more than I have for the last 6 months plus so I am happy.
We rushed this morning as the little Murtabak was having a little trouble waking up. We got there about 10 minutes late and I ran with Chapati to get to his side of the pitch. Phew! Kids can really run when they want to. After his hour of practice was up, we kicked the ball around as a family teaching the boys how to tackle someone to get the ball. Yup, skills they can use while playing a match! So easy to get winded running with a ball at your feet. Very soon I was ready to sit down and have breakfast!
We decided to head straight to church today as it has moved to a new location in Sunway Resort and Spa Hotel. The timing was just right as we finished football at 9 am and the service starts at 10.30 am. As we drove along the highway trying to decide where to eat... we were about to pass Damansara Utama, when he decided to turn in and have breakfast at Annie 1. Oh yum! We haven't eaten there in a long while and I was looking forward to wanton noodles and braised chicken feet!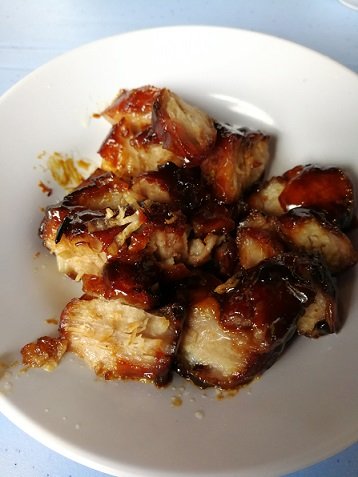 BBQ pork, tender with crispy skin and so extremely flavourful!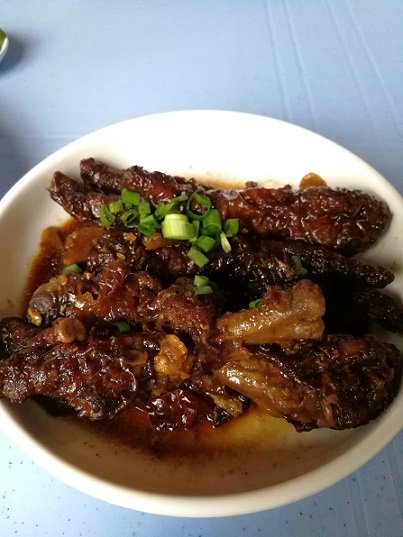 My favourite! Braised chicken feet!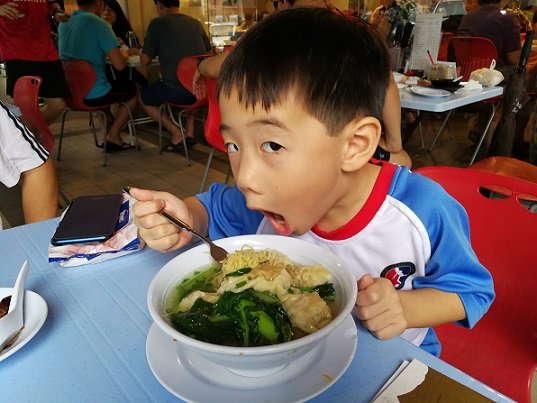 Eating his soupy noodles
They also have to die for char siew (BBQ pork) and delicious curry chee cheong fun (flat white noodles). I also love the fact that they have a great selection of kuih. (steamed local desserts) It was quite a long wait as there were many people there this morning obviously wanting the same thing as us! We finished breakfast later than expected and we were rushing again for the second time this morning to get to Sunway. It was more walking for us as this was a huge complex and even dropping the kids at kids church and then heading to the main service gave me another 2,000 or more steps!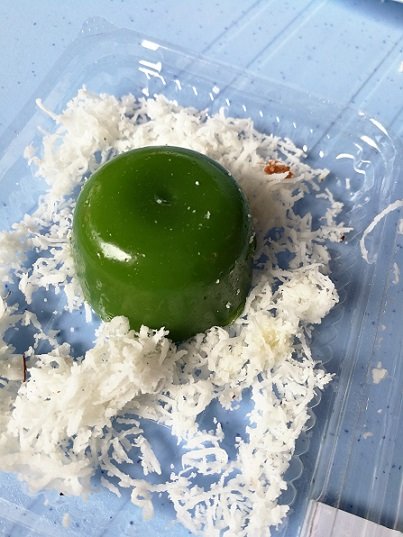 We like this sweet steamed dessert made from rice flour, pandan leaves with fresh coconut
We had more to look forward after church service as we had a family lunch date with friends and their children. But when we walked to the mall we realised that it was nearly impossible without having to wait more than half an hour to eat anywhere in the Sunway because 5000 plus people or more from church had just descended on the mall...the crowd was hungry too by the looks of it! LOL! So we drove out of Sunway Pyramid and headed to Sunway Geo to a Thai restaurant call "Very Thai" The food was delicious and the company fabulous.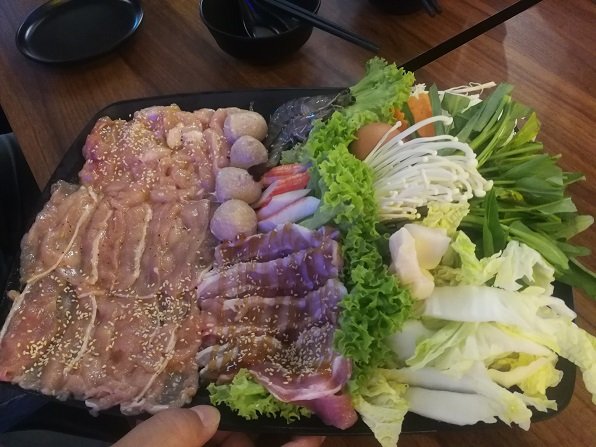 This was our meat for the BBQ! Yum, yum yum!
After lunch we decided to check out a Boba Tea Cafe called "2D" and the concept is that they have made the whole place like a drawing on paper! Super instagrammable place I tell you! I might just do a review on this place later. The kids really had an incredibly fantastic time there! There nooks and crannies to hide and play with, a place that is big enough to run circles around and a bathtub filled with bubbles. (Ok, they were actually white and transparent little balls!) Yup, you imagined right...all the balls came flying out of the tub! We spent a couple of hours there before us parents were almost passing out with exhaustion. The kids, of course, could continue to go on for another few hours but we hustled them home.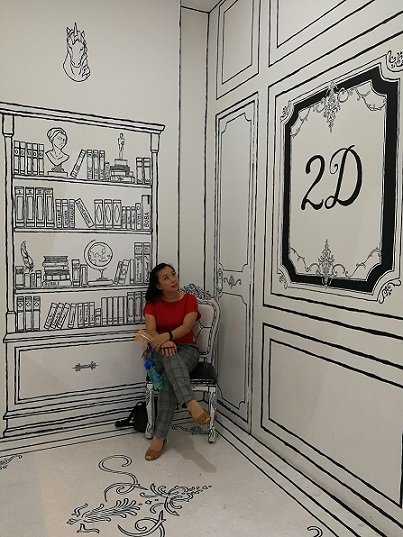 Me at the entrance.LOL!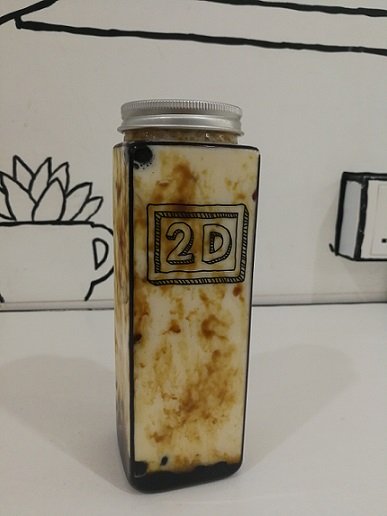 My Boba Tea (milk, special brown palm sugar and tapioca pearls
A few minutes of hitting their car seats, they were asleep. As we drove home, it was a wonderful feeling of being with family and friends. Though the feeling was a little marred by an accident that we passed by after it happened just 5 minutes from home.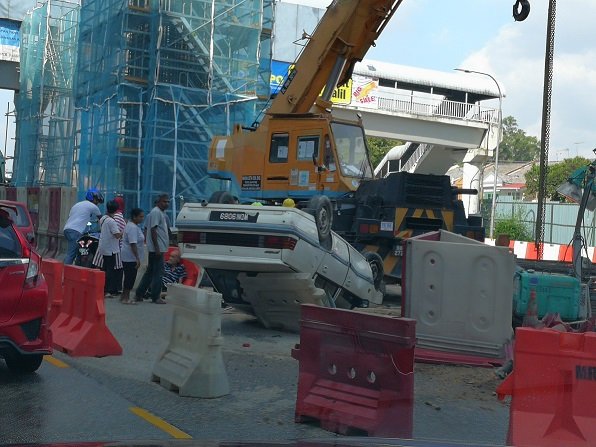 The car seemed to have turned turtle at the highway construction area. I wonder what happened...??
Thanks again for dropping by my little space!
Xoxo,
Khim
p/s I am sorry that I only managed to get the pictures in later. I was so tired that I just couldn't stay up to edit the pictures!
pp/s Here is my Tweet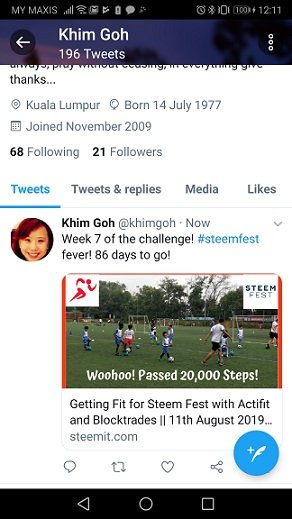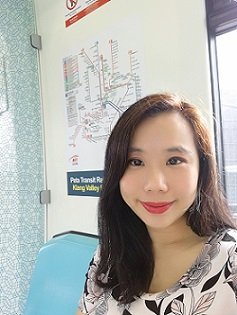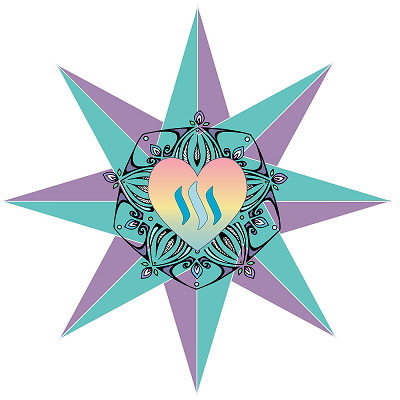 22446

Daily Activity, House Chores, Jogging, Play with kids/grand kids, Shopping, Walking