15K on a gaming day!
The #steemmonsters season ends tomorrow morning and I wanted to play as much as I can and see if I could get to the highest level that I could. I did level up and I'm happy!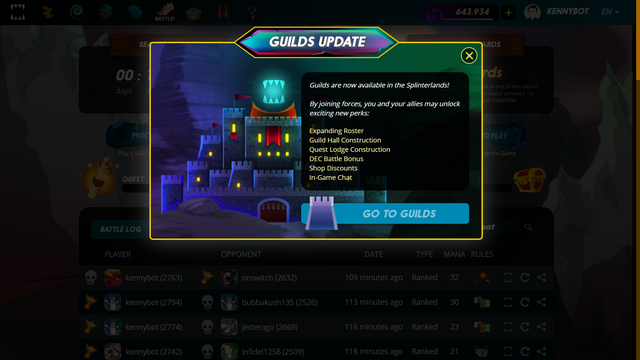 The other Big Thing in #steemmonsters today is the announcement about Guilds! You will get a pop up as shown above when you get into the game today. Read more here: https://steemit.com/steemmonsters/@steemmonsters/players-unite-guilds-are-live

Guilds seem interesting. Is anyone planning to join one???
I also spent a little while doing Effect Force on the #EOS platform where I was identifying rooftops in an Urban area from aerial photos. I have leveled up to level 3 in that app and now I get paid four times as much to do something I actually enjoy! Aerial photos are cool. :D
I also played #Prospectors on the EOS platform. I usually send out two of my workers to do transportation jobs and the third one I mine materials until I can manufacture a spade and then I get better paying jobs with that tool.
My activity today came from a Long Walk that I just got back from. I went over to where my old house is and I ran into some of my neighbors there so I stopped to chat with them. It was a nice night but I'm feeling a little warm now so I just made a cool drink with my mixer and I'm ready to drink that down.
I hope you all had a great day! ❤😎❤


15231