14K, packing and moving again today!
I'm Moving!
As you know if you've read my daily reports, I have been moving some heavy furniture the last few days, so I took it easy yesterday. Got to rest the muscles back and joints! Today I started moving some lighter stuff. I have a few weeks left so I'll do a little everyday. 👍
Playing DrugWars!
I'm also playing the new hit steemit game called @drugwars! 😮
Now we all know that drugs are bad and Grandmaster Flash told us a long time ago, Don't Do It! But it's just a game so don't worry about me or the other players. 😃
You can play for free but it takes time to build your resources. Just upgrade things when you have the resources you need to pay for them, when the button changes from "MISS RESOURCES" to "UPGRADE". You can also buy Upgrades with Steem. You will be rewarded daily with #STEEM for the rate of Drug production you achieve, and also for the amount of drugs you vest into the daily Bank Heist.
If you haven't used a referral code, you may want to click this link and get into the game. Or if you did use my link in the past, there was a glitch so you can go to the Help page and fill in kennybot, my gaming account, as your referrer if you want. Enter it where you see "Your referrer" as shown in the picture below. Thanks to @beverlyjoe for using me as your referrer!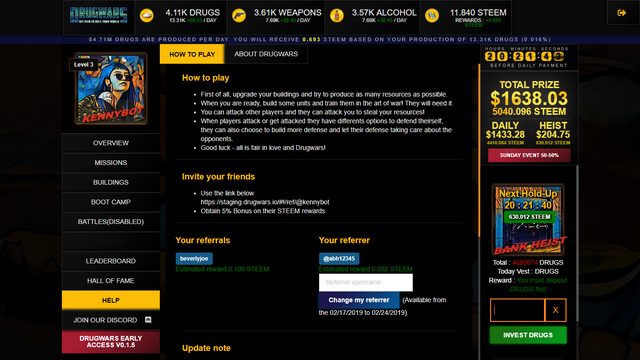 Don't Do Drugs!
Grandmaster Flash and Melle Mel - White Lines - If you get hooked, baby, it's nobody else's fault, so don't do it!
I hope you're all enjoying your weekend. I just got done listening to the first @actifit health and fitness show, and here's the link to listen on YouTube; check it out!!! There is cool News here, and awesome guests!!!