I think I found a competitor for the Jacob's Ladder...Knee deep wet snow. We had to do some hiking today in order to check out some powerlines to make sure they were clear in order to re-energize again.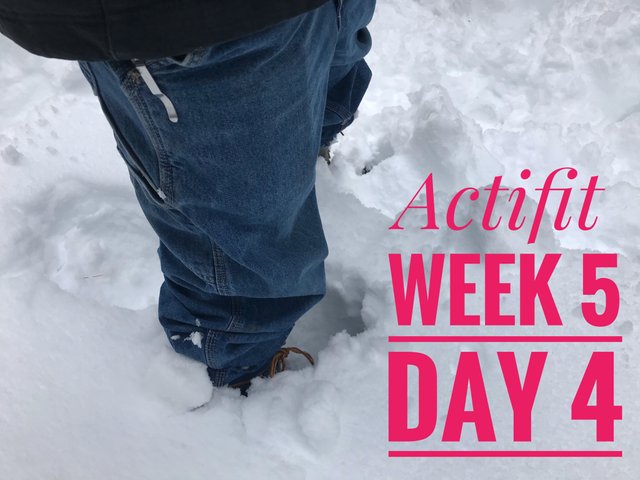 We were able to drive the Side by Side with tracks on it quite a ways in there but we did have to do some hiking.
~Week 5 ~ Day 4~
5:20 am
My workout this morning was a tough one. I decided to try like a circuit style workout using the Jacob's Ladder. I did all these exercises with maybe a 10 second break in between. Then took 20-30 seconds and did the exercises again.
2 minutes on Jacob's Ladder - Military Press 20lb DB's 20reps - Front Raise 15lb DB's 20 - Curls 20lb DB's 20 - Bent over Row 25lb DB 20 each arm

4 Sets
Then to finish off my workout I continued my circuit style lifting.
Pull downs 80lbs
Reverse Hyperectension 70lbs
Hanging Knee Lifts 20
4 Sets
I really like incorporating the Jacob's Ladder in with the lifting. It changes things up a bit and gets me huffin' and puffin'
Until next time...Stay Healthy my fellow Actifitters and Steemians


26027

Daily Activity,Hiking,House Chores,Moving Around Office,Stair Mill,Walking,Weight Lifting
| | | | | | |
| --- | --- | --- | --- | --- | --- |
| | | | | | |
| in | | in | | in | |