Long weekend Report // Raport z długiego weekendu
[EN]
Friday
Friday was my day off. My wife went to work in the morning and I had to prepare my daughter for kindergarten. I drove my daughter to kindergarten, then I went for a longer walk with my dog. The weather in the morning was very nice, so I managed to take a few (in my opinion) nice photos. Later it was only rainy. I didn't plan anything special on that day, so I started cleaning up at home.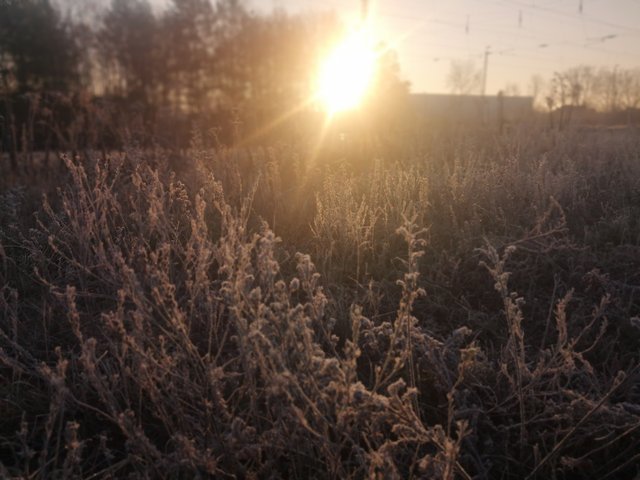 Just before 14:00 I went to get my wife to work. We came home together and then went to pick up our daughter from kindergarten. Then (as usual) we went shopping and went home. The rain didn't give way, so we stayed at home until the end of the day. Of course, in the evening I went for a walk with my dog.
Saturday
The next day was going to be rainy. It was indicated by all weather forecasts. However, our city missed the rain, so we could go for a walk with the whole family. We walked around the city a little, visited some shops and bought one of our daughter's Christmas presents (the other one has been travelling by courier for a few days now).
Later nothing special happened. I wanted to see the struggle of our Polish jumpers and I was able to see the entire World Cup competition. In the evening as usual I went with my dog. I don't know why, but the air in the evening was just like in spring, so fresh and quite warm.
Sunday
Today I managed to sleep until 9:00. Later I went for a walk with my daughter and my dog. Looking at the thermometer I noticed that it is 9 degrees, so I found it warm. Unfortunately, after going outside it turned out that there is no heat at all, or at least there is no such feeling, because today a very cold wind blows.
Wife and daughter today decorate the cookies for the holidays that were baked yesterday. Of course I'm not involved in this, so I said I'd write a post, because it's been a long time since 😋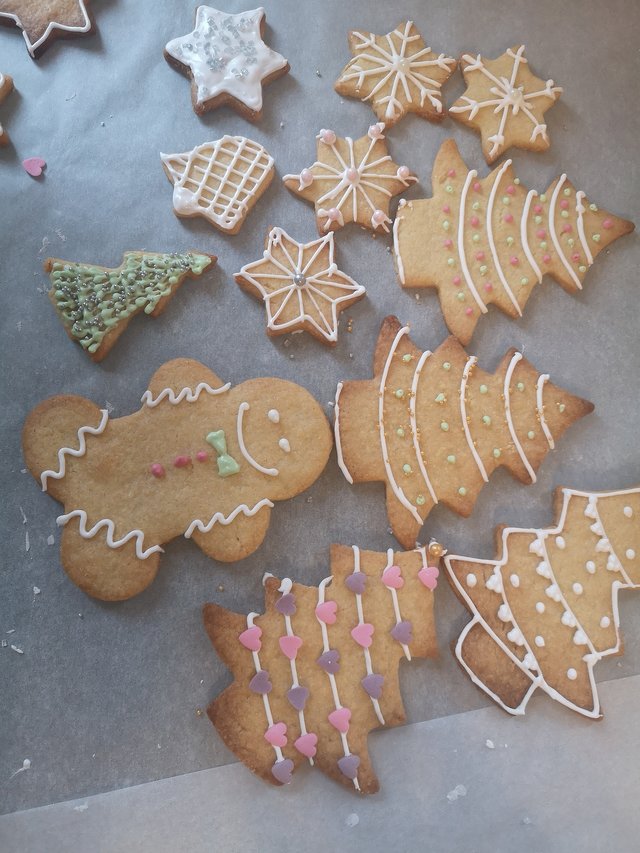 Later we'll probably go for a walk unless it's raining and I also want to see the second ski jumping competition. I hope that today our ski jumpers will do much better than yesterday, because there is potential, you just have to use it.
That's all for today. I wish you all a peaceful and pleasant Sunday!
---
[PL]
Piątek
W piątek miałem wolne. Żona poszła rano do pracy, a ja musiałem przygotować córkę do przedszkola. Odwiozłem córkę do przedszkola, później wyszedłem na dłuższy spacer z psem. Pogoda z rana była bardzo ładna, dzięki czemu udało mi się zrobić kilka (moim zdaniem) ładnych zdjęć. Później już tylko było deszczowo. W tym dniu nic szczególnego nie zaplanowałem, więc wziąłem się za sprzątanie w domu.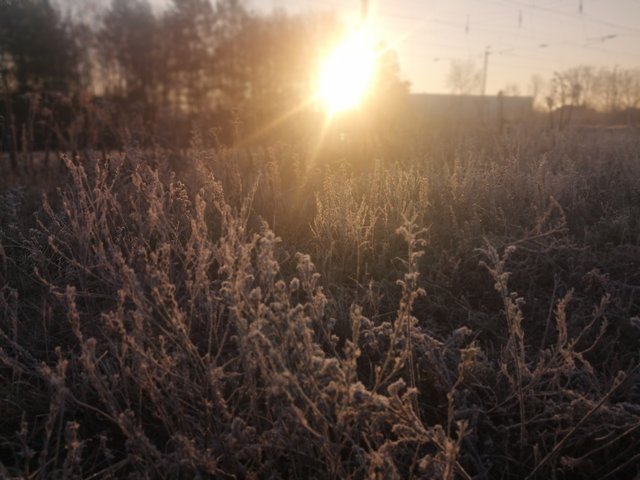 Tuż przed godziną 14:00 pojechałem po żonę do pracy. Wróciliśmy razem do domu, a później poszliśmy odebrać córkę z przedszkola. Następnie (jak to zwykle bywa) wybraliśmy się na zakupy i wróciliśmy do domu. Deszcz nie ustępował, więc siedzieliśmy już do końca dnia w domu. Oczywiście jeszcze wieczorem wybrałem się na spacer z psem.
Sobota
Kolejny dzień zapowiadał się deszczowo. Wskazywały na to wszystkie prognozy pogody. Jednak nasze miasto deszcz ominął, więc spokojnie mogliśmy całą rodziną wybrać się na spacer. Pochodziliśmy trochę po mieście, przy okazji odwiedziliśmy kilka sklepów i kupiliśmy jeden z prezentów świątecznych dla córki (drugi jedzie kurierem już kilka dni).
Później już nic szczególnego się nie działo. Chciałem zobaczyć zmagania naszych polskich skoczków i udało mi się obejrzeć cały konkurs pucharu świata. Wieczorem jak zwykle wybrałem się z psem. Nie wiem dlaczego, ale powietrze wieczorem było takie jak wiosną, takie świeże i było w miarę ciepło.
Niedziela
Dzisiaj udało mi się pospać do 9:00. Później wybrałem się z córką i psem na spacer. Patrząc na termometr zauważyłem, że jest 9 stopni, więc stwierdziłem, że jest ciepło. Niestety po wyjściu na zewnątrz okazało się, że wcale ciepło nie jest, a przynajmniej nie ma takiego odczucia, bo dzisiaj wieje bardzo zimny wiatr.
Żona z córką dzisiaj ozdabiają ciasteczka na święta, które wczoraj upiekły. Ja oczywiście się w to nie mieszam, więc stwierdziłem, że napiszę posta, bo dawno nie było 😋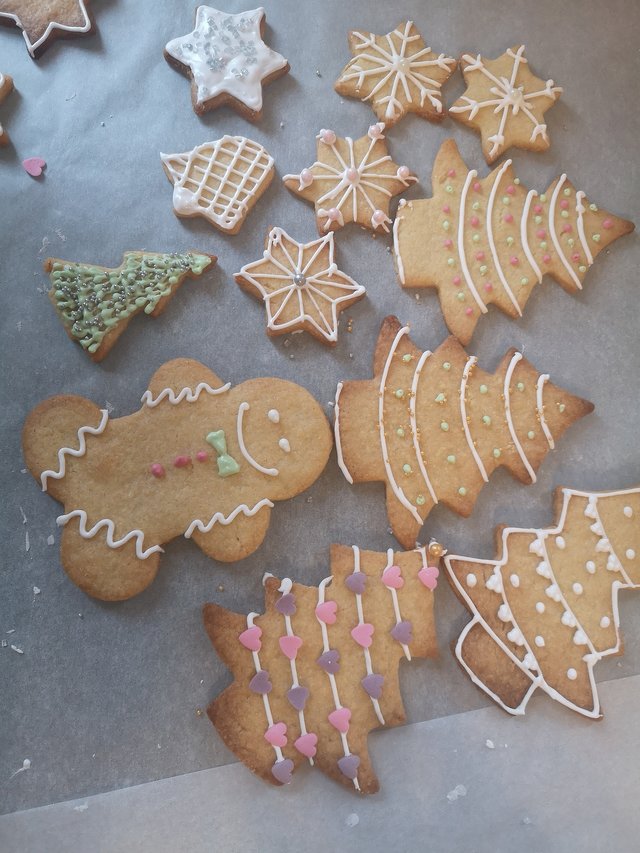 Później pewnie wybierzemy się na spacer o ile nie będzie padał deszcz i chcę również obejrzeć drugi konkurs skoków narciarskich. Mam nadzieję, że dzisiaj naszym skoczkom pójdzie i wiele lepiej niż wczoraj, bo potencjał jest, trzeba go tylko wykorzystać.
To wszystko na dzisiaj. Życzę wszystkim spokojnej i miłej niedzieli!




8616