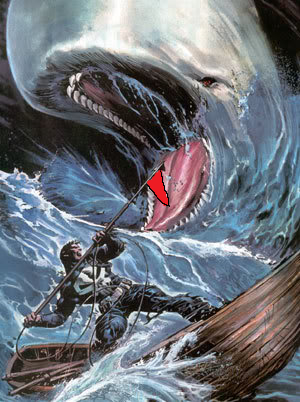 ---
What metrics make for a bad whale? By establishing a community consensus, can we work to define patterns that would distinguish a good whale from a bad and the countless shades between the two. I think we can.
What are a few examples of metrics we could use and which of these can be automated?
Self-voting and collusive voting ratio.
The former is easy to acquire programmatically. The latter will require a bit more sophistication. One idea is to analyze incoming upvotes for static weight values from the same individual. For example, account A loves posting memes and account b is observed to autovote 100% regardless of the content. Typically, this is a good indication of a collusive voting agreement and will be used to determine the BWI(bad whale index) of the user.
Frequency of "revenge flagging".
We don't care how much you hate so and so. Revenge is not a function of flags nor should they be used in that manner. If we flag appropriately, we are flagging so that posts reflect more closely what would be a reasonable value assessment of the content. A bad whale often uses revenge flagging to stifle criticism and I believe we can agree this is an undesireable behaviour. If the flagging can be observed as following this pattern, the users BWI will reflect.
We have observed at least one whale engaging in comment spam. Incidents of the traditional flavors of abuse should also be used to determine the BWI. One example is whales commenting on a post, self-voting their comment that compliments the post but does not upvote the post. That is scumbag behaviour and an easy way to make the asshole list.
What do you think about the metrics above?
Please, let us know your thoughts. Do you have any additional metrics in mind? Perhaps, ideas for methods in obtaining them. Let us know.
---
We are not sure how we will necessarily weigh all the metrics but the first step will be to acquire them and the method will need to be developed.
In other news...
In case you didn't know, we have entered a tentative cease fire in the @haejin flag wars with the agreement being cessation of flags and that @haejin would start to spread out his VP. We were glad to hear this and had made a comment announcing our intention to suspend flag and tank operations but have reassessed that decision.
We have decided that course is less than ideal as those that have already sacrificed voting power and incurred flags are not properly rewarded for their efforts which I believe had helped us reach a point of a compromise. With that being said, we will continue to finish the series we had started but make it clear that we are not tracking subsequent flags for rewards since the cease fire. This way, those that have contributed will be compensated.
With that being said, there are a couple of unfinished tasks on my list that we will work towards completion and they are as follows:
Run distribution on the $0.5 ish SBD from the first @flagtarget series. This will be supplemented with 2 SBD from our flag reserves to go to low SP accounts as suggested by @transisto.

Complete the flag tank ranks.

Develop the Bad Whale report and provide the data as value to the community to build up our flag reserves in this time of peace. We do not know when the next campaign will begin but we have been presented a good opportunity to regroup. Liquid rewards on this post will go towards the flag fund.
Don't forget to join our Discord for situational awareness. Click the image below for a link.