Chocolate Peppermint Cheesecake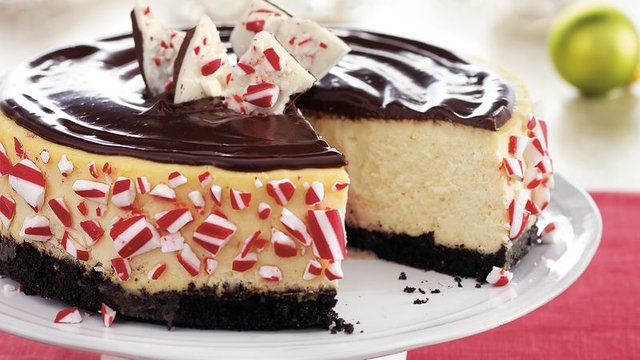 Rather than going to the Cheesecake Factory make your own wanton peppermint cheesecake. With an Oreo outside and ganache besting this is our preferred cheesecake to make for Christmas. It's peppermint bark in cheesecake structure and we can't get enough!
Ingredients
Cooking spray
3 (8-oz.) blocks cream cheese, softened
1 c. granulated sugar
2 large eggs
1/4 c. sour cream
1 1/2 tbsp. all-purpose flour
1 tsp. peppermint extract
1 tsp. pure vanilla extract
1/4 tsp. kosher salt
1/2 c. chopped chocolate, plus more for garnish
1/2 c. chopped white chocolate, plus more for garnish
1/2 c. chopped candy canes, plus more for garnish
For the Oreo Crust
24 Peppermint Oreos
5 tbsp.melted butter
For the Chocolate Ganache
3/4 c. hot heavy cream
1 1/2 c. semisweet chocolate chips
Making
Preheat broiler to 350º and shower a 8" springform dish with cooking splash. Make filling: In an enormous bowl utilizing a hand blender (or in a stand blender utilizing the oar connection), beat cream cheddar and sugar. Include eggs, each in turn, at that point acrid cream, flour, peppermint concentrate, vanilla, and salt. Delicately overlap in slashed chocolates and sweet sticks and put in a safe spot.
Make outside layer: In a nourishment processor or in a huge Ziploc sack, smash Oreos into fine morsels. Mix with softened spread until totally soggy.
Add hull to arranged dish and pack firmly.
Pour over filling and spot dish on a rimmed preparing sheet. Heat until focus is just somewhat jiggly, around 60 minutes. (In the event that you need to utilize a water shower to guarantee no breaking, wrap springform dish in foil and spot springform container in a profound sided cooking skillet. Empty bubbling water into simmering container until it arrives at most of the way up the springform skillet.)
Mood killer broiler and let cheesecake cool in stove 60 minutes (this progression is discretionary however forestalls breaking).
Refrigerate cheesecake until totally chilled, in any event 4 hours however ideally medium-term
Prior to serving, make chocolate ganache: Pour hot cream over chocolate chips and let sit, 5 minutes. Mix until all chocolate is softened. (On the off chance that ganache appears to be excessively slender, refrigerate 5 minutes.)
Spread ganache over chilled cheesecake and enhancement with progressively cleaved chocolate and treat sticks.
Refrigerate 10 minutes before serving to let ganache solidify.