How to make Spanish Tortilla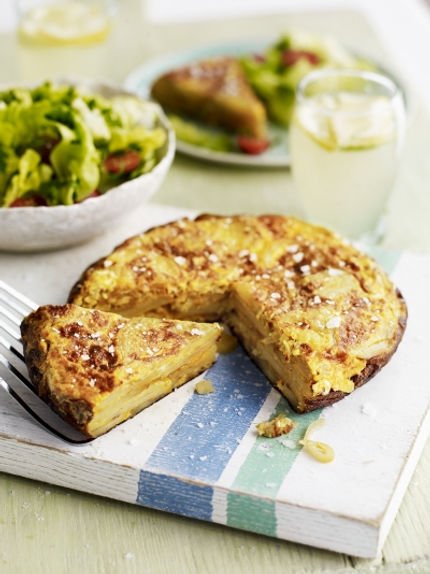 "This great Spanish dish is flexible and speedy to prepare. The tortilla (or Spanish omelet) can be served hot or cold and is an awesome method for spending a wide range of fixings – just include any extra vegetables, disintegrated or ground cheddar, bumped red peppers or cooked frankfurter. They'll all taste extraordinary, so get testing! "
Ingredients
300 g waxy potatoes
1 onion
olive oil
5 large free-range eggs

Method
Strip the potatoes utilizing a speed-peeler, at that point painstakingly cut them into meager cuts. Pat the potato cuts dry with a spotless tea towel.
Strip and finely cut the onion. Sprinkle 2 tablespoons of oil into a little skillet over a medium warmth, at that point include the onion and potatoes.
Turn the warmth down to low and cook for 25 to 30 minutes, or until the onions are turning brilliant and the potato cuts are cooked through. Do whatever it takes not to mix it to an extreme or the potatoes will separate – simply utilize a fish cut to flip them over part of the way through.
Break the eggs into a blending bowl, season with a little squeeze of ocean salt and dark pepper, at that point whisk together with a fork.
At the point when the onions and potatoes are cooked, expel the skillet from the warmth and cautiously tip them into the eggs. Move the blend once more into the skillet and spot it over a low warmth. Cook for around 20 minutes, or until there's no runny egg on top.
Utilize a fish cut to marginally lift and extricate the sides of the tortilla. Cautiously flip the dish over a supper plate and tip out the tortilla, at that point slide it again into the container and cook for an additional 5 minutes, or until brilliant and cooked through.
Turn out the tortilla onto a serving board, at that point cut into 6 wedges and serve hot or cold with a basic green plate of mixed greens.