Shigatsu wa Kimi no Uso | Your Lie In April - Episode 1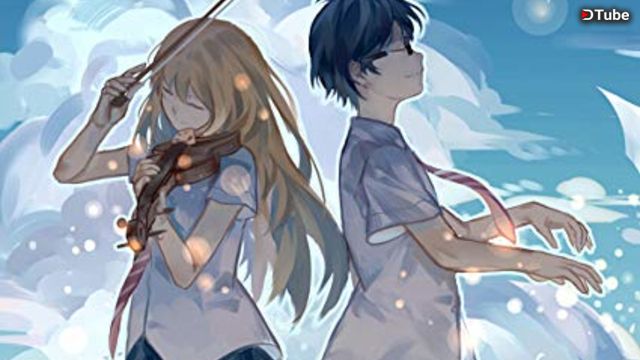 ---
Piano prodigy Kōsei Arima dominated various music competitions and has become famous among child musicians, but also controversial. After the death of his abusive mother, who was also his coldhearted instructor who forced him to play the piano emotionlessly, he had a mental breakdown at the age of eleven while performing at a piano recital which resulted in him no longer being able to hear the sound of his piano even though his hearing was perfectly fine.
Four years later, Kōsei hasn't touched the piano and views the world in monochrome, without any flair or color, resigning himself to living out his life with his good friends, Tsubaki and Watari, until, one day, a girl changes everything. Kaori Miyazono, an audacious, free-spirited, fourteen-year-old violinist whose playing style reflects her manic personality, helps Kōsei return to the music world and shows that it should be free and mold-breaking unlike the structured and rigid style Kōsei was used to, and as she continues to uplift him, he quickly realizes that he loves her, though she already likes Watari.
However, while performing together (Kōsei having been dragged into it by Kaori), Kaori suddenly collapses after a moving performance and is hospitalised. At first Kaori says that she is anaemic and just needs some routine testing, but this is revealed to be a lie when flashes of her past reveal her collapsing and bleeding many times before.
Finally Kaori is discharged and back to her happy, crazy-self, inviting Kōsei to play at a Gala with her. However, Kaori fails to show up on the day of the Gala, and as her health worsens, and she begins to give up on life. This time, Kōsei is the one who inspires her after playing a duet with Nagi Aiza, the pianist sister of a fellow rival of his named Takeshi Aiza. After shedding tears and listening to it, Kaori opts for a risky surgery that may kill her if it fails, just so that she can play with him one more time.
During the finals of the Eastern Japan Piano Competition, Kosei starts to play the piano, wishing that it would reach Kaori, but sees Kaori accompanying him during the play, indicating that she had died, since it was her last wish that she wanted to play with Kosei.
Kaori eventually dies due to the surgery, but leaves a letter to Kōsei, which is given to him by her parents at her funeral. The letter reveals that she was in love with Kōsei the whole time, and that her supposed feelings towards Watari were fabricated in order to get closer to Kōsei without emotionally injuring Tsubaki, who also has limerent feelings towards Kōsei. After finding this out, Tsubaki confronts Kosei and tells him that she will be by his side for the rest of her life.
---
▶️ DTube
▶️ IPFS