I mentioned it before in previous posts... Yoga is my kind of thing.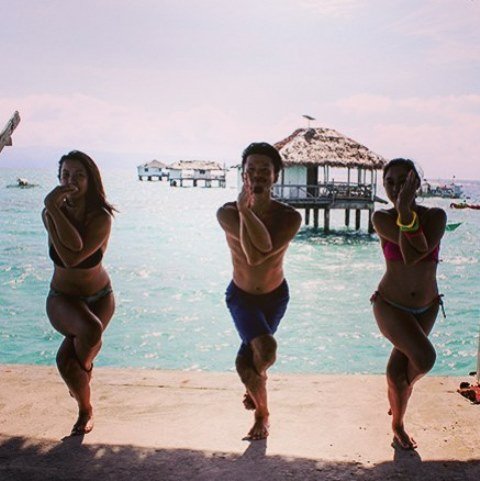 My friends and I doing the eagle pose.
What Is Yoga?
The word yoga, from the Sanskrit word yuj means to yoke or bind and is often interpreted as "union" or a method of discipline. A male who practices yoga is called a yogi, a female practitioner, a yogini.  It is a program of physical postures designed to purify the body and provide the physical strength and stamina required for long periods of meditation. (source)
Benefits of Yoga
Increased flexibility.
Increased muscle strength and tone.
Improved respiration, energy and vitality.
Maintaining a balanced metabolism.
Weight reduction.
Cardio and circulatory health.
Improved athletic performance.
Protection from injury.
______________________________
In six months, I will be flying out to Thailand or India to learn yoga. I want to dedicate my time to learn this fitness program. They said that you have to be 100% sure if you're going to enroll in yoga school because there is no turning back once you get there and live with the teachers. 
Some people give up in just few days because they can't stand the meditation practice. You have to sit for long hours to meditate and you are not allowed to talk to anyone while you're in the meditation center. Using mobile phone is also prohibited unless you're inside the sleeping quarters. 
In most yoga schools, they only serve vegan food. If you're craving for meat, you can't bring it inside the yoga center coz it would be disrespectful for everyone. This is kinda challenging for me but I still want to try it coz it's healthy and there are heaps of good protein alternatives like spinach, kale, mushrooms, cucumber and broccoli.
Anyways, I wanna share some photos of myself doing yoga in different islands of the Philippines.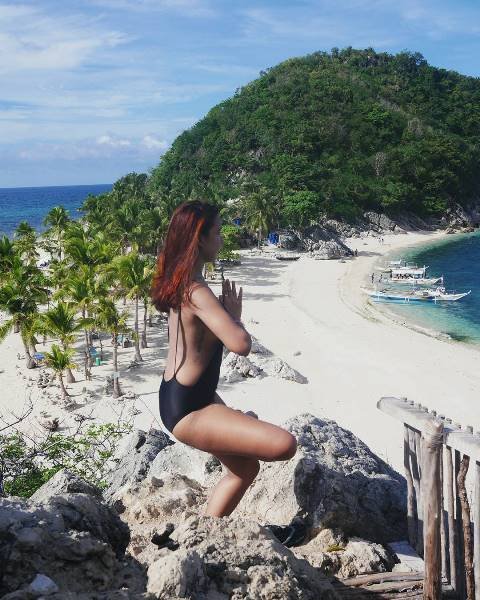 The tree pose. This photo was taken at Gigantes Island in Iloilo. We climbed up the hill to see the nice view of the ocean. We were lucky coz that time, the island was not packed.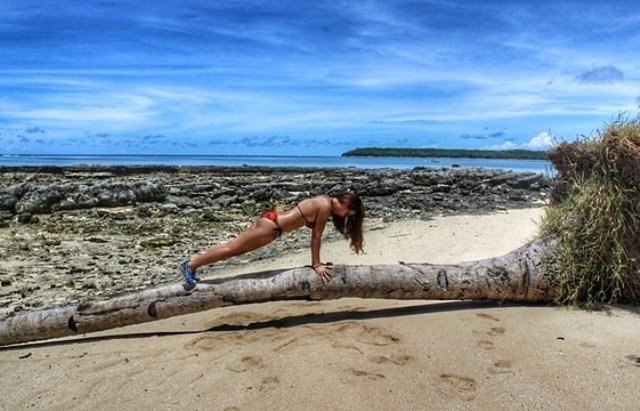 Kumbhakasana or the plank pose. This photo was taken in Guyam island in Siargao. We were there coz it was part of our island hopping tour. There's actually nothing to do in Guyam coz all we saw was palm trees and sand. So to make things interesting, my friends and I did some HIIT (High Intensity Interval Training).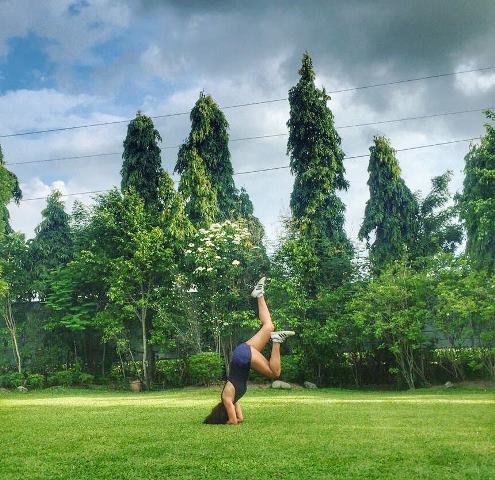 Sirsasana. Obviously I haven't perfected that headstand pose yet, but I'm getting there! Gotta strengthen my arms and abs. This photo was taken at the Ruins Mansion in Bacolod City. It's a remains of a stately Italianate mansion, razed during WWII.
Yoga is not about tightening your ass. It's about getting your head out of it. -Eric Paskel
That's it folks!
Would you give Yoga a try? 😊😊😊